Costa RICA VACATIONS & Travel GUIDE
---
You deserve the best Costa Rica has to offer! Experience jungle, hot springs and gorgeous beaches. Enjoy affordable and easy vacation planning with unparalleled Service.
ASK US ANYTHING ABOUT COSTA RICA
ASK NOW
Costa RICA IS ONE OF THE WORLD'S MOST WELCOMING DESTINATIONS
---
Costa Rica's golden beaches, emerald rain forests, and immaculate landscapes have made it one of the world's most welcoming travel destinations. Whether you decide to unwind at an all-inclusive resort on one of the many white-sand beaches or embark on a journey into a lush rain forest, we guarantee our team of Costa Rica vacation planners will assist you in building an itinerary full of both adventure and relaxation.
Read More
What People are saying
"I can't say enough good things about your company and was so thankful I booked our Costa Rica trip with you. Your company has a great reputation with the tour operators and having those vouchers makes communicating with all the vendors so easy. Thank You!" - M. Allard. January 17, 2016
Read Our Most Recent Reviews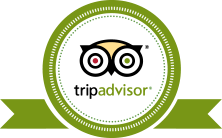 CERTIFICATE OF EXCELLENCE
See All Trip Advisor Reviews