San Jose
San Jose is the capital of Costa Rica and official city of the international airport. The population is nearly 400,000. The city is located in the center of Costa Rica in the Central Valley allowing for routes that lead to all regions of the country. It is not difficult to see that this is the pulse and economic center of Costa Rica.
Free Trip Planning
Build your perfect vacation!
San Jose Hotels
San Jose Tours
Transportation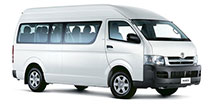 Many travelers that come to Costa Rica will spend at least one night in or around the capital. If you have a day in the city you can enjoy a variety of activities. There are numerous historical buildings and museums located in the downtown region, particularly in the Historic District. The National Museum is open to the public and presents a good layout of ancient to present day cultures, displaying how Costa Rica has evolved over the decades and centuries. San Jose is also home to several interesting religious landmarks and works of art. Points of interest include The Metropolitan Cathedral, John Paul II sculpture, or even the Our Lady of Solitude Church.
San Jose is home to many markets, shops, restaurants and night life. The Central Market is a large open area containing small independently operated booths vending higher end souvenirs. Locals generally create the items and are proud to display and sell them. After shopping, one can enjoy a bite to eat at one of the many outdoor cafes or restaurants. To really embrace the Costa Rican culture it is encouraged to try some of the native plates such as a typical casada, which would include a meat, salad with avocado, rice, beans and drink.
Weather and packing list
Many consider the Central Valley to be the most comfortable climate in the world with temperatures usually hovering in the upper 70s during the day and lower 60s at night. The rain season here runs from May through November, though the heavy rains are generally during September and October.
Visitors should pack shorts, tee shirts, appropriate shoes, rain gear, sun block. It is also advised to bring at least one pair of pants and a long sleeve shirt. Be sure to review our Costa Rica packing list for more ideas.
Fun Fact: San Jose did not become the country capital until 1823 after a brief war with the former capital city, Cartago.
Driving Distance
Attractions In The Area
20 km
50 km
50 km
60 km
81 km
Location and GPS Coordinates:
Latitude: N 9°56'1.79". Longitude: W 85°55'22.37"