The busy streets of La Fortuna offer souvenir shops, tour desks, restaurants, and bars. Despite this, La Fortuna has somehow maintained a small-town feel. Like many other pueblos in Costa Rica, there is a Catholic Church and public park in the center of town with benches and shade trees for socializing. The impeccably groomed park, complete with colorful tropical flower gardens, Peace pole, and central water fountain becomes a place of rest for locals and tourists alike. It's one of the prime spots for watching Arenal Volcano displaying an occasional plume of smoke on a clear day, accommodating for eye-catching selfies or group photos. No longer performing pyroclastic explosions as in years past, its epic conical shape features dried lava fields fascinating hikers as they follow the trail through lush rainforests full of wildlife. Visitors can hike on easy well-marked trails at the base. Nearby, the extinct Volcan Cerro Chato provides a more challenging hike.
La Fortuna welcomes tourists who come to see the majestic Arenal Volcano towering over the town with an almost mythical presence. Countless volcanic hot springs sites have been created from the naturally heated thermal waters, each with its own particular flair. Some, like Tabacon, are landscaped around the natural river, integrating Nature and nurture in secluded grottos where you can indulge in a luxurious day or evening after discovering the local area.
Others have built an abundance of pools surrounded by lush tropical gardens to soak away your troubles, complete with swim up bars, and outdoor restaurants. Each pool presents a different temperature adding various amounts of cold water to tame the hot volcanic stream, just like when the hot and cold rivers mix naturally coming down the mountain side. Often these hotel hot springs offer day passes for those who are not staying at the hotel. There are many to choose from and, of course if you are a hotel guest, you have the added benefit of going in and out whenever you please around some of the other outdoor activities that might interest you.
Adventure enthusiasts will bask in an array of thrilling tours such as ziplining, canyoning, and mountain biking. Three excellent whitewater rafting rivers are all within a reasonable drive offering beginner Class ll to Class lll rapids, as well as Class lll to Class lV rapids for more advanced rafters.
Canyoning opportunities abound in the area, where visitors can rappel down natural waterfalls found deep within the rainforest and climb by ropes through canyon terrain. Prepare to get wet as you discover a new way to explore the jungle.
Zip lining is an increasingly popular sport, inviting participants to zip across metal cables for stunning rainforest views high above the tree tops. Experienced professional guides will turn the most timid into a superhero in no time! As you traverse the woods from tree to tree, you'll land on platforms built way up the towering tree trunks where another guide will help you safely land.
For those less enthusiastic about zipping through trees, you can explore the canopy of the rainforest at Arenal Hanging Bridges. The suspended bridges allow you to leisurely walk across the tree canopy surrounded by jungle covered mountains providing vital habitat for many animals. Trams also are available that can take you high above the forest affording breathtaking views on a clear day.
Back to ground level, there are plenty of other ways to explore the La Fortuna and Arenal Volcano area. A trip to Arenal would not be complete without a hike down the side of the La Fortuna Waterfalls. The towering falls drops over 200 feet into a circular pool and stream bed. Visitors descend a few hundred stairs stopping at viewing platforms before reaching the base to go for a swim or explore the banks of the beautiful stream below. There are also options for horseback riding and 4-wheel ATV motor biking within sight of the volcano.
Nearby Lake Arenal, on the other side of the volcano, offers up freshwater activities like stand-up paddle boarding, kayaking, lake tours, and fishing. It is the second largest lake in Costa Rica with clean, clear refreshing water in the midst of an alpine-like view.
Safari float tours aboard pontoon boats are popular for birdwatching and viewing river dwelling creatures. The seasonal flood plain provides habitat for endemic and migratory birds as well as many exotic species of wildlife. Try Penas Blanca or Cano Negro rivers for fantastic cruises both within a couple hour's drive.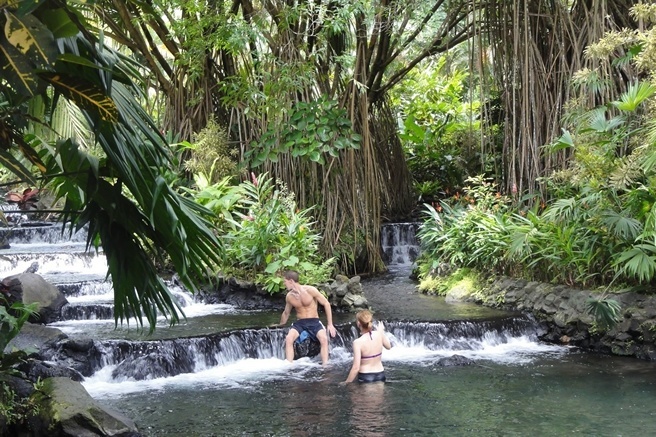 For a good night's sleep after all your adventures, settle into one of the many charming hotels found in and around La Fortuna. Several luxury options at the base of the volcano feature their own hot springs and lavish spas such as Tabacon, The Springs, Royal Corin and Arenal Kioro. You'll also find a variety of mid-range options with onsite hot springs including Los Lagos, Arenal Paraiso, and Silencio del Campo. Downtown budget hotels often include breakfast and an ever-present view of Arenal Volcano in good weather. You'll likely find a little bit of nightlife in town, especially on the weekend, more than is usually found in a town of the same size.
While it is nice to have a rental car, it is not necessary. There is a reliable taxi system located in La Fortuna that can take you to the various hotels surrounding the area. There are also airport shuttles traveling on a daily basis to and from the local airport located on the outskirts of La Fortuna. Private transportation can be arranged to take you to all your destination locations within Costa Rica.

Top reasons to visit La Fortuna
Town sits at base of Arenal Volcano
Huge selection of hot springs
Spectacular La Fortuna Waterfall
Called the adventure capital of Costa Rica
Wide variety of hotels and resorts
Lots of outdoor activities and tours
Professional and experienced tour operators
Lush jungle, rivers, waterfalls, and nearby Lake Arenal
Tropical birds, monkeys, and other wildlife
Vibrant tourist town day and night
Top reasons NOT to visit La Fortuna
Seeking a beach destination
Can't ride in car more than 2.5 hours
Expecting to see lava flows
Not interested in outdoor activities
Hot springs are unappealing to you
You do not like rain
Looking for late night venues
How to get to La Fortuna
From San Jose, drive northwest on Rt.1 until you reach San Ramon. Turn right on Rt. 702 north and follow through the mountains to La Fortuna. The two-lane mountainous road with stunning daytime views can be windy and often foggy - beware at night. There is little to no artificial street lighting so night driving is not recommended for those unfamiliar with the area.
When to visit Arenal
Weather is often unpredictable in the Arenal region and therefore you may not always see the volcano. Located on the Talamanca foothills, both Caribbean and Pacific patterns can affect it. February, March, April, and July are usually the best months. September and October are often the rainiest. Temperatures are steady most of the year. Daytime temperatures average in the upper 70s to mid-80s. Night time temps average in the mid-60s.
Visit our packing list page for ideas of what to bring to Arenal. Don't forget a rain jacket, long sleeve shirt, and a pair of pants.
Fun Fact: September and October are usually the best months of the year for volcano observation. Locals attribute this to heavy rains knocking down the cloud cover around the volcano.