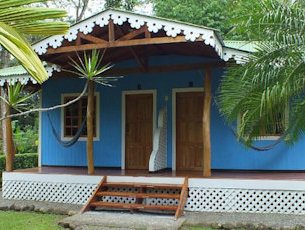 Cahuita
Discover the enchanting Ciudad Perdida Ecolodge in Costa Rica's picturesque Cahuita region. Nestled amidst lush tropical landscapes, this serene retreat offers a range of well-appointed&nbsp...
Starting at
On Request
per night
Double occupancy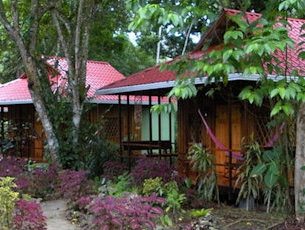 Cahuita
Escape to the enchanting Coral Hill Bungalows in Cahuita, Costa Rica, where rustic charm meets modern comfort in a serene hilltop setting. With breathtaking views of the rainforest and Caribbean Sea,&nbsp...
Starting at
On Request
per night
Double occupancy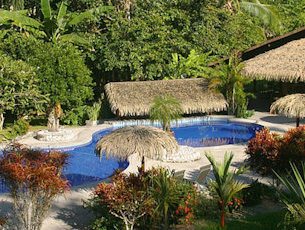 Cahuita
Experience the enchantment of Suizo Loco Lodge in Cahuita, Costa Rica. Nestled amidst lush tropical gardens, our rustic yet cozy accommodations provide a peaceful retreat. Explore the wonders of&nbsp...
Starting at
$101
per night
Double occupancy
Cahuita hotels, lodges, and vacation rentals
Cahuita offers a range of hotels and ecolodges that provide unique and immersive experiences in this vibrant beach town. From cozy bungalows to environmentally conscious ecolodges, there is an accommodation option to suit every traveler's preference.
Hotels in Cahuita provide comfortable and convenient stays, with amenities such as private porches, hammocks, and proximity to the town's attractions. These hotels offer a mix of charming Caribbean-style architecture, colorful décor, and personalized service, allowing guests to immerse themselves in the laid-back ambiance of the region.

Ecolodges in Cahuita take sustainability and eco-consciousness to the next level. These accommodations are designed to blend harmoniously with the natural surroundings, offering guests a chance to reconnect with nature. Ecolodges often feature eco-friendly practices such as using renewable energy, practicing waste management, and incorporating local materials into their designs. They provide an authentic and immersive experience, allowing guests to truly appreciate the beauty and biodiversity of the region.

Both hotels and ecolodges in Cahuita offer access to the town's stunning beaches, scenic walking trails, and the renowned Cahuita National Park. Guests can enjoy the serenity of the surroundings, spot wildlife, and immerse themselves in the rich Afro-Caribbean culture that permeates the area. Many accommodations also provide on-site amenities such as restaurants, bars, swimming pools, and spa services, ensuring a comfortable and enjoyable stay.

Whether you choose a hotel or ecolodge in Cahuita, you can expect a warm and welcoming atmosphere, personalized service, and a unique opportunity to experience the beauty of Costa Rica's southeastern coastline.
Unsure of what to do? Let us make you a free custom trip plan!