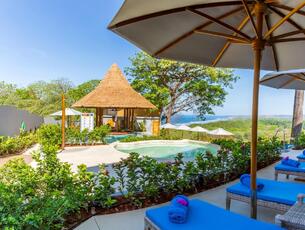 Nosara
Hotel Lagarta Lodge is a stunning boutique eco-lodge nestled in the pristine natural surroundings of Nosara, Costa Rica. This unique hotel combines luxury, sustainability, and a deep connection with&nbsp...
Starting at
$199
per night
Double occupancy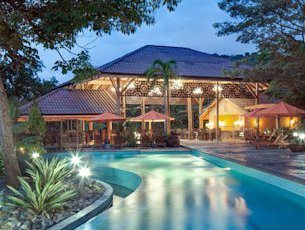 Nosara
Bodhi Tree Yoga Resort in Nosara, Costa Rica, is a serene and transformative destination surrounded by lush gardens and minutes away from pristine beaches. Our eco-conscious luxury resort offers&nbsp...
Starting at
$470
per night
Double occupancy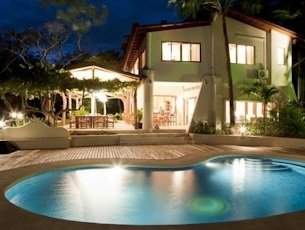 Nosara
A hillside retreat overlooking one of Nosara's five beaches, Tierra Magnifica offers a magnificent view in an intimate setting. Each of the 9 tastefully decorated rooms features luxury linens and a&nbsp...
Starting at
On Request
per night
Double occupancy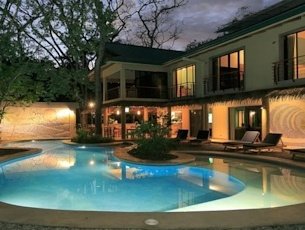 Nosara
Olas Verdes Hotel in Nosara, Costa Rica, is a hidden gem nestled within the natural beauty of the region. Surrounded by lush tropical gardens and just steps away from pristine beaches, our hotel&nbsp...
Starting at
$185
per night
Double occupancy
What are the best hotels in Nosara?
Hotel Lagarta Lodge: Located in a serene natural setting, Hotel Lagarta Lodge offers a unique blend of comfort and tranquility. The spacious rooms are tastefully designed and provide breathtaking views of the surrounding ocean and forest. Guests can relax by the pool, indulge in rejuvenating spa treatments, and savor delicious meals at the on-site restaurant. The lodge's proximity to pristine beaches and nature reserves allows guests to explore the abundant wildlife and engage in outdoor activities like surfing, hiking, and bird-watching.

Bodhi Tree Yoga Resort: A haven for yoga enthusiasts, Bodhi Tree Yoga Resort is designed to provide a harmonious balance between nature, relaxation, and wellness. The resort features beautifully designed accommodations, including luxury villas and bungalows, amidst lush greenery. Guests can immerse themselves in daily yoga and meditation classes, unwind with spa treatments, enjoy healthy organic cuisine at the restaurant, and take advantage of the resort's eco-friendly amenities. The serene atmosphere and emphasis on holistic well-being make it an ideal choice for those seeking a mindful and rejuvenating experience.

Tierra Magnifica Boutique Hotel: Nestled in the hills of Nosara, Tierra Magnifica Boutique Hotel offers a luxurious and intimate escape. The elegantly appointed rooms and suites provide a blend of comfort and style, with stunning ocean or jungle views. The hotel features a beautiful infinity pool, a spa offering a range of treatments, a yoga deck, and a restaurant serving gourmet meals with a focus on fresh local ingredients. The personalized service and attention to detail create a truly memorable stay, while the surrounding natural beauty and peaceful ambiance invite relaxation and renewal.

Olas Verdes Hotel: Situated just steps away from Playa Guiones, one of the region's renowned surf breaks, Olas Verdes Hotel combines sustainability with modern comfort. The hotel's eco-conscious design features sustainable materials, solar energy, and a commitment to responsible practices. The spacious and eco-chic rooms offer a comfortable retreat, and the outdoor pool provides a refreshing spot to cool off. Guests can enjoy healthy and locally sourced cuisine at the on-site restaurant, rent bikes to explore the area, or partake in surfing lessons and yoga classes. With its laid-back vibe and commitment to sustainability, Olas Verdes Hotel is a perfect choice for eco-conscious travelers.

These hotels in Nosara offer a range of amenities, from yoga and wellness retreats to beachfront relaxation, allowing guests to unwind, connect with nature, and experience the unique charm of this coastal paradise.
Unsure of what to do? Let us make you a free custom trip plan!