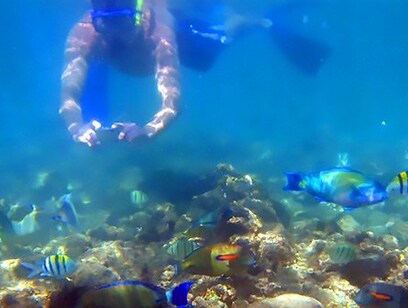 Snorkeling
This tour is a spectacular snorkeling experience in a truly magical place. It is a chance to swim at a living coral reef in a protected area off the Osa Peninsula. Isla del Cano, also known as Cano Island, is located 10 miles offshore from Drake Bay in the Pacific Ocean.You will begin your tour at Drake Bay where you will meet your certified guide and other people going with you for a fu ...
Starting at
$98
Per person cost
Suggested age range: 5+
Reserve Now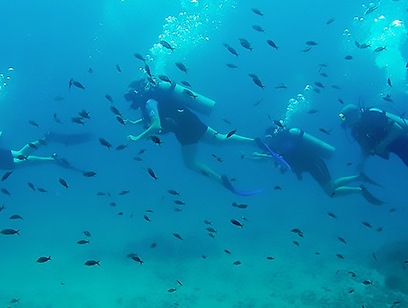 Diving
This scuba diving adventure is a 2 tank dive into the mystical waters surrounding Cano Island off the Osa Peninsula of Costa Rica. Depending on your level of experience as a certified scuba diver, you will go to special dive sites to complete 2 separate dives ranging from 45 to 100 feet deep. This will offer you a chance to see the marine life that lives in the pelagic zone, the area of water n ...
Starting at
$152
Per person cost
Suggested age range: 11+
Reserve Now
What are the best tours in Drake Bay, Costa Rica?
In Drake Bay, Costa Rica, you'll find an array of exciting tours that allow you to immerse yourself in the region's natural wonders. One of the top activities is snorkeling and scuba diving at Cano Island. Dive into the crystal-clear waters surrounding the island to discover vibrant coral reefs, an abundance of marine life, and the possibility of encountering majestic sea turtles, colorful fish, and even sharks.
For a truly immersive rainforest experience, embark on a guided hike at Corcovado National Park's Sirena Station. Explore the park's lush trails, spot diverse wildlife such as monkeys, sloths, and exotic bird species, and learn about the park's unique ecosystem from knowledgeable guides.

If you prefer a different section of Corcovado National Park, consider a hiking tour at San Pedrillo Station. This remote area offers stunning landscapes, pristine beaches, and the opportunity to encounter a wide variety of wildlife in their natural habitat.

Another popular tour in Drake Bay is dolphin and whale watching. Set sail along the coast, keeping your eyes peeled for playful dolphins and majestic whales. Witnessing these marine creatures in their natural environment is a truly awe-inspiring experience.

With its abundant marine life, lush rainforests, and breathtaking coastal scenery, Drake Bay offers an incredible range of tours for nature enthusiasts and adventure seekers alike. Whether you choose to explore the underwater world, hike through pristine forests, or witness the beauty of marine mammals, Drake Bay will leave you with unforgettable memories.
Unsure of what to do? Let us make you a free custom trip plan!