Costa Rica is the best place in the world for adventure tours!
Costa Rica functions as the ideal hotspot for adrenaline junkies and avid animal lovers. With tours that include experiences like white water rafting, canyoning, rock climbing, scuba diving, and zip-lining, a vacation to Costa Rica will surely get your heart pumping. Also, those visitors looking for a more relaxed approach to their vacation, but still want to include some adventure into their experience are recommended to try, snorkeling, boat tours, birdwatching, kayaking, and dozens of different wildlife tours.
Boasting over 500,000 species of wildlife, Costa Rica's numerous wildlife tours are surely capable of catching the attention of any animal enthusiasts. Looking to watch baby sea turtle's hatch? Have you ever seen a three-toed sloth or a troop of monkeys? Or have you ever heard of the rare, Scarlet Macaw? All of these questions can be answered once you take your first trip to Costa Rica.
Our extensive tour list spans the entire country, so whether you decide to stick on the Caribbean coast, relax in the Manuel Antonio Nation Park, or drive down one of the peninsulas, there will be an opportunity for adventure somewhere! We carefully choose specific tours to feature in our catalog, ensuring safety, organization, and absolute reliability.
So, what are you waiting for? Start planning your next trip to Costa Rica and discover the jaw-dropping beauty and adventure that exists in our thrilling and exciting tours!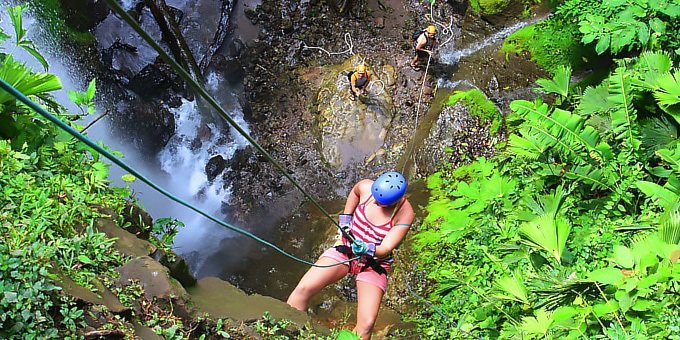 What are the best adventure tours in Costa Rica?
Costa Rica is renowned for its thrilling adventure tours that allow visitors to immerse themselves in the country's stunning natural landscapes. Here are some of the best adventure tours in Costa Rica:
Whitewater Rafting: Costa Rica is a paradise for whitewater rafting enthusiasts. Navigate the exhilarating rapids of rivers like the Pacuare, Sarapiqui, and Savegre for an adrenaline-pumping experience surrounded by lush rainforests.

Canopy Ziplining: Soar through the treetops on a canopy zipline tour. Enjoy breathtaking views as you glide from platform to platform, taking in the lush forests and spotting wildlife from a unique perspective.

Volcano Hiking: Embark on a hike to the summits of active volcanoes such as Arenal, Poas, and Rincon de la Vieja. Witness the raw power of nature and be rewarded with panoramic views of the surrounding landscapes.

Surfing: With its beautiful coastlines, Costa Rica offers fantastic opportunities for surfing. Whether you're a beginner or an experienced surfer, destinations like Tamarindo, Jaco, and Santa Teresa boast great waves and surf schools to help you catch the perfect ride.

Canyoning: Experience the thrill of rappelling down waterfalls, descending into pristine canyons, and plunging into natural pools. Canyoning tours take you on an exciting journey through Costa Rica's rugged terrain.

ATV Riding: Explore the country's diverse landscapes on an ATV (All-Terrain Vehicle) tour. Ride through rugged trails, forested mountains, and picturesque villages while enjoying an adrenaline-filled adventure.

Scuba Diving and Snorkeling: Discover the underwater wonders of Costa Rica's marine ecosystems. Dive or snorkel in destinations like Cano Island, the Catalina Islands, and the Marino Ballena National Park, where you can encounter colorful coral reefs, tropical fish, and even sharks and sea turtles.

Hiking and Wildlife Tours: Costa Rica's national parks and reserves offer fantastic opportunities for hiking and wildlife observation. Explore the diverse ecosystems of Corcovado National Park, Manuel Antonio National Park, and Monteverde Cloud Forest Reserve, where you can spot a wide variety of flora and fauna, including monkeys, sloths, and exotic bird species.

These are just a few examples of the many adventure tours available in Costa Rica. Whether you're seeking adrenaline-pumping activities, close encounters with wildlife, or thrilling experiences in nature, Costa Rica offers an abundance of options for adventure enthusiasts of all levels.


What are the best nature tours in Costa Rica?
Costa Rica is renowned for its incredible biodiversity and stunning natural landscapes, making it a paradise for nature enthusiasts. Here are some of the best nature tours in Costa Rica:
Rainforest Exploration: Costa Rica's rainforests are teeming with life and offer endless opportunities for exploration. Take guided hikes through renowned rainforest destinations like Corcovado National Park, Tortuguero National Park, and Monteverde Cloud Forest Reserve to discover unique flora, fauna, and cascading waterfalls.

Wildlife Observation: Costa Rica is home to an astonishing array of wildlife. Join guided wildlife tours to spot iconic creatures like monkeys, sloths, toucans, and jaguars in their natural habitats. Popular wildlife destinations include Manuel Antonio National Park, Cahuita National Park, and Arenal Volcano National Park.

Birdwatching: With over 900 bird species, Costa Rica is a birdwatcher's paradise. Take birdwatching tours led by experienced guides who can help you spot and identify a wide variety of colorful avian species. Monteverde Cloud Forest Reserve, Carara National Park, and Palo Verde National Park are excellent birdwatching destinations.

Sea Turtle Nesting: Costa Rica's coastline is a crucial nesting ground for sea turtles. Join guided tours to witness the nesting and hatching of sea turtles, such as the Olive Ridley, Leatherback, and Hawksbill turtles. Tortuguero National Park and Ostional Wildlife Refuge are popular destinations for turtle nesting tours.

River and Boat Safaris: Explore Costa Rica's stunning waterways on river and boat safaris. Glide along the canals of Tortuguero National Park, Palo Verde National Park, or the Tempisque River to observe wildlife like crocodiles, caimans, monkeys, and an abundance of bird species.Volcano Tours: Costa Rica's volcanoes offer a unique natural spectacle. Take guided tours to volcanoes like Arenal, Poas, and Rincon de la Vieja to witness their volcanic activity, hike through volcanic landscapes, and soak in hot springs heated by geothermal activity.

Mangrove Exploration: Join mangrove tours to explore the intricate network of mangrove forests found along Costa Rica's coasts and rivers. These tours allow you to discover the diverse plant and animal life that thrives in these protected ecosystems.

These are just a few examples of the best nature tours in Costa Rica. The country's commitment to conservation and its wealth of natural wonders provide endless opportunities to immerse yourself in its breathtaking landscapes and encounter its incredible biodiversity.