Discover Harmony and Renewal: Costa Rica Yoga & Wellness Retreat Vacation Packages
Welcome to a world of rejuvenation and tranquility amidst the natural beauty of Costa Rica. Our Costa Rica Wellness Retreat Vacation Packages offer a unique blend of wellness, adventure, and cultural experiences, providing you with an opportunity to nourish your mind, body, and soul.
Why Choose Our 100% Customizable Wellness Retreats
Costa Rica, with its diverse ecosystems and serene landscapes, is the perfect backdrop for your wellness journey. Our retreats are carefully curated to provide an immersive experience that goes beyond the typical vacation. Here's why you should choose our wellness retreats:

Natural Harmony: Immerse yourself in the lush rainforests, pristine beaches, and breathtaking mountains of Costa Rica. The country's commitment to sustainability and eco-friendliness ensures you're always close to nature.

Holistic Wellbeing: Our retreats focus on holistic wellbeing. Experience daily yoga and meditation sessions led by experienced instructors. Nourish your body with organic, locally sourced cuisine that caters to various dietary preferences.

Adventure and Culture: Discover the cultural richness of Costa Rica through guided tours, interaction with local communities, and visits to historical sites. Engage in thrilling adventures such as zip-lining, hiking, and waterfall exploration.

Luxurious Accommodations: Stay in handpicked, luxurious accommodations that offer comfort, privacy, and stunning views. Whether it's a beachfront villa, a jungle lodge, or a mountain retreat, we ensure your stay is exceptional.
100% Customizable: All of your vacation packages are designed to provide you with ideas of what is possible. You can book your packae exactly as stated or you can customize any aspect to perfection.
What Our Wellness Retreats Include
Daily Wellness Activities: Start your day with yoga and meditation sessions in the midst of nature. These activities help you connect with yourself, reduce stress, and find inner peace.

Nutritious Meals: Enjoy delicious and healthy meals prepared with fresh, local ingredients. The chefs of these handpicked retreats create culinary delights that cater to various dietary preferences.

Adventure and Exploration: Embark on guided adventures that allow you to explore Costa Rica's diverse landscapes, from pristine beaches to dense jungles. Activities include hiking, surfing, kayaking, and more.

Cultural Immersion: Engage with local communities and learn about Costa Rica's rich culture and traditions. Visit indigenous villages, artisan markets, and historical sites.

Spa and Relaxation: Indulge in spa treatments and relaxation sessions that rejuvenate your body and mind. Soothe your senses with massages, hot spring baths, and more.

Educational Workshops: Participate in workshops and discussions on topics related to wellness, sustainability, and personal growth. Gain insights that can enhance your life beyond the retreat.

Customization: We understand that each individual's wellness journey is unique. That's why we offer customizable retreat packages to meet your specific needs and goals.
Booking Your Wellness Retreat
Booking your Costa Rica Wellness Retreat Vacation Package is simple. Browse through our available retreats, choose the one that resonates with you, and reserve your spot. We handle all the details, from accommodations to activities, so you can focus on your wellness journey.
Join Us for a Transformative Experience
Embark on a transformative journey of self-discovery, relaxation, and adventure in the natural paradise of Costa Rica. Our wellness retreats are designed to leave you feeling refreshed, inspired, and connected. Book your retreat today and experience the magic of Costa Rica's wellness culture.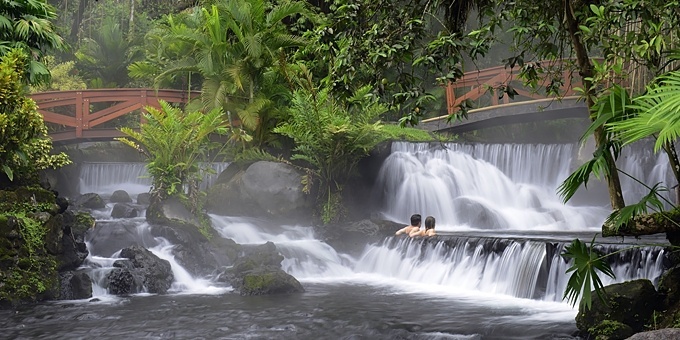 Elevate Your Wellness Retreat: Discover How Hot Springs Transform Your Vacation Package
Imagine yourself nestled in the heart of a lush, natural paradise, surrounded by the sights and sounds of pristine wilderness. Now, picture sinking into the warm, mineral-rich waters of a secluded hot spring, with the serene landscape stretching out before you. This is the essence of a wellness vacation elevated by the magic of hot springs.

Our wellness vacation packages are designed to rejuvenate your body and soul, and hot springs play a pivotal role in this transformative experience. Here's how these enchanting natural wonders can seamlessly integrate with your vacation package to create an unforgettable journey towards well-being:

Pure Relaxation: Your wellness retreat begins with the soothing embrace of natural hot springs. The gentle warmth of the water, coupled with the symphony of nature, creates an oasis of relaxation. It's the perfect start to your rejuvenating getaway.

Stress-Free Bliss: Our wellness packages are all about leaving stress behind. Hot springs naturally coax your body into a state of tranquility, melting away the tensions of everyday life and inviting a deep sense of calm.

Rejuvenating Sleep: A restful night's sleep is the cornerstone of well-being. Hot springs' therapeutic effects prepare your body for a night of blissful slumber, so you wake up refreshed and ready to embrace the day's activities.

Pain Relief: Whether you're engaging in yoga, hiking, or other wellness activities, our packages have your physical comfort in mind. Hot springs' mineral-rich waters are perfect for soothing muscles and joints, ensuring you feel your best throughout your retreat.

Detoxify Your Soul: Detoxification is at the core of our wellness philosophy. Hot springs stimulate the body's natural detox process through gentle sweating, leaving you feeling revitalized and ready to embrace a cleaner, healthier you.

Glowing Skin: Unveil your most radiant self with hot springs' skin-nourishing minerals. Silica and sulfur, found in these natural wonders, cleanse the skin, remove impurities, and offer a refreshing glow, perfect for your wellness journey.

Optimized Circulation: Good circulation is the key to holistic well-being. Immerse yourself in hot springs to promote enhanced blood flow, aiding in recovery and rejuvenation.

Nature's Connection: Our wellness vacation packages are carefully curated to immerse you in nature's embrace. Hot springs are often located in awe-inspiring settings, offering the chance to connect with the environment, reduce stress, and gain mental clarity.

Community and Connection: Share the hot spring experience with like-minded wellness enthusiasts, fostering bonds and a sense of community. It's an opportunity to relax, rejuvenate, and create lasting memories together.

Harmony of Body and Mind: Our wellness retreats focus on achieving a balance between body and mind. Hot springs harmonize these elements, leaving you centered, revitalized, and ready to make the most of your vacation package.

Uncover the profound benefits of hot springs in the heart of your wellness vacation. Our packages are designed to enhance every aspect of your well-being, making your journey truly transformative. Let the warm waters and natural beauty of hot springs elevate your retreat to a level of rejuvenation and connection you've never experienced before.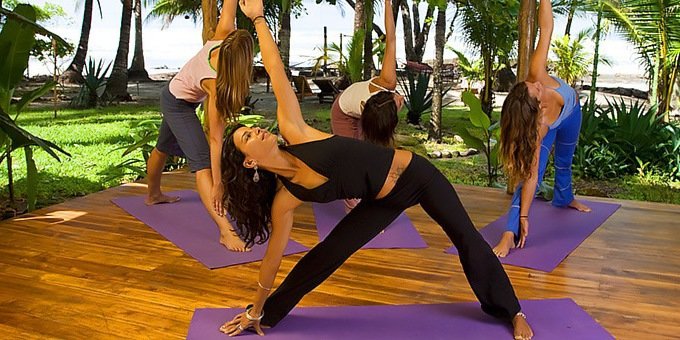 Beachside Bliss: Elevate Your Wellness Retreat with Coastal Serenity
Imagine waking up to the gentle sound of waves caressing the shore, feeling the warm embrace of the sun on your skin, and breathing in the crisp, salty air that invigorates your senses. This is the essence of a beachside wellness vacation, where every moment is a symphony of relaxation, rejuvenation, and pure bliss.
Escape to the Beach for Your Wellness Journey
A beach getaway isn't just a vacation; it's a transformative experience that enhances your well-being on every level. Here's how the beach can elevate your wellness retreat to an unforgettable adventure:

Serene Stress Relief: Leave your worries behind as you immerse yourself in the calming rhythm of the ocean. The beach is nature's stress-relief sanctuary, where the soothing sound of waves washes away tension, allowing you to unwind completely.

Oceanic Mindfulness: Settle into a tranquil state of mindfulness as you gaze out at the endless horizon. The beach's vastness creates the perfect backdrop for meditation and self-reflection, offering mental clarity like no other.

Active Tranquility: Whether you prefer a leisurely beachfront stroll, energizing yoga sessions on the sand, or thrilling water sports, the beach invites you to move and embrace a holistic sense of vitality.

Vitamin Sea: Bask in the sun's warm embrace and replenish your body with natural vitamin D. Not only does it promote healthy bones, but it also uplifts your mood, leaving you feeling invigorated.

Healing Waters: Take a dip in the sea's therapeutic embrace. Seawater is rich in minerals that soothe your muscles, cleanse your skin, and leave you feeling revitalized.

Breathing Bliss: Inhale the fresh, invigorating sea air loaded with negative ions that boost your mood and reduce stress, helping you find your inner zen.

Nature's Connection: The beach allows you to reconnect with nature's elements—earth, water, and air—profoundly grounding you and nurturing your spirit.

Sensory Symphony: Engage all your senses—smell the salty breeze, feel the warm sand underfoot, watch seagulls dance in the sky, and savor the flavors of fresh, local seafood.

Bonding Moments: Share laughter, build sandcastles, and create unforgettable memories with friends and family. The beach fosters meaningful connections and strengthens relationships.

Digital Detox Oasis: Disconnect from screens and immerse yourself in the present moment. The beach provides the ideal backdrop for a refreshing digital detox.

Sunset Magic: Witness awe-inspiring sunsets that paint the sky in hues of gold and pink. These moments of natural beauty are perfect for grounding your intentions and setting a positive tone for your day or night.

Wellness by the Waves: Enjoy spa and wellness treatments with a backdrop of endless ocean views. Let the sound of the waves enhance your relaxation and rejuvenation.

Coastal Cuisine: Savor the freshest seafood and locally sourced ingredients, nourishing your body with healthy, delicious meals.

Creative Inspiration: Let the beach's beauty awaken your inner artist, writer, or simply your sense of wonder and creativity.

A beachfront wellness vacation isn't just a getaway; it's a journey to reinvigorate your body, refresh your mind, and nourish your soul. It's an experience that leaves you feeling more alive, more connected, and more in tune with your own well-being. The beach is not just a destination; it's a path to your best self. Dive in, and let the waves of wellness wash over you.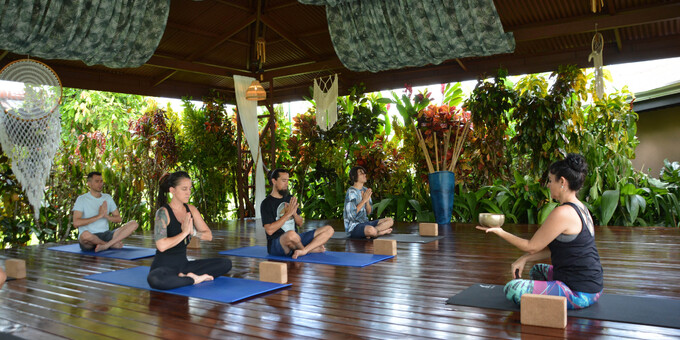 Discover Your Costa Rican Paradise: Where Wellness Meets Adventure and Serenity
Now that you've discovered the magic of combining hot springs, yoga retreats in the jungle, and beachfront lodging for yoga on the beach, your perfect Costa Rican wellness vacation awaits. It's a journey that seamlessly weaves relaxation, adventure, and holistic rejuvenation into one unforgettable experience.

Imagine waking up to the soothing sound of waves, feeling the embrace of a tropical breeze, and knowing that your day will be filled with yoga sessions amidst lush jungle greenery and soothing dips in natural hot springs. This is the kind of wellness vacation that renews your spirit, nourishes your body, and brings peace to your soul.

In Costa Rica, you'll find the perfect harmony of nature's wonders and holistic practices. Whether you're a seasoned yogi or new to the practice, the jungle offers a serene backdrop for finding inner peace. As you flow through your poses, the jungle canopy above and the sounds of exotic birds provide a unique sense of serenity.

Then, there are the hot springs, nature's own spa treatment. Imagine immersing yourself in warm, mineral-rich waters surrounded by the wild beauty of Costa Rica. These natural wonders not only relax your muscles but also detoxify your body, leaving you feeling rejuvenated.

And let's not forget the beach. There's something profoundly soothing about the rhythm of ocean waves. It's the perfect setting for your yoga practice, a place where you can deepen your connection to nature and yourself. As you flow through your poses on the soft sand, the sea breeze carries your worries away.

This isn't just a vacation; it's a holistic wellness journey, an opportunity to nourish your body, mind, and soul. It's a chance to leave the stresses of everyday life behind and embrace a simpler, more meaningful existence, if only for a while.

So, does this sound like the wellness vacation you've been dreaming of? If the answer is yes, then know that all of this and more is possible with our expert planning. We're here to turn your dream into a reality, to guide you through the jungles, hot springs, and beaches of Costa Rica, and to help you discover the profound sense of wellness and serenity that awaits. Your journey starts here, and it's time to take that first step towards your Costa Rican paradise. Contact us now to start planning your perfect Costa Rica wellness retreat.