Surfing Paradise: Discover the Best Surfing Beaches in Costa Rica
Costa Rica, with its Pacific and Caribbean coastlines, is a haven for surfers of all levels, from beginners to seasoned pros. This tropical paradise offers some of the best waves in the world, attracting wave riders from across the globe. Join us on a virtual journey as we explore the top surfing destinations in Costa Rica.
1. Tamarindo - Wave Rider's Dream

Tamarindo, on the Pacific coast, is a world-renowned surfing hub. With its consistent waves, sandy bottom breaks, and a variety of surf schools, it's ideal for beginners. More experienced surfers can challenge themselves on the legendary "El Estero" and "Pico Pequeño" breaks. After an exhilarating session, explore Tamarindo's vibrant beach town and enjoy its lively nightlife.

2. Playa Grande - Leatherback Sanctuary

Adjacent to Tamarindo, Playa Grande offers a different kind of thrill. This beach is part of the Las Baulas National Marine Park, a nesting ground for the endangered leatherback turtle. Surf among these ancient giants and experience a unique blend of nature and adventure.

3. Jacó - Surf and Play

Jacó, just a short drive from San Jose, offers consistent beach breaks, making it a favorite for both locals and tourists. The waves here cater to surfers of all levels. When you're not riding the waves, Jacó's lively atmosphere and beachfront bars offer plenty of entertainment.

4. Dominical - Rugged Beauty

Dominical, on the southern Pacific coast, is a surfer's paradise surrounded by lush rainforest. The powerful waves of Dominicalito and Dominical Point attract experienced surfers seeking a challenge. This area offers a laid-back vibe and proximity to other surf spots like Playa Hermosa and Uvita.

5. Pavones - World's Longest Left

For the adventurous surfer, Pavones on the southern Pacific coast boasts the world's longest left-hand wave. This point break can provide rides of up to 2 minutes or more on a good day. Though not ideal for beginners, the thrill of riding Pavones is a bucket-list experience.

6. Nosara - Serene Surfing

Nosara, on the Nicoya Peninsula, offers a serene surfing experience. Playa Guiones is known for its consistent, long rides and is great for learners. Nosara's tranquil atmosphere, yoga retreats, and wellness centers provide a holistic surfing adventure.

7. Puerto Viejo - Caribbean Vibes

On the Caribbean coast, Puerto Viejo offers a unique surfing experience. Salsa Brava, known for its powerful reef break, attracts skilled surfers. The Afro-Caribbean culture, reggae beats, and vibrant street food make this destination a memorable one.

8. Witch's Rock - Legendary Waves

Located in Santa Rosa National Park, Witch's Rock (Roca Bruja) is legendary among surfers. Accessible by boat, this spot provides fast and powerful waves for experienced surfers. The park's remote setting adds to the adventure.

9. Malpaís and Santa Teresa - Hidden Gems

Malpaís and Santa Teresa on the Nicoya Peninsula have become hidden gems for surfers. Consistent beach breaks and a relaxed vibe make this area ideal for both surfing and unwinding. It's perfect for surfers seeking a more off-the-beaten-path experience.

10. Playa Hermosa - Beauty and Power

Playa Hermosa, located near Jacó, is famous for its powerful beach break. It's a great place for experienced surfers looking for challenging waves and fewer crowds. Nearby breaks like Backyard and Boca Barranca offer additional variety.

11. Playa Naranjo - Hidden Secret

Accessible by boat or a challenging hike, Playa Naranjo in Santa Rosa National Park is a hidden secret. It offers both left and right breaks and a pristine, remote setting for a truly wild surfing adventure.

12. Ollie's Point and Witches Rock - Dream of the Pros

These world-class breaks, accessible by boat from Playas del Coco, are where experienced surfers' dreams come true. Named after the famous Witch's Rock surf shop, these spots offer some of the best waves in Costa Rica.
Tips for Surfing in Costa Rica:
Consider seasonal variations and water conditions when planning your trip.
Respect local surf etiquette and the environment by disposing of trash responsibly.
If you're new to surfing, take advantage of the many surf schools and instructors available.
Be prepared with appropriate gear and safety measures, including sunscreen and a leash.
Whether you're a seasoned surfer chasing the perfect wave or a beginner looking for lessons in paradise, Costa Rica's surfing beaches offer an unforgettable experience. Pack your board, sunscreen, and a sense of adventure and dive into the surf-rich culture of this tropical paradise.
Check out our detailed surfing guide and map of Costa Rica surfing beaches for more information.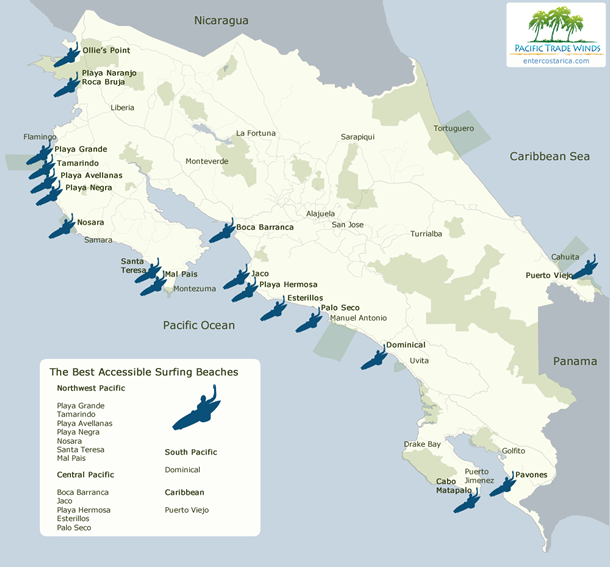 Similar Topics
What are the most popular things to do in Costa Rica?
Where are the best destinations in Costa Rica?
When is the best time to visit Costa Rica (weather and prices)?
Where are the best beaches in Costa Rica?
Is Costa Rica a family friendly destination?
Should I go to an all inclusive resort?
Where can I see nesting sea turtles?
Where are the best surfing beaches?
Where is the best sport fishing in Costa Rica?
What are the most common misconceptions about Costa Rica?