Experience the magic of Nosara with a carefully curated 3-5 night stay that strikes the perfect balance between relaxation and adventure. While the pristine beaches alone are worth the trip, consider enhancing your experience by combining your coastal retreat with an unforgettable journey to destinations like Rincon de la Vieja, Monteverde, or Arenal. This blend of sun-soaked shores and inland wonders promises a vacation filled with lasting memories and boundless rewards.
The Best Hotels in Nosara
Nosara, Costa Rica, is a destination where nature's beauty seamlessly intertwines with luxury and relaxation. Among the many reasons travelers are drawn to this coastal haven are its outstanding hotels, each offering a unique blend of comfort, eco-consciousness, and the opportunity to connect with the surrounding natural wonders. In this guide, we'll introduce you to some of the best hotels in Nosara, from the enchanting eco-lodges to the wellness-focused retreats. Whether you seek tranquil seclusion, yoga and wellness immersion, or easy access to the area's renowned surf breaks, these accommodations promise an unforgettable stay in this tropical paradise.
Hotel Lagarta Lodge: Nestled at the convergence of a river and the Pacific Ocean, Hotel Lagarta Lodge offers a serene and secluded retreat. Surrounded by a lush biological reserve, this eco-friendly lodge boasts comfortable rooms and stunning vistas of the surrounding nature. Guests can immerse themselves in the beauty of Nosara's mangroves, rainforests, and beaches while enjoying top-notch amenities.

Bodhi Tree Yoga Resort: For those seeking a wellness-oriented escape, Bodhi Tree Yoga Resort is a haven. Set amidst tropical gardens, this resort offers a range of yoga and meditation classes, making it perfect for rejuvenation. Guests can unwind in luxurious rooms, suites, or villas, savor wholesome cuisine, and enjoy a tranquil atmosphere that promotes relaxation and self-discovery.

Tierra Magnifica Boutique Hotel: Tierra Magnifica Boutique Hotel is a hidden gem offering intimate and personalized experiences. Perched on a hilltop, it provides breathtaking ocean views. This adults-only boutique hotel combines luxury with eco-consciousness, offering spacious suites, an infinity pool, and a strong commitment to sustainability.

Olas Verdes Hotel: Olas Verdes Hotel is a surf lover's paradise. Located steps away from Playa Guiones, one of Costa Rica's premier surf spots, this hotel caters to both surf enthusiasts and eco-conscious travelers. Surrounded by lush gardens, the hotel features stylish accommodations, an inviting pool, and easy access to the beach and its waves. Best of all, this hotel has configuarable rooms that can connect to make larger suites. It's ideal for traveling with friends or family.

Each of these hotels in Nosara offers a unique experience, ensuring that visitors can find the perfect match for their preferences, whether they seek relaxation, adventure, or a combination of both.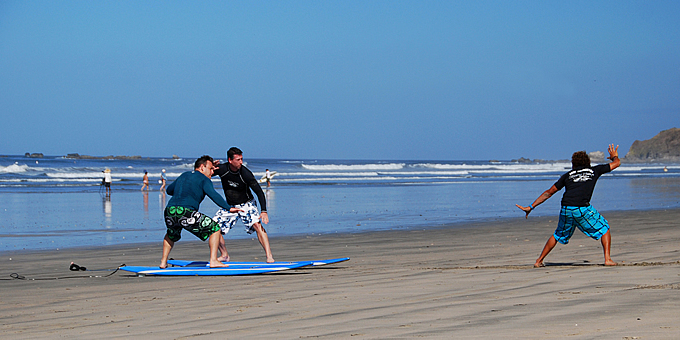 The Best Things to Do in Nosara
Nosara invites you to experience a world of adventure and relaxation on Costa Rica's Pacific coast. Here are some of the best activities to make the most of your time in this enchanting destination:

Surfing or Surf Lessons: Nosara is renowned for its exceptional surf breaks, making it a surfer's paradise. Whether you're a seasoned pro or a beginner eager to catch your first wave, the consistent and gentle breaks at Playa Guiones offer ideal conditions. Surf schools and rental shops in the area provide lessons and equipment, ensuring that everyone can ride the waves.

Yoga: Embrace the town's serene atmosphere by participating in yoga classes at one of its many studios or wellness retreat centers. Nosara's natural beauty provides a perfect backdrop for your practice, and experienced instructors offer classes for all levels, from beginners to advanced practitioners.

Sea Turtle Nesting at Ostional Wildlife Refuge: Witness a remarkable natural phenomenon by visiting the nearby Ostional Wildlife Refuge. During the nesting season, thousands of Olive Ridley sea turtles come ashore to lay their eggs. It's a rare opportunity to observe this awe-inspiring event and see baby turtles making their way to the ocean.

Stand-Up Paddle Boarding (SUP): Explore Nosara's serene waterways and coastline on a stand-up paddleboarding adventure. Glide along the gentle river or paddle out to the open ocean, taking in the scenic beauty and perhaps spotting some wildlife along the way.

Horseback Riding: Discover Nosara's lush landscapes and pristine beaches on horseback. Guided horseback tours offer a unique way to explore the area's natural beauty, including jungle trails and breathtaking ocean views.

Explore Nosara's Pristine Beaches: Simply relax and soak up the sun on the area's stunning beaches. Playa Guiones, Playa Pelada, and Playa Ostional offer beautiful stretches of sand where you can swim, sunbathe, or take long walks along the shore.

Wildlife Watching: Nosara is teeming with wildlife. Keep your eyes peeled for howler monkeys, iguanas, exotic bird species, and even coatis while exploring the town and its surroundings. Birdwatchers will find plenty of opportunities to spot diverse avian species.

Nature Hikes and Trails: Immerse yourself in Nosara's natural beauty by embarking on nature hikes and jungle trails. These adventures provide an up-close look at the region's flora and fauna.

Wellness and Spa Retreats: Recharge your mind and body by indulging in spa treatments and wellness programs offered by the town's retreat centers. Pamper yourself with massages, holistic therapies, and yoga sessions set amidst the jungle's tranquility.

Nosara offers a harmonious blend of outdoor activities, wellness experiences, and opportunities to connect with nature, ensuring a memorable and rejuvenating stay on Costa Rica's Pacific coast.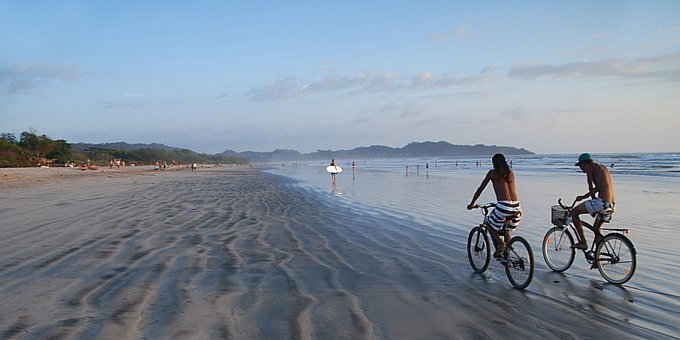 The Beaches of Nosara
Nosara, located on Costa Rica's Nicoya Peninsula, is renowned for its stunning beaches. Each of these pristine coastal stretches offers a unique experience, catering to various interests and preferences. Here are some of the most notable beaches in Nosara:

Playa Guiones: Playa Guiones is the heart of Nosara's surf scene. It's famous for its consistent waves, making it an ideal spot for surfers of all levels. Whether you're an experienced rider looking to catch some big waves or a beginner taking your first lesson, Playa Guiones won't disappoint. The beach features a long stretch of white sand, perfect for sunbathing, beachcombing, or simply strolling along the shore. It's also a great place to watch mesmerizing sunsets.

Playa Nosara: Located to the north of Playa Guiones, Playa Nosara offers a quieter and more secluded atmosphere. Accessible by a bumpy road or a short hike through the forest, this beach remains uncrowded due to its relatively remote location. The waves at Playa Nosara are some of the tallest in the region, making it a preferred spot for experienced surfers. Its pristine beauty and seclusion make it an excellent place for solitude and relaxation.

Playa Pelada: Playa Pelada is known for its unique blowhole, where seawater sprays through natural rock formations. It's an intriguing feature and a popular spot for visitors to take refreshing outdoor showers when the tide is high. The beach is lined with shady palm trees, providing a peaceful setting for picnics and leisurely walks.

Playa Garza: Just south of Playa Nosara, Playa Garza is a tranquil and serene beach characterized by gentle waters, scattered shells, and rock formations. The miniature town of Garza lies adjacent to the beach, offering a glimpse into the local way of life. Playa Garza is an excellent spot for swimming and enjoying the calm ocean, making it suitable for families.

Playa Ostional: While not directly in Nosara, Ostional Beach is a short drive to the north. It's famous as the world's largest nesting site for Olive Ridley sea turtles. During the nesting season, which occurs monthly between July and November, hundreds to thousands of turtles come ashore to lay their eggs. Witnessing this incredible natural phenomenon is a must for nature enthusiasts.

Each of these beaches in Nosara has its allure and charm. Whether you seek thrilling surf adventures, peaceful solitude, or the opportunity to connect with nature through turtle nesting, Nosara's beaches offer diverse experiences that cater to all types of travelers. Enjoy the sun, sand, and waves in this tropical paradise on Costa Rica's Pacific coast.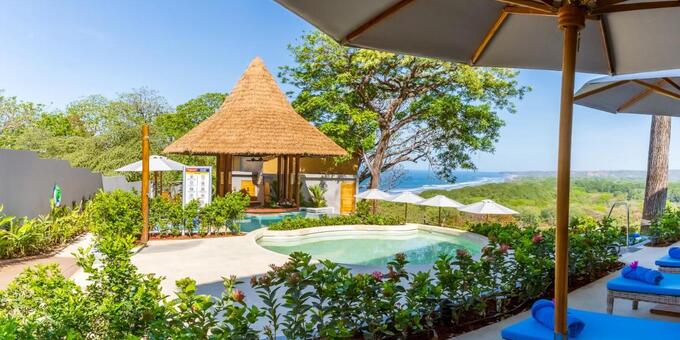 The Best Restaurants in Nosara
Nosara not only enchants with its natural beauty but also tantalizes the taste buds with its diverse culinary offerings. Here are some of the best restaurants where you can savor delicious meals:

El Manglar Restaurant: Nestled within the lush greenery of Olas Verdes Hotel, El Manglar Restaurant serves a fusion of international and Costa Rican cuisine. Dine in a serene atmosphere surrounded by nature, and enjoy dishes prepared with fresh, locally sourced ingredients. Musicians regularly play at this restaurant.

Rosi's Soda Tica: Experience authentic Costa Rican flavors at Rosi's Soda Tica. This cozy eatery offers a menu of traditional dishes like casados, gallo pinto, and fresh seafood. It's an excellent spot to savor local cuisine in a friendly, welcoming setting.

10Pies: If you're in the mood for pizza, 10Pies is the place to be. This pizzeria also offers traditional Costa Rican fare and seafood.

Dolce Vita: For Italian cuisine with a tropical twist, head to Dolce Vita. Indulge in classic Italian dishes like pasta and pizza, as well as fresh seafood options. The restaurant's beachfront location offers stunning sunset views, making it an ideal spot for a romantic dinner.

La Luna: La Luna provides an elegant dining experience with a menu featuring international and Mediterranean-inspired dishes. The restaurant's beachfront location sets the stage for a memorable evening, whether you're enjoying a romantic dinner or a gathering with friends.

Pacifico Azul: This seafood-focused restaurant delights seafood enthusiasts with its fresh catches and seafood platters. Enjoy your meal on the outdoor terrace and soak in the coastal ambiance.
Beach Dog Cafe: Beach Dog Cafe is a casual, pet-friendly spot where you can savor comfort food, sandwiches, and refreshing beverages. It's a great choice for a laid-back meal or a beer after a day at the beach.
Chirriboca and the Sunset Bar: Located in Hotel Lagarta, this ocean view restaurant serves a wide variety of international cuisine. The sunsets are spectacular!

Nosara's dining scene offers something for every palate, whether you're in the mood for local cuisine, international flavors, or a taste of Costa Rica's rich culinary heritage. Enjoy your meals surrounded by the area's natural beauty and warm hospitality.
Getting Around Nosara
Navigating Nosara is most convenient with a rental car, providing the freedom to explore at your own pace. While private transfers are an option, they tend to be costly. To fully enjoy your Nosara adventure, a 4x4 vehicle is essential, given the often challenging state of the unpaved roads leading to and within Nosara. These roads can become particularly treacherous during the rainy season, with several rivers prone to flooding. Even upon reaching Nosara, the road conditions remain far from ideal, especially during the wet months when potholes outnumber smooth stretches, making a reliable 4x4 vehicle your best ally for a hassle-free journey. Cabs are readily available and many people rent UTVs or ATVs while they are in town.