World-class resorts and ecolodges in Drake Bay
Drake Bay, situated on the Osa Peninsula in Costa Rica, is a destination known for its pristine natural beauty and remote location. The area offers a selection of amazing ecolodges and resorts that cater to nature enthusiasts and those seeking an immersive rainforest experience.
Ecolodges in Drake Bay provide a unique opportunity to stay in harmony with the surrounding environment. These eco-friendly accommodations are designed to minimize their ecological footprint and offer sustainable practices. Ecolodges often feature rustic yet comfortable cabins or bungalows nestled within the rainforest, allowing guests to be immersed in nature. They may offer amenities such as open-air common areas, on-site naturalist guides, farm-to-table dining experiences, and activities like guided hikes in Corcovado National Park or snorkeling tours at Cano Island. Staying in an ecolodge in Drake Bay provides an authentic and eco-conscious experience for nature lovers.

Resorts in Drake Bay offer a more luxurious and all-inclusive experience for visitors. These resorts typically boast well-appointed rooms or suites with modern amenities, private balconies or terraces, swimming pools, on-site restaurants, spa services, and organized activities or excursions. Resorts in Drake Bay provide a comfortable and convenient base for exploring the natural wonders of the region while offering a range of amenities and services for relaxation and enjoyment.

Hotels in Drake Bay span a range of styles and budgets, catering to diverse traveler preferences. From budget-friendly options to mid-range accommodations, Drake Bay hotels provide comfortable rooms, friendly service, and convenient access to the attractions and activities of the area. Some hotels may also offer amenities such as swimming pools, on-site dining options, and organized tours or activities.

Whether you choose to stay in an ecolodge, resort, or hotel in Drake Bay, you can expect to be surrounded by lush rainforest, breathtaking wildlife, and stunning natural landscapes. The accommodations in Drake Bay are designed to enhance your experience of this remote and captivating destination, providing a comfortable and immersive stay amidst the beauty of Costa Rica's Osa Peninsula.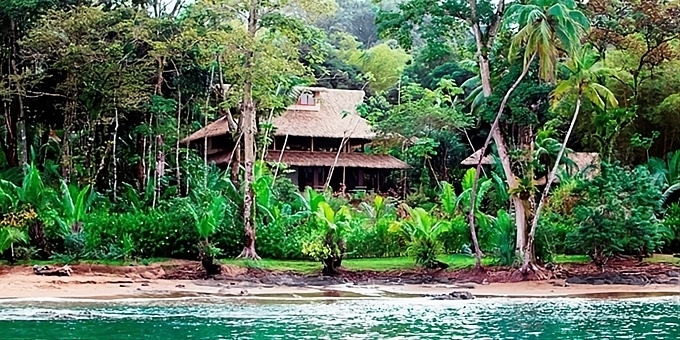 Drake Bay ecolodge packages
Drake Bay, located on Costa Rica's Osa Peninsula, offers a range of ecolodges and packages that combine the natural wonders of the area with exciting adventures such as exploring Corcovado National Park and snorkeling at Cano Island.

Ecolodge packages in Drake Bay often include accommodations in eco-friendly lodges that are nestled within the rainforest, providing an immersive experience in nature. These lodges emphasize sustainable practices and offer comfortable cabins or bungalows with amenities designed to blend with the surrounding environment. Guests can expect a peaceful and eco-conscious stay, with opportunities to observe wildlife and enjoy the tranquility of the rainforest. Guests should not expect luxuries such as televisions or air-conditioning, though a few select lodges do have AC.

The packages typically include guided tours to Corcovado National Park, known as one of the most biodiverse places on Earth. Experienced naturalist guides lead visitors through the park's trails, showcasing the incredible variety of flora and fauna that call the area home. Guests may encounter monkeys, sloths, colorful birds, and other unique wildlife species as they explore the park's dense rainforest and pristine coastline.

Another highlight of ecolodge packages in Drake Bay is the opportunity to snorkel at Cano Island. This protected marine area is renowned for its crystal-clear waters, vibrant coral reefs, and abundant marine life. Snorkeling excursions to Cano Island allow guests to explore the underwater world, encountering colorful tropical fish, sea turtles, rays, and even the possibility of spotting dolphins or whales. It's a fantastic opportunity to witness the beauty of Costa Rica's marine ecosystem and engage in a memorable snorkeling adventure.

Ecolodge packages in Drake Bay often include transportation from Sierpe, meals, guided tours, and snorkeling equipment, ensuring a seamless and enjoyable experience for guests. The knowledgeable guides and staff provide insights into the natural wonders of the region, offering educational and interactive experiences that deepen the understanding and appreciation of the Osa Peninsula's unique biodiversity.

Please pay close attention to the individual descriptions for all Drake Bay hotels we offer as they will include information about what is included in the price you are quoted. All lodges are different so it is impossible to generalize what to expect. You should also pay close attention to the meals section as it will clearly display which meals are included.

By choosing a Drake Bay ecolodge package that includes Corcovado National Park and snorkeling at Cano Island, visitors can immerse themselves in the remarkable natural beauty of the area while contributing to its conservation efforts. These packages offer an unforgettable blend of adventure, relaxation, and ecological exploration, making for a truly memorable stay in this remote and stunning part of Costa Rica.