Explore Playa Hermosa, Costa Rica: Your Secluded Beach Haven
Welcome to Playa Hermosa, a hidden gem nestled along the picturesque coast of Costa Rica's Guanacaste province. This tranquil beach town is renowned for its pristine shores, lush landscapes, and serene ambiance, making it the perfect destination for travelers seeking relaxation, natural beauty, and a taste of the Pura Vida lifestyle. Let's take a closer look at what Playa Hermosa has to offer.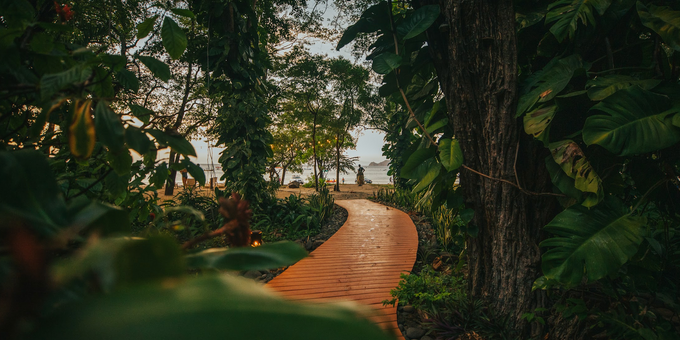 Playa Hermosa Highlights:
Breathtaking Beaches: Playa Hermosa lives up to its name, which means "beautiful beach" in Spanish. Its long crescent-shaped bay is adorned with powdery golden sand and framed by lush hills. The tranquil waters are ideal for swimming, paddleboarding, and kayaking.

Scenic Sunsets: Playa Hermosa is famous for its spectacular sunsets over the Pacific Ocean. Watching the sky burst into vibrant hues of orange and pink as the sun dips below the horizon is a daily ritual you won't want to miss.

Water Sports: While the town itself is serene, nearby Playas del Coco offers a wide range of water sports and adventure activities. You can go snorkeling, scuba diving, sportfishing, and even take catamaran cruises to explore the region's rich marine life.

Protected Ecosystem: Playa Hermosa is situated close to the Marino Las Baulas National Park, where leatherback sea turtles come to nest. Witnessing the nesting and hatching of these magnificent creatures is a once-in-a-lifetime experience that you can enjoy during the nesting season.

Peaceful Atmosphere: Unlike some of Costa Rica's more bustling tourist destinations, Playa Hermosa is known for its calm and peaceful atmosphere. It's the ideal place for couples seeking a romantic getaway or travelers looking to unwind and escape the crowds.
Traveler's Tips:
Proximity to Liberia Airport: Playa Hermosa is conveniently located near the Daniel Oduber Quirós International Airport (LIR) in Liberia. This means you can quickly reach the beach after your flight, making it a perfect destination for short getaways.

Weather: Costa Rica has a tropical climate with distinct wet and dry seasons. The dry season, from November to April, offers plenty of sunshine and is considered the best time to visit. The wet season, from May to November, brings occasional rain showers. September and October are the rainiest months.

Accommodations: Playa Hermosa offers a selection of charming boutique hotels, vacation rentals, and beachfront resorts. Accommodations tend to be smaller and more intimate, creating a cozy and personalized experience for visitors.

Exploration: While Playa Hermosa is tranquil, nearby Playas del Coco provides more dining and entertainment options. You can also explore nearby national parks, such as Rincon de la Vieja, for hiking, wildlife viewing, and thrilling adventures.

Pura Vida: Playa Hermosa embodies the Costa Rican spirit of "Pura Vida," emphasizing a laid-back and joyful approach to life. Savor the simple pleasures, enjoy nature, and immerse yourself in the local culture.

Playa Hermosa, Costa Rica, is a sanctuary for those seeking solace in nature's beauty. Whether you're strolling along the pristine shoreline, watching nesting sea turtles, or simply unwinding with a sunset cocktail, this coastal haven promises a rejuvenating escape. Experience the tranquility and natural wonders of Playa Hermosa and embrace the essence of Pura Vida in this serene paradise.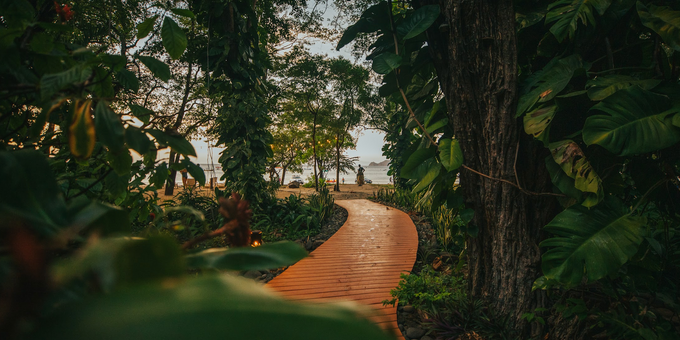 The Best Hotels in Playa Hermosa
Playa Hermosa in Costa Rica offers a range of accommodation options to suit different preferences and budgets. Here are some of the best hotels in Playa Hermosa:

Hotel Playa Hermosa Bosque del Mar: This beachfront boutique hotel is renowned for its stunning location and serene ambiance. The lush tropical gardens and direct access to the beach make it a paradise for nature lovers. The hotel offers comfortable rooms and suites with modern amenities. You can unwind at the spa, enjoy beachfront dining, or simply relax by the pool.

Villa del Sueño Hotel: Nestled in the heart of Playa Hermosa, Villa del Sueño Hotel provides a cozy and tranquil atmosphere. This family-owned hotel offers comfortable rooms and villas, some with private terraces and garden or pool views. The beautiful garden surroundings are perfect for birdwatching and relaxation. The hotel's restaurant serves delicious Costa Rican and international cuisine.

Villa Acacia Beach and Garden Hotel: For travelers seeking a budget-friendly option, Villa Acacia offers a comfortable stay without breaking the bank. The hotel provides clean and simple rooms, making it an excellent choice for those looking to explore Playa Hermosa and the surrounding areas without splurging on accommodation.

These hotels provide various options for visitors to Playa Hermosa, whether you're looking for luxury, a cozy boutique experience, or a budget-friendly stay. Each offers its own unique charm and access to the natural beauty of this beautiful beach destination.
Planning a vacation to Playa Hermosa
When considering Playa Hermosa as a destination for your vacation, we recommend a stay of 3 – 5 days. Any more than that will be taking too much time from other destinations, which you would undoubtedly regret.
There are several hotels in Playa Hermosa. The Hotel Playa Hermosa Bosque del Mar is a true beach front option that borders between boutique mid-range and lower end luxury. Hotel La Finisterra is nice mid-range option with great ocean views and a nice restaurant. The Hotel Mangaby is a good budget priced hotel that is located within walking distance to the beach.
There are plenty of activities available from Playa Hermosa. The gentle waters make it the perfect spot to bring the kids and to practice a range of activities that include snorkeling, scuba diving, stand up paddle boarding, kayaking, swimming, and sport fishing. Canopy ziplining or horseback riding tours can be arranged here, as well as visits to Rincon de la Vieja, a must-see volcano located nearby.
Getting around Playa Hermosa is easy enough. There are plenty of cabs and no matter where you are, you are usually within walking distance to a restaurant or the beach.
Reasons to go
It is conveniently located near Liberia Airport
It is a beautiful beach
Great fishing just in front of the bay
Calm waters for swimming
There is good shopping in nearby Playas del Coco
There is a great selection of restaurants
Reasons NOT to go
It is a dark sand beach (this actually does make a difference to some visitors)
No surfing nearby
No nightlife in town (though there is in neighboring Playa del Coco)
How to get there
From San Jose: Take the Autopista del Sol or the Interamerican Highway to Caldera and turn left after Puntarenas, following the signs to the Friendship Bridge (Puente de la Amistad in Spanish). Cross the bridge and follow the road signs to Liberia. Take a left at the main intersection there, turning towards Santa Cruz and driving south past the Liberia airport. You will arrive at an enormous hardware store called Do-It-Center and turn right, pass a medical center and then turn left. Follow the road signs to Playa Panama and once you arrive, turn left to Hermosa. Driving time from San Jose is around four hours.
Weather and packing list
Even during the worst of the rainy season in the months of September and October, you will most likely get a good dose of sunshine at this paradisiacal beach. Temperatures are fairly steady year round, hovering between the upper 80s and lower 90s during the day, and dropping to the upper 70s at night. It's unlikely to get much rain here during the dry season, which runs from November to August.
When working on your packing list, don't forget to include a swimsuit, flip flops, a towel or sarong for the beach, a hat, shorts, t-shirts, some rain gear and plenty of sunblock and aloe vera gel to soothe any stinging sunburns.
Fun Fact: There are several Playa Hermosas in Costa Rica. If you were looking for a popular surfing destination by the name of Playa Hermosa check out Playa Hermosa de Jaco.