Overview | Las Pailas | Hotels | Waterfalls | Dining | Details | Directions | Weather | Packing
Rincon de la Vieja National Park sprawls across an impressive 14,083 hectares or 34,800 acres, boasting elevations ranging from 396 to 1,916 meters (1,299 to 6,286 feet) from the volcano's base to its summit. It encompasses a diverse array of habitats, including river valleys, lush rainforests on the Caribbean slope, and rare tropical dry forests on the Pacific slope. While hiking to the summit is no longer permitted, visitors can explore several captivating trails that wind through the park's diverse landscapes.
Wildlife thrives within the boundaries of Rincon de la Vieja. Mammal enthusiasts can delight in spotting three species of monkeys—white-faced, spider, and howler monkeys—as well as elusive wild cats like pumas, jaguars, and ocelots. Other notable residents include armadillos, coyotes, tapirs, kinkajous, and a variety of reptiles such as iguanas, whip-tailed lizards, rattlesnakes, and boa constrictors. Birdwatchers will revel in the chance to observe over 300 bird species, including crested guans, spectacled owls, blue-crowned mot-mots, white-fronted parrots, and an array of vibrant tropical avian life.
Rincon de la Vieja National Park is under government management, welcoming visitors from Tuesday to Sunday between 8 AM and 3 PM (closed on Mondays). The park has two main ranger stations: Las Pailas and Santa Maria, both of which provide restrooms and potable water. Entrance to either station costs $15 per person, and camping is permitted at the Las Pailas station with a valid permit. Accommodations in the surrounding area are popular choices for visitors to explore this extraordinary national park.
Las Pailas Sector on the Pacific slope presents a fascinating landscape shaped by volcanic activity. Here, you'll encounter rare tropical dry forests, natural hot springs, boiling mud pits, and fumaroles, creating a captivating environment. However, it's important to note that this area is often hot and dry throughout the year. More info on the Las Pailas section below.
Santa Maria Sector on the Caribbean slope offers a strikingly different atmosphere due to increased precipitation. The result is lush, vibrant forest with distinct characteristics compared to the dry forest on the Pacific side. Visitors can explore engaging hiking trails and discover a small display about traditional cattle ranching, although availability may vary.
Rincon de la Vieja National Park is a captivating natural wonder, offering diverse ecosystems, fascinating wildlife, and volcanic wonders, making it an exceptional destination for nature enthusiasts and adventure seekers alike.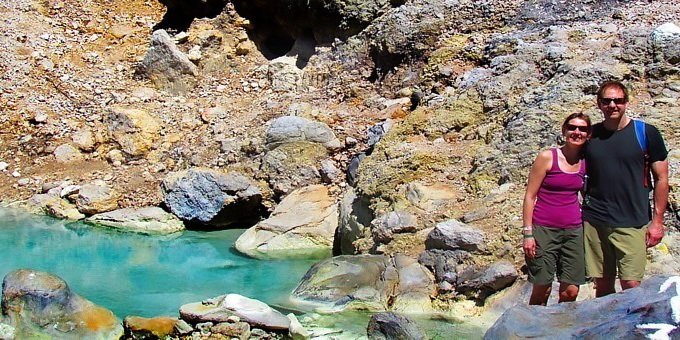 Overview | Las Pailas | Hotels | Waterfalls | Dining | Details | Directions | Weather | Packing
The Las Pailas Sector of Rincon de la Vieja National Park
Las Pailas Sector, located on the Pacific slope within Rincon de la Vieja National Park, offers a captivating and geologically rich environment shaped by volcanic activity. This sector, which translates to "The Cauldrons" in English, is a must-visit destination within the park. Here's a closer look at what you can expect in this extraordinary area:
Volcanic Landscape: Las Pailas is renowned for its geothermal wonders. Visitors can witness steaming fumaroles, bubbling mud pots, and natural hot springs that dot the landscape. The park's namesake, Rincon de la Vieja Volcano, is an active volcano, and the Las Pailas Sector is a prime location to witness its volcanic features.
Hot Springs: Natural hot springs are a highlight of this sector. These warm, mineral-rich pools provide a soothing and therapeutic experience. Relaxing in these rejuvenating waters is an excellent way to unwind after a day of exploring the park's trails.
Hiking Trails: Las Pailas boasts a network of well-maintained hiking trails that wind through the volcanic terrain. These trails offer a chance to observe the geothermal activity up close and explore the unique flora and fauna of the area. Keep an eye out for the park's diverse birdlife and the occasional howler monkey.
Wildlife Viewing: While the Las Pailas Sector is primarily known for its geological wonders, it's not uncommon to encounter wildlife along the trails. Keep your camera ready for potential sightings of coatis, agoutis, and other small mammals. Birdwatchers may spot species like crested guans and trogons.
Educational Signage: Throughout the sector, informative signs provide insights into the geology and ecology of the area. These signs offer valuable context and explanations of the unique natural phenomena you'll encounter.
Safety: Due to the presence of geothermal features, it's essential to follow designated paths and adhere to safety guidelines. Stay on marked trails to avoid accidentally stepping on fragile or potentially dangerous areas.
Temperature: Be prepared for warm and dry conditions in Las Pailas. The sector's unique geothermal activity can contribute to higher temperatures, so wear appropriate clothing, including a hat, sunscreen, and comfortable hiking shoes.
Photography Opportunities: The dramatic landscapes and geothermal features make Las Pailas a fantastic location for photography. Capture the contrast between the volcanic activity and the lush vegetation, creating striking and memorable images.
Overall, the Las Pailas Sector of Rincon de la Vieja National Park provides a fascinating blend of geology, nature, and relaxation. It's a place where you can immerse yourself in the intriguing world of volcanic phenomena while enjoying the therapeutic benefits of natural hot springs—a truly unique experience in the heart of Costa Rica's Guanacaste province.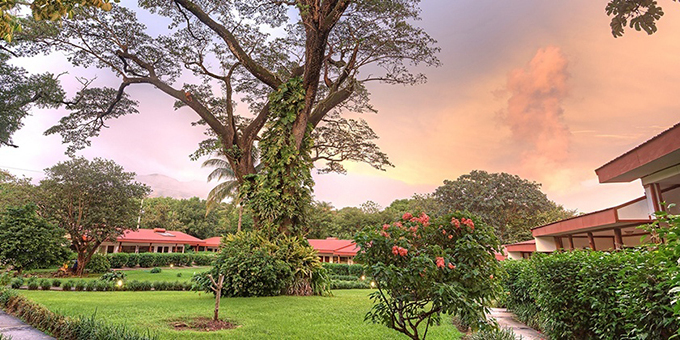 Overview | Las Pailas | Hotels | Waterfalls | Dining | Details | Directions | Weather | Packing
The Best Hotels Near Rincon de la Vieja National Park
When it comes to lodging near Rincon de la Vieja National Park, you're in for a treat with a range of options to suit different tastes.

Hacienda Guachipelin: This rustic yet charming hotel is known for its proximity to the park and its many adventures. Nestled amidst nature, it offers comfortable accommodations, including rooms and suites. The on-site thermal springs and volcanic mud baths provide a soothing experience after a day of exploration.

Blue River Resort: This tranquil oasis on the north side of the volcano is surrounded by lush gardens and natural hot springs, offering a serene escape near the park. The resort boasts a variety of accommodations, including rooms and bungalows. It's the perfect place to unwind and rejuvenate after your outdoor adventures.

Borinquen Mountain Resort: Perched on the slopes of Rincon de la Vieja, this resort offers stunning panoramic views of the park and the Guanacaste lowlands. You can choose from comfortable rooms or private villas with their thermal springs. It's an ideal place to relax and savor the natural beauty of the region.

Each of these options provides easy access to the park's wonders, making them excellent choices for your stay near Rincon de la Vieja National Park.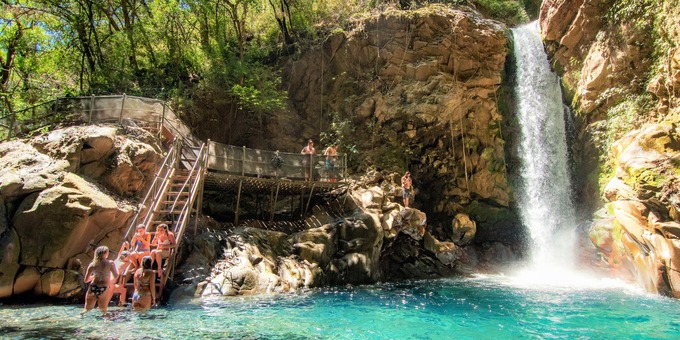 Overview | Las Pailas | Hotels | Waterfalls | Dining | Details | Directions | Weather | Packing
The Waterfalls In or Near Rincon de la Vieja National Park
Despite their spectacular beauty, Rincon de la Vieja National Park is not particularly known for its waterfalls; instead, it's more renowned for its volcanic activity, hot springs, and diverse flora and fauna. However, there are some waterfalls and cascades in the park and its surrounding areas that you might find appealing:

Oropendola Waterfall (Catarata La Oropendola): This gorgeous waterfall is located within Hacienda Guachipelin. The trail to Oropendola Waterfall is well-maintained and takes you through lush tropical forest.

Catarata Escondida: This hidden waterfall can be reached via a short hike. It's a refreshing oasis in the midst of the dry tropical forest.

Catarata La Cangreja: The hike to La Cangreja is a bit more challenging but rewarding, as you'll be greeted by a pristine waterfall surrounded by nature.
La Leona Waterfall (Catarata La Leona): This picturesque waterfall is situated near the town of Curubande, close to Rincon de la Vieja National Park. To reach La Leona Waterfall, you can take a relatively short hike through the forest, which offers glimpses of the region's rich biodiversity. Once you arrive at the waterfall, you'll be rewarded with a stunning cascade, surrounded by lush vegetation. Note that the listed price for this includes round trip transportation from the Guanacaste beaches between Tamarindo and Papagayo. This tour can also be purchased without transportation.

Remember to check with the park rangers or local guides for the most up-to-date information on trail conditions and accessibility, as these can vary due to weather and other factors. Exploring these waterfalls can be a refreshing way to complement your visit to Rincon de la Vieja National Park and enjoy the natural beauty of the region.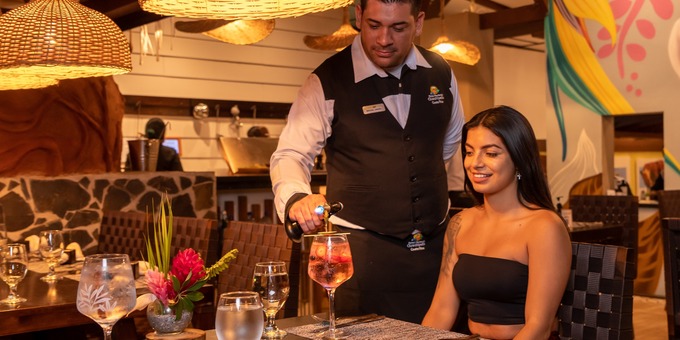 The Best Restaurants Near Rincon de la Vieja National Park
When it comes to dining near Rincon de la Vieja National Park, there are not many options but you'll find a couple of great options to satisfy your taste buds:
Volcano Restaurant: The Volcano Restaurant offers a mix of Costa Rican and international cuisine. It's a perfect spot to refuel after a day of adventure in the park. You can savor delicious meals while enjoying the serene surroundings.
Hacienda Guachipelin Restaurant & Bar: Located at the Hacienda Guachipelin, this restaurant serves up a variety of dishes, including traditional Costa Rican fare. Whether you're looking for a hearty breakfast before your day's adventures or a satisfying dinner, this restaurant has you covered. Don't forget to try some of the local specialties.
While the dining options near Rincon de la Vieja may be limited compared to larger cities, these restaurants provide tasty meals and a comfortable atmosphere for you to enjoy during your stay in this beautiful natural paradise.
Overview | Las Pailas | Hotels | Waterfalls | Dining | Details | Directions | Weather | Packing
Facts At a Glance
Region: Northwest Guanacaste
Closest town: Liberia
Size in hectares: 14,083 (34,800 acres)
Year established: 1973
Elevation in meters: 396 - 1,916 (1,299 - 6,286 feet)
Private managed: no
Government managed: yes
Rangers station: yes – Las Pailas and Santa Maria
Overnight facilities: camping at Las Pailas
Public restrooms: yes
Entrance fee: $15pp
Days: Tuesday – Sunday (closed on Mondays)
Hours: 08:00 - 15:00
Hiking trails: yes
Boat tours: no
Average temperature range in Fahrenheit: 70 - 90
Average yearly precipitation in millimeters: 2,000 (79 inches)
Habitat: tropical dry forest, rainforest, river
Overview | Las Pailas | Hotels | Waterfalls | Dining | Details | Directions | Weather | Packing
How to Get to Rincon de la Vieja National Park
To reach Rincon de la Vieja National Park from San Jose, follow Route 27 west until you reach Route 1. Continue northwest on Route 1 to Liberia. From Liberia, follow signs to Curubande, then proceed to Hacienda Guachipelin, where a small toll (approximately $1.50 as of this writing) may apply. Continue onwards to reach the Las Pailas Ranger Station.
Alternatively, for the Santa Maria Sector, follow Route 27 west to Route 1, then head northwest to Liberia. Look for the Santa Maria Sector sign on Avenida 6 in Liberia, and follow the signs approximately 25 kilometers to reach the ranger station.
Overview | Las Pailas | Hotels | Waterfalls | Dining | Details | Directions | Weather | Packing
Rincon de la Vieja National Park Weather
Rincon de la Vieja National Park in Costa Rica experiences a diverse range of weather patterns due to its varied elevations and unique geographical location. Here's a comprehensive overview of the park's weather, including average temperatures and seasonal variations:
Temperature: The park's temperature can vary significantly based on elevation. In the lower elevations, which include the Pacific slope, temperatures tend to be warmer, with daytime highs often reaching into the 90s Fahrenheit (around 32-35 degrees Celsius). In contrast, at higher elevations within the park, such as around the volcano's summit, temperatures can be cooler, with daytime highs averaging in the 70s Fahrenheit (around 24-26 degrees Celsius).

Dry Season (December - April): Rincon de la Vieja's primary dry season coincides with the typical dry season in Costa Rica. During these months, you can expect relatively low rainfall and sunnier skies. This is often considered the best time to visit the park for hiking and outdoor activities.

Transitional (Partially Rainy Season) Months (May - August): While May and June are still relatively dry and can be an excellent time to visit with fewer tourists, July and August mark the transition to the wetter season. These months can bring occasional afternoon showers, especially in the lower elevations. However, the weather remains generally pleasant.

Heavy Rainy Season (September - October): September and October are the rainiest months in Rincon de la Vieja National Park. During this period, the park experiences more frequent and heavier rainfall, especially in the afternoons and evenings. Trails may be muddy, and some areas could be inaccessible due to flooding. However, the rainforest comes to life during this season, offering lush greenery and vibrant wildlife.

Mid-November: By mid-November, the rainy season typically starts to taper off, and you may encounter more favorable weather conditions. The landscape begins to dry out, and this month can be an excellent time to explore the park as it transitions back to drier conditions.

Safety: Regardless of the season, it's essential to be prepared for the park's microclimates. If you plan to visit the higher elevations or hike to the summit, bring layers of clothing, as temperatures can drop significantly, especially at night. Also, beware that the slot canyons of this park can rapidly rise. If you plan to visit a waterfall or go inside of teh canyon, always remain alert and plan an escape route.

Wildlife: The rainy season can be an excellent time for wildlife enthusiasts, as many animals are more active during this time. However, heavy rainfall may make wildlife sightings a bit more challenging due to the denser vegetation.

In summary, Rincon de la Vieja National Park offers varied weather experiences throughout the year. The dry season from December to April is ideal for outdoor adventures, while the transitional months of May and June provide a quieter visit. The rainy season from September to November showcases the park's lush, vibrant rainforest but can be wetter. Overall, your experience in the park will depend on your preferences, so plan your visit accordingly to make the most of this unique natural wonder in Costa Rica.
Packing List for Rincon de la Vieja National Park
Clothing:
Lightweight, breathable clothing: The region can be hot and humid, so pack moisture-wicking fabrics.
Long-sleeved shirts and pants: These can protect you from the sun and insects during hikes.
Swimwear: For enjoying hot springs and waterfalls.
Rain jacket or poncho: The park can experience sudden rain showers, especially in the rainy season.
Comfortable hiking shoes or boots: Ensure they are broken in and suitable for trails.
Sandals or water shoes: Useful for river crossings and hot springs.
Wide-brimmed hat or cap: To shield your face from the sun.
Socks and underwear: Moisture-wicking materials are great for hiking.
Sleepwear and casual attire: For relaxing at your accommodation.
Outdoor Gear:
Daypack or backpack: For carrying essentials during hikes.
Reusable water bottle: Stay hydrated on the trails.
Sunscreen: A high SPF is essential in this sunny region.
Insect repellent: Protect against mosquitos and other bugs.
Sunglasses: Polarized lenses can reduce glare.
Binoculars: Great for birdwatching and wildlife spotting.
Camera or smartphone: Capture the park's beauty, but consider waterproofing for rain protection.
Hiking poles: Useful for stability on uneven terrain.
Ziplock bags: Keep electronics and documents dry.
First-aid kit: Include basics like band-aids, pain relievers, and any personal medications.
Miscellaneous:
Travel documents: Passport, ID, driver's license, and any necessary permits.
Cash: While larger towns may have ATMs, it's wise to have some cash on hand.
Maps and guidebooks: Research the park beforehand and bring trail maps if available.
Spanish phrasebook: Helpful for communication in rural areas.
Power bank: Keep your devices charged, especially if using them for navigation.
Travel adapter and voltage converter: Ensure your electronics work with local outlets.
Optional:
Book or e-reader: For leisurely downtime.
Reusable cutlery and water purifier: Reduce waste and ensure safe drinking water.

Remember that Rincon de la Vieja National Park has specific entry fees, and some activities like horseback riding or guided tours may require reservations. Checking the park's official website and contacting local guides for up-to-date information can help you plan your visit more effectively. Visit our packing guide for more ideas.
Fun Fact: In September 2011, Rincon de la Vieja experienced a couple mini eruptions sending large plumes of smoke in the air. Hiking to the summit has not been permitted since. The last major eruption was around 3,500 years ago.