September Weather & Places to Consider
There is undoubtedly a significant misconception about what Costa Rica is like in September! Many people think that it's a total rainout season, and while that is partially true in some locations, insiders know better. September is one of the best months to visit the Caribbean coast and slope of Costa Rica, which includes Arenal Volcano! The Pacific side of Costa Rica will be in the heart of the rain season in September, but that doesn't mean that it's a total wash. It depends on where you're planning to go. Additionally, September is a great month for wildlife observation. It's prime time for sea turtle nesting, whale watching, and an excellent time for birdwatching as many species make their way south for the northern hemisphere's winter.
What to Expect by Region
Few visitors to Costa Rica realize that while Arenal Volcano near the middle of the country, it is located on the eastern, Caribbean slope of the Talamanca Mountains. Make no mistake, Arenal Volcano and its sidekick town, La Fortuna, are in the rainforest, so it can rain anytime. That said, this September is one of the months that this area has it's lowest rainfall totals. An additional perk that few people realize is that September and October are the best volcano viewing months. Arenal sits shrouded with cloud cover most of the year, but the clouds usually dissipate at least once a day in September and October. Be sure to have your camera ready, as it may not last long! Daytime temperatures typically reach the upper 70's to low-80's at this time of the year. Evenings are a little cooler and just right to take advantage of some of the world's best volcanic hot springs!
The Caribbean coast of Costa Rica is in the heart of its dry season in September. Small seaside villages like Puerto Viejo, Cahuita, and even Tortuguero (Tortuguero is a wildlife destination, not a beach destination) on the Caribbean coast, are experiencing their lowest rainfall accumulations of the year. The gorgeous beaches are ideal for taking in the sunshine, but just like Arenal, this is a rainforest area. You can expect at least some rain, often just enough to keep it lush, green and beautiful! Daytime temperatures will usually hit the low 90's, and most rains at this time of the year occur in the evening. September truly is an exceptional time to visit Costa Rica's beautiful Costa Caribe!
The Northwest Pacific region and Guanacaste are in Costa Rica's tropical dry forest. While it most certainly rains in this region in September, the rains are not as hard or consistent as they are further south along the Pacific coast. Tamarindo and points north, such as Flamingo, Conchal, Hermosa, and the Papagayo Peninsula, are in the driest area within this region. An average day will go similar to Florida in the springtime, sun in the morning, with clouds building throughout the day, eventually leading to an hour or so of rain in the late afternoon and overnight. Of course, patterns can come in, and it can rain through an entire day every once in a while. One thing we love about Guanacaste in September is that it's lush and green, whereas it can be scorched and brown most of the year. Sea turtles come to shore to nest on beaches such as Ostional, Camaronal, and Grande. There are also a lot of migratory birds in this region at this time of the year, adding to the natural beauty. Temperatures will usually be in the low to mid-80s during the day and a little cooler in the evening.
As you move south along the Pacific coast, it will become consistently rainier. The Central Pacific coast, including Manuel Antonio and Jaco, will be rainy in September, with it getting wetter as the month progresses into October when it is at its rainiest time. If you don't mind some rain, there are some great reasons to visit this area in September. The prices at this time are the best of the year. Many hotels are priced at break-even rates, making it much more affordable than the dry season. There are no crowds in September, so the beaches are picturesque, few people are in the parks, making the wildlife observation much more relaxed and better, especially in places such as Manuel Antonio National Park. Humpback whales are abundant the further south you go, but can often be seen from catamaran cruises on the Manuel Antonio coast. And of course, the bird migration along the Central Pacific coast is phenomenal! You can expect daily rains, with hard showers in the late afternoon of most days, a perfect time for a good book, and a hammock! Average temperatures will typically be a little cooler than usual, in the low to mid-80's during the day.
Moving down the coast to Costa Ballena and the Osa Peninsula, it will be even rainier in September. This area will be lush and gorgeous with colorful flora but expect plenty of rain. Most days will start with cloudy mornings and build into harder afternoon rains. If you can get past the rains, however, September can be a magical time of the year on the South Pacific coast. "Costa Ballena" translates to "Whale Coast," and it is aptly named this after the humpback whales that congregate here from late August until early November to rear their calves in the warm South Pacific waters. The whales can put on spectacular shows at this time of the year as they are doing their mating rituals. It isn't uncommon to see pods of whales just off the coast, though a boat tour practically guarantees fantastic sightings. And surfing is incredible! Surfing in the Dominical area, Pavones, and Cabo Matapalo is world-class in September, with some of the biggest waves of the year. Temperatures will typically reach the mid to upper-80's, so it can be hot and steamy at this time of the year.
The Central Valley, including San Jose and Alajuela, will be experiencing their rainy season as well. Most mornings are nice, followed by afternoon rains and showers. Daytime temperatures will usually reach the mid-70's.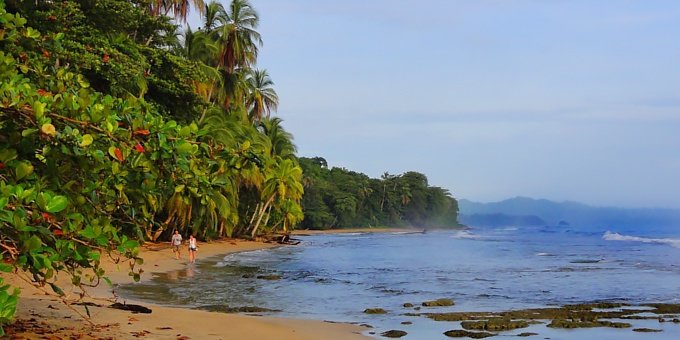 The Price is Right in September!
If you are on a budget, there is no better time to travel than September! May, September, and October are the lowest priced months of the year. Many 3.5 - 4-star hotels will be priced at around the equivalent of what 2-star hotels cost in the high season. September is a great time to find promos such as 4 nights for the price of 3 or 3 for the price of 2. Other hotels start at a low price and offer room upgrades or resort credits. On average, with knowledgeable planning, you can expect to save 20 - 30% versus high season months. We know where to find the best deals, so feel free to reach out to us for some suggestions!
Booking for September - the Early Bird Gets the Worm!
There is undoubtedly more availability in September than other times of the year. It is one of the few months where you could potentially "wing it" and still end up at some of the better hotels. With that said, many hotels close their doors for annual repairs, staff vacations, etc. so while there are fewer tourists, availability at the better lodges can still be a challenge. Additionally, many of the hotels that remain open use this period for staff vacations or close entire sections for maintenance. Most lodges and resorts offer "Early Booking Promos" months in advance to try to gauge their staffing needs and potential closures. The best time for the best deals is definitely early as the rates typically increase closer to the travel dates due to staffing.
Holidays and Festivals
September 15 is Costa Rica's Independence Day (from Spain in 1821). Marked with parades, dancers, street parties, and the arrival of the Freedom Torch carried from Nicaragua by relay runners, everyone in the country stops and simultaneously sings the national anthem. In the evening, children carry lanterns through the streets of their town. Many locals where typical Costa Rican clothes with red, white, and blue colors. Schools bands play on the roads during the day, and adults celebrate in the taverns in the evening. It is quite a celebration and will undoubtedly be a highlight of your vacation!
Are you ready to start planning your September vacation to Costa Rica? We're ready to help you plan the trip of a lifetime and with great prices! Feel free to give us a call, toll-free at 1-866-853-9426 ext.1, or use our Custom Vacation planning form to get started.