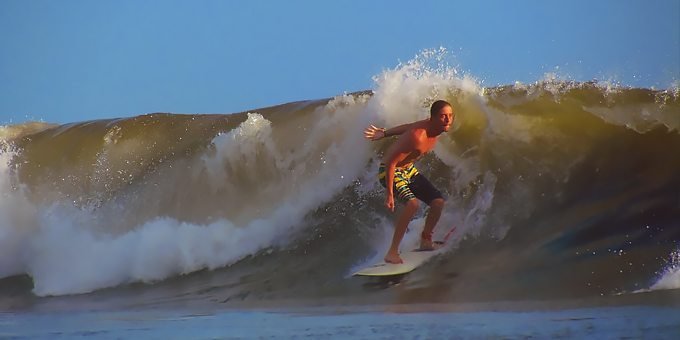 The Northwest Pacific Coast is lined with some of the best surf areas in the country! Surfers can expect to experience the best conditions from the months of March to November. Favorite spots include Playa Grande, Tamarindo, Nosara and Santa Teresa. Playa Grande is known for producing average sized waves that are fun to ride. These waves usually have a break and really allow surfers to enjoy a day out in the sun while catching sizable waves. Tamarindo is known for the two breaks, a river mouth and a reef. Just like Jaco, this town is known to be a beach town that many surfers attract to. Nosara is home to white sand beaches producing big waves. This is a laid back community with a grunge feel. Santa Teresa is an up and coming beach area with big waves and plenty of night life.

The Central Pacific region is best surfed from the months of April to November. The beaches in this area are known to be the landing spots of some of the best waves in Costa Rica! Some of these beaches include Boca Barranca, Jaco, and Playa Hermosa. Boca Barranca is a great area for those seeking to find a long board wave. These waves create for a smooth long ride that can end up in the mouth of the river that is present. Jaco is known to be one of the more populated beach towns in Costa Rica. It is here where beginners can start to get a taste of the powerful waves that are produced off these shores. Hermosa is located just south of Jaco and is directed towards the more experienced. These waves are powerful and at time HUGE! As Hermosa is several miles long, surfers are sure to find a quiet spot to call their own for the day.

The South Pacific coast is best during the months of March to November. The top beaches in this area are Cabo Matapalo, Uvita, Dominical and Pavones. Cabo Matapalo is a calmer area that has three different locations surfers can go to surf. Dominical is known to produce big waves that attract annual surf competitions. This area can be enjoyed by all levels of experience as there is a beach named Dominicalito right down the road with smaller waves. Surfers travel all over to ride the waves at Pavones; this area produces a long, continuous break. Many experienced surfers enjoy these waves, but are sometimes left disappointed as it isn't always consistent.

The Caribbean Coast contains the crystal blue waters that produce gorgeous waves. This area is best surfed during the months from December to March. Popular surf spots in this area include Manzanillo, Puerto Viejo, and Isla Uvita. Manzanillo is known for having hollow, fast waves and is best for experienced surfers. It is recommended to wear something over your feet, as the reef can be sharp! Puerto Viejo is also for experienced surfers as the waves tend to get big! This area is home to the Salsa Brava, a thick, heavy wave which can be viewed from the town center. Isla Uvita can only be accessed by boat but is an excellent surfing spot for experienced surfers! This area can be dangerous though as many of its sections face a coral reef.

There are many other beaches in Costa Rica that surfers flock to; in order to get the best overall experience it is best to read up on all areas and look into the best time is to visit each!
Unsure of what to do? Let us make you a free custom trip plan!