Vacations | Hot Springs & Adventure | Beaches | Wildlife | More Info
Where to Travel in Costa Rica in 2020 and 2021
Costa Rica is one of the most diverse countries in the world. Located in Central America between Panama and Nicaragua, and between the Caribbean Sea and the Pacific Ocean, Costa Rica is a tropical paradise with fantastic diversity. Volcanic ranges and mountains lift the rainforest into the clouds in some areas. Rare and exotic wildlife thrive in the many protected jungle areas. Rivers cut through the jungles and down the mountains, creating cascading waterfalls and mesmerizing scenery. With the varying landscapes and many distinct climate and life zones, you may find your self struggling to decide on which places to visit. Here are our top Costa Rica travel destination recommendations by interest.
Hot Springs and Adventure Destinations
Yes, we know that you want beaches, and we have listed them just below! But, the key to a great Costa Rica travel experience is diversity. You've heard of all of the soothing hot springs, waterfalls, nature, and adventures that Costa Rica is so famous for. These are the places that people are talking about. Combine them with one of Costa Rica's beautiful beaches, and you'll have the vacation of a lifetime!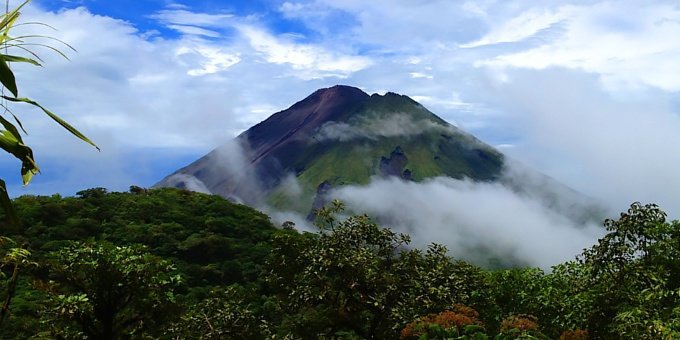 Arenal Volcano
Arenal Volcano is numero uno when it comes to hot springs and adventure in Costa Rica! The magnificent volcano is surrounded by jungle and gorgeous countryside, making it one of the most beautiful places in Central America to visit. Hot springs resorts of all shapes, sizes, and price points dot the road that passes by Arenal, from Fortuna to Lake Arenal. Arenal is also the best place in Costa Rica for adventure experiences, including canopy zipline, whitewater rafting, ATV adventures, horseback riding, canyoning, tubing, and even cave exploration! Nature lovers can enjoy incredible wildlife experiences as well. Take a riverboat safari at Cano Negro Wildlife Refuge or a Safari Float on the Rio Piedras Blancas, where you can find monkeys, sloths, iguanas, toucans, and many other animals. Arenal Hanging Bridges offers a hiking trail through the rainforest floor and on bridges through the canopy to find countless species of wildlife and to experience the wonders of the jungle uniquely. If you just want to see beautiful scenery, you can go to La Fortuna Waterfall, Rio Celeste Waterfalls, or take a hike through the jungle at the base of Arenal Volcano.
Rincon de la Vieja
Costa Rica's Rincon de la Veja Volcano and National Park offers a unique travel experience in the tropical dry forest of Guanacaste. At less than an hour from Liberia Airport, Rincon de la Vieja allows visitors to save time in travel when combining this region with one of the nearby beaches such as Playa Hermosa, Papagayo, Conchal, or Tamarindo. Adventure ranches, known as haciendas, are spread out around the park, offering hot springs and adventure activities. Some of the best experiences include whitewater tubing on the Rio Negro, ducky rafting, canopy zipline, and horseback riding. We also recommend hiking at Rincon de la Vieja National Park. The Las Pailas Trail offers the opportunity to get up close and personal with volcanic activity, including steaming fumaroles, bubbling mud, and geysers. It's also an excellent place to see monkeys, toucans, and other amazing animals!
---
Vacations | Hot Springs & Adventure | Beaches | Wildlife | More Info
The Best Beaches in Costa Rica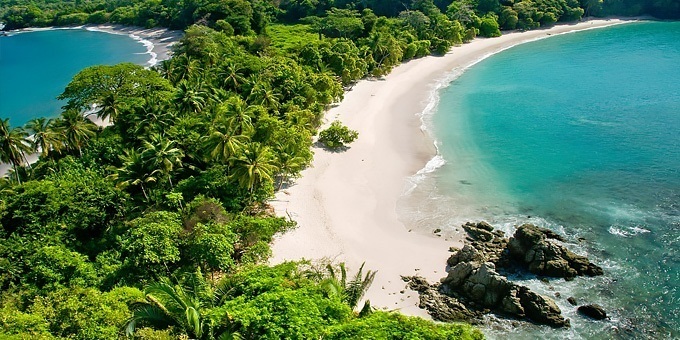 Manuel Antonio
Manuel Antonio is one of the best jungle-beach travel destinations in the world! The beautiful protected beaches are backed by palm trees and jungle that are teeming with rare and exotic wildlife. The national park of the same name protects countless species of amazing animals that frequently leave the park's protection and can be found throughout the entire area. Manuel Antonio is much more than just a beach and nature destination, though. This area is an ecotourist's paradise, offering plenty of incredible activities. Beach and coastal activities include a catamaran cruise along the beautiful coast, ocean kayaking, surf lessons, and parasailing. We don't recommend snorkeling in this area, but it is available. Nature enthusiasts can go on a guided hike in Manuel Antonio National Park or to Carara NP in search of monkeys, sloths, macaws, colorful frogs, toucans, and many other species. You can also go on a kayaking or riverboat safari cruise at the Damas Island Sanctuary. Adventurers can go on a canopy zipline tour, canyoning and waterfall rappelling, whitewater rafting, horseback riding, ATV'ing, mountain biking, and many other fun adventures. Of course, you can just sit back, relax, and enjoy the pura vida vibes at one of the beautiful beaches!
Tamarindo, Conchal & Flamingo (Central Guanacaste)
Featured in the classic60's surf movie, Endless Summer, Tamarindo's golden sand beaches are ideal for fun in the sun! Set on Costa Rica's gold coast of Guanacaste, Tamarindo is in one of the driest regions of the country, making it ideal for a beach destination. Visitors will find a fun beach town with lots of souvenir shops, restaurants, and bars. The days pass with ease, the sunsets are incredible, and the nightlife is just right. The variety of beaches in town and nearby are the main attraction. Playa Tamarindo works from a small harbor with small waves at the south end to an ideal beach for surfing at the north end, near the Tamarindo Estuary. Between these points, the sun-soaked beach transitions from perfect swimming to boogie-boarding and beginner surfing waters, to big wave surfing. Further to the north, Playa Grande is one of Costa Rica's best big wave surfing destinations. If the beaches and shopping aren't enough, we offer dozens of tour experiences, including adventures, safari excursions, and more!
Playa Conchal and Flamingo Beach are about 20 minutes north of Tamarindo. Offering a more laid-back vibe and beautiful beaches with smaller waves, Flamingo and Conchal offer visitors a more "tranquillo" setting with the convenience of being close enough to Tamarindo for easy day or evening trips. Playa Conchal is home to Costa Rica's most popular 5-star all-inclusive resort, the Westin Playa Conchal. Flamingo is home to another popular resort, Jimmy Buffet's Margaritaville, where you can select a breakfast only or all-inclusive plan.
Samara and Carrillo
Samara and Carrillo are gorgeous beaches on the Nicoya Peninsula that are often overlooked by mainstream travelers, and that's what's so right about them! If you are looking for an off-the-beaten-path destination that still offers restaurants, souvenir shopping, and gorgeous beaches, consider Samara and Carrillo! These two beautiful beaches and towns are only 10 minutes apart, so you get two great beaches for the price of one! Samara is one of the most popular beach towns for ex-pats and foreigners in Costa Rica. You can escape the crowds of more popular beach towns, but still enjoy great restaurants, shopping, and nightlife. Carrillo is a long crescent-shaped beach studded with palms. Its postcard-perfect beauty is only surpassed by the gentle smile of the locals that offer fresh, ice-cold pipas (coconuts to drink) on the beach.
Puerto Viejo (Southern Caribbean)
Everything seems different on Costa Rica's Caribbean coast, and that's just the way the locals like it! The weather patterns are the opposite of those found on the Pacific coast. September and October are the heart of the rain season on the Pacific, but that's the best weather period and time to visit the Caribbean. One can't help but notice the rasta reggae vibe, which is fun and brings out the color in everything. The houses and businesses are painted bright colors, the gorgeous green jungles and tropical flowers surround everything, and there are animals everywhere! Costa Caribe is a beautiful area to visit, but it's not for everybody! There are no large resorts or all-inclusive hotels in this area. Most lodges are no-frills. Few even have a TV or air-conditioner (don't worry, there are some great places to stay, such as Hotel Aguas Claras, Le Cameleon Hotel)! The small village of Puerto Viejo is the heart of the Southern Caribbean. With nightlife, restaurants, and shops, you can find everything you need for an amazing Costa Rica travel experience. So, if you're looking for a unique experience or just want to try something new, we highly recommend visiting the other side of Costa Rica! Who knows, it just may be perfect for you!
---
Vacations | Hot Springs & Adventure | Beaches | Wildlife | More Info
Rainforest, Cloudforest, and Wildlife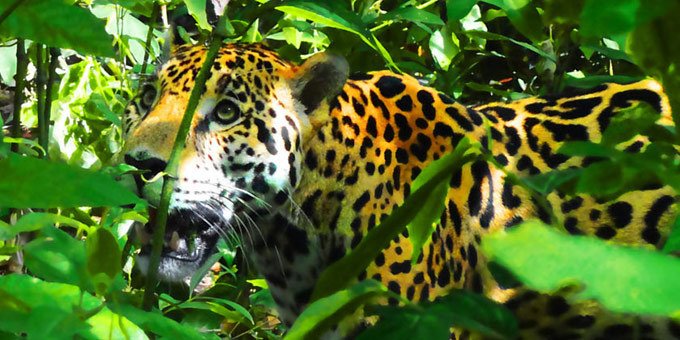 Monteverde Cloud Forest
Monteverde is undoubtedly the world's most famous cloud forest destination. The name Monteverde translates to "green mountain", which is appropriate as everything is lush and green in the cloud forest. Life is stacked on top of life as the towering trees are covered from top to bottom with vines, bromeliads, epithets, orchids, lichens, and other plants that provide habitat for numerous species of mammals, birds, amphibians, reptiles, and insects. The birdwatching in this region is stellar! Visitors come from all over the world in hopes of seeing exotic tropical highland bird species such as the resplendent quetzal, emerald toucanettes, bellbirds, and many others. Monteverde is also one of the best places in the world for canopy ziplining and hanging bridges. The zipline offers a high-speed adrenaline rushing adventure through the treetops of the cloud forest. The hanging bridges allow you to hike through the forest floor as well as the fascinating canopy treetops.
The Osa Peninsula and Corcovado National Park
A writer from National Geographic once described the Osa Peninsula as the most biologically intense place on Earth. Home to 2.5% of the Earth's species, the Osa only accounts for 0.00000085% of the planet's total surface area. That's a lot of wildlife in such a small place! Some of the most exciting residents include jaguars, ocelots, several species of monkeys, sloths, macaws, toucans, and many other animals. Endangered sea turtles use the beaches to lay their eggs. Even humpback whales visit the waters off of the Osa to rear their offsprings! The Osa truly is a fantastic place to visit for anybody willing to go off-the-beaten-path for an extraordinary wildlife experience! But, it won't be cheap or easy as you'll have to either fly or take a boat to Drake Bay or fly or take a long and rough drive to reach the eastern side of the peninsula.
Tortuguero
Tortuguero is another remote and incredibly biologically diverse region of Costa Rica. Similar to the Drake Bay on the Osa, the only way to get there is by boat or plane. This lowland rainforest region is surrounded by dense jungle, swamps, and canals that are teeming with wildlife. Ecolodges are spread out along the waterways and the only form of transportation once you are there us by boat. Tortuguero is most famous for the sea turtles that nest on the beaches. Still, this area is home to countless species of wildlife, including several species of monkeys, two species of sloths, jaguars, pumas, caiman, crocodiles, toucans, macaws, and many other animals. While Tortuguero is a coastal area, you can't swim there due to the strong riptides and bull sharks. Expect rustic and rugged ecolodges with no-frills but terrific service. When you go to Tortuguero, it's all about the rainforest immersion experience, making to one of the best Costa Rica travel destinations for safari-themed vacations.
---
Waterfalls

Rio Celeste Waterfall
If you're interested in waterfalls and Costa Rica, you've probably come across gorgeous photos of a Kool-Aid blue colored waterfall surrounded by lush green jungle. That's the beautiful Rio Celeste Waterfall in Tenorio Volcano National Park. Most visitors to the Celeste come on day trips from nearby Arenal Volcano, but this is also a great place to spend a couple of nights if you want to go off-the-beaten-path and enjoy rural Costa Roca, the rainforest, and a hike to a stunning waterfall.
La Paz Waterfall Gardens
Possibly Costa Rica's most famous waterfalls, the La Paz Waterfall Gardens are set in the rural hills of Heredia, near Poas Volcano. This is an off-the-beaten-path location for overnight trips but is a popular day trip excursion from san Jose and Alajuela hotels. The waterfalls are simply beautiful, surrounded by lush cloud forest. Above the falls, there are manmade features including a bird sanctuary, mini zoo, restaurants, souvenir shop, and the world-famous Peace Lodge.
There are many other waterfalls in Costa Rica. This mountainous, rainforest-covered country receives ample rainfall and that equates to A LOT of waterfalls!
---
Vacations | Hot Springs & Adventure | Beaches | Wildlife | More Info
Additional Important Costa Rica Travel Information
Costa Rica is considered to have a tropical and subtropical climate. There are two main seasons; the rain season and the dry season, which vary regionally. No matter what time of the year or where you visit, you should bring a rain jacket as it can rain at any given time. Temperatures and rainfall amounts will depend on where you are visiting as there are a dozen unique climate and life zones.
The official language of Costa Rica is Spanish. Most tourism professionals such as tour guides and hotel employees speak English as a second language.
The busiest times of the year for travelers are December through April and then again from June through August. Peak seasons include December 15 – January 5, the entire months of February and March, Easter week, and the first two weeks of July. Quality accommodations are generally reserved solid 6 or more months in advance for these times of the year.
Getting to Costa Rica
There are two international airports in Costa Rica. Juan Santamaria International Airport (SJO) is located in the center of the country, near the capital, San Jose. Liberia International Airport (LIR) is located in northwest Costa Rica, near Liberia. Generally, if you are visiting one of the Guanacaste beaches and spending most of your time in that region, you should use LIR. If you are visiting the Central or South Pacific or Caribbean side, you should plan to use SJO Airport. Most major airlines offer flights to Costa Rica. We typically recommend Southwest Airlines due to its flexible policies and generous baggage allowances.
Visitors to Costa Rica will need a valid passport or visa, depending on what country you are a citizen of. Requirements vary; you can find more information by following this link to the Costa Rica Embassy. You will also need a return flight ticket or at least a ticket out of Costa Rica, in order to gain entry into the country.
Transportation in Costa Rica
There are three domestic airlines that operate within Costa Rica, Skyway, Aerobell, and Sansa Airlines. Between these companies, flights are available between 14 popular Costa Rica travel destinations. Keep in mind that baggage limitations are strict and enforced. You will need to check-in an hour and a half in advance, and you'll need transportation to and from the airports.
There are numerous rental car options and nearly as many scams! Be careful when reserving your rental car as there is mandatory insurance that usually costs as much as the vehicle each day. Unfortunately, this typically is not brought to your attention until it's your turn in line. If you rent a car, you will need to be vigilant and never leave bags unattended in your vehicle. Crimes of opportunity are common, especially in restaurants and store parking lots and at many popular attractions.
Private transfers are available between most destinations, making this a popular and comfortable way to get around. Shared shuttle transfers are an affordable alternative between most of the more popular tourist destinations. Finally, there is a good public bus system that you can utilize if you have the time, patience, and don't mind sacrificing comfort.
Currency and Prices
The official currency is the Costa Rican Colon, though the United States dollar is widely accepted. The conversion rate hovers between 500 – 580 Colones to $1 US dollar. Most tourism businesses list their rates in US dollars. Prices in Costa Rica are generally a little higher than other Central American countries due to the higher standards of living and the overall increase in quality.
Food prices vary depending on where you choose to eat. If you eat at local sodas (small Costa Rican style restaurant), you can expect to pay around 3,000 – 5,000 Colones per meal. Most tourist destinations have international style restaurants with meals ranging in price from around $10 - 30 per plate.
Clean tap water is available throughout most of the country, including nearly all Costa Rica travel destinations. For those that prefer bottled water, you will find it in all small stores at a cost of around 800 Colones.
Costa Rica is a Safe Country, But Use Common Sense When Traveling
Costa Rica is the safest country in Central America to visit and among the safest countries in the Americas. Generally speaking, while safety is not really a considerable factor in most popular travel destinations, petty theft is an issue. Use common sense to avoid crimes of opportunity. Examples include not leaving valuables in an unattended vehicle, use your hotel safe, do not leave items unattended on the beach or at your table at a restaurant, etc.. Simply taking small steps like these will greatly reduce your odds of becoming a victim of a crime.
Driving in Costa Rica can be dangerous if you are not familiar with the roads. Many roads are on mountainous terrain, in areas with extreme climates or geography. While primary roads are generally paved, many side roads are not, or are in poor condition. Few roads have street lights, so driving at night is not advised. Distances that may appear like a short drive when looking at a map, nearly always take much longer to traverse than expected. In some cases, roads are seasonal depending on river levels, and some destinations such as Drake Bay and Tortuguero are inaccessible by car. The easiest and safest way to get around is with a private or shared transfer, driven by a professional driver.
If you use common sense and hire a driver, mosquitoes, sunshine, and the possibility of slipping may be the most dangerous part of your trip. These are all easy and avoidable problems. Pack insect repellent (Deet works best) for mosquitoes and bring good water-resistant sunblock. Both of these items are difficult to find in Costa Rica and expensive when you do find them. Don't run near pools or really on any walkways. Ceramic tiles are commonly used as a flooring material in Costa Rica. A little water on ceramic tile can make it pretty slippery, so be careful.
Coronavirus & Healthcare
Due to the coronavirus pandemic, Costa Rica closed its borders on March 16 and will remain closed to non-citizens until June 15. Costa Rica has an outstanding health care system and has been one world's leaders in fighting the pandemic with one of the lowest mortality rates in the world. The country is providing health care to everyone in Costa Rica, regardless of citizenship or even insurance status. The goal is to work together to beat this! As of May 6, the country has seen steady declines in the number of cases and now has more recoveries than active cases.
Immunizations and Vaccinations for Traveling in Costa Rica
Most travelers will not need any special immunizations or vaccinations that they do not already have. The United States Center for Disease Control recommends all routine vaccines such as the MMR, diphtheria-tetanus-pertussis, chickenpox, polio, and the yearly flu shot. The center also recommends that most travelers get vaccinated for hepatitis A and typhoid. Please check the CDC website for details and the possibilities of other vaccines. In addition to checking the CDC website, you should also check with your doctor prior to traveling.
The Geography of Costa Rica
Costa Rica is a small country, located in Central America between the countries of Nicaragua and Panama. It is bordered to the east by the Caribbean Sea and to the west by the Pacific Ocean. The country is a little smaller than the state of West Virginia (United States) at only 51,100 sq km.
The terrain of Costa Rica can be summed up as coastal plains separated by towering mountains. There are several major active volcanoes including Arenal, Poas, Irazu, Turrialba and Rincon de la Vieja. This is a country of extremes due to the mountainous terrain. From sea level on the coasts to the highest peak at Cerro Chirripo, there is a difference of 3,810 meters in elevation gain. To put this in perspective, Cerro Chirripo is located only 40 kilometers inland from the coast! It can be a balmy 85-degree morning on the beach and there can be frost-covered slopes on the highest peaks on the same day.
Climate and Weather of Costa Rica
Costa Rica is divided by the Talamanca Mountain range which runs north to south through the center of the country. There are opposite weather patterns on the Caribbean and Pacific slopes, 12 distinct climate and life zones as well as numerous micro-climate pockets.
The Pacific slope generally experiences the Dry Season from December through April and the Green Season from May through November. The mountainous South Pacific zone of Costa Rica experiences the highest precipitation totals from the end of August through the beginning of November. The drier northwest Pacific coast has a shorter period of heavy rains lasting from September through October. The Caribbean slope is flatter than the Pacific side and the weather is less predictable. There is however a more distinct Dry Season between mid-August through October.
Though there are fairly predictable seasons, it can rain anywhere at any time. This is the rainforest after all! Having realistic expectations about Costa Rica's weather patterns will ensure a more pleasant visit. Realistically speaking, if a little rain will ruin your vacation, you may want to consider an alternative destination.
Historical Background and Social Development of Costa Rica
Costa Rica was originally discovered by Christopher Columbus and later explored in the early 16th century by the Spanish. The initial colonization attempts were unsuccessful due to a variety of reasons including seemingly impassible swamps along the Caribbean coast, heat, pirate raids, and native resistance. The first permanent settlement was established in the fertile highlands of Cartago in 1563. Costa Rica remained a colony of Spain until 1821 when the country joined forces with several other Central American provinces and declared independence from Spain in 1821. In 1838, Costa Rica separated as its own independent country. The country later dissolved its military forces in 1949 and has remained peaceful, without armed forces since then.
Costa Rica has one of the highest adult literacy rates in the world at 97.9%. The country provides its citizens with free health care and free education up to the 11th grade. The average life expectancy is 78 years and the Nicoya Peninsula region is considered a "Blue Zone". Costa Rica has a stable democratic government with elected officials.
Tourism plays a vital role in the economic growth of Costa Rica. There is an official tourism board to oversee this, the ICT. Costa Rica also recognizes the importance of sustainable tourism, which is the primary purpose of ICT. The country has dedicated over 25% of the land to national parks and protected refuges. This will ensure not only the protection of endangered wildlife and rainforest but also leave this treasure for generations to come.
Important Websites for Costa Rica Travel
Passport/Visa Regulations, Embassy of Costa Rica
United States Department of State
United States Center of Disease Control
Trip Insurance