What to Expect in Santa Teresa & Mal Pais
Santa Teresa and Mal Pais, often referred to as simply "SantaT," are picturesque coastal towns on the Nicoya Peninsula's southern tip in Costa Rica. These once-sleepy fishing villages have transformed into vibrant and trendy destinations while managing to retain their bohemian spirit and pristine natural beauty.

Beach Paradise: The primary attraction in Santa Teresa and Mal Pais is their stunning coastline. Miles of soft, golden-sand beaches stretch as far as the eye can see, making it an ideal destination for sunbathing, swimming (in a few locations), and, of course, surfing. The area boasts consistent waves year-round, drawing surfers of all skill levels. The breaks at Playa Santa Teresa, Playa Carmen, and Playa Mal Pais are famous, with surf schools and board rentals readily available.

Surfing Capital: These towns are considered the surfing capital of Costa Rica, and many surfers come here to ride the renowned swells. Beginners can take lessons, while advanced surfers can challenge themselves with some of the bigger waves.

Nature and Adventure: Beyond the beaches, the region is rich in natural attractions. The Cabo Blanco Nature Reserve, Costa Rica's first protected area, is nearby, offering hiking trails through lush forests and glimpses of diverse wildlife. You can explore more hiking trails leading to waterfalls hidden within the jungle, like Montezuma Falls.

Yoga and Wellness: Santa Teresa and Mal Pais have developed a strong yoga and wellness culture. Numerous yoga studios and wellness centers cater to those seeking relaxation and rejuvenation. It's a perfect place to unwind with yoga sessions, meditation, and spa treatments.

Vibrant Arts and Culture: These towns have attracted a mix of international and local residents, resulting in a vibrant cultural scene. You'll find art galleries, live music, and occasional cultural events that provide insight into the community's creative spirit.

Dining Delights: Santa Teresa and Mal Pais offer an eclectic culinary scene. You can savor fresh seafood, Costa Rican dishes, international cuisine, and organic, farm-to-table options. Don't miss the chance to enjoy a beachfront dinner as the sun sets over the Pacific Ocean.

Ecotourism: The area is a hotspot for ecotourism. You can explore the Cabo Blanco Nature Reserve, participate in canopy tours, or embark on horseback riding adventures through the jungle. Birdwatchers will appreciate the diverse avian species found in the region.

Sustainable Tourism: Sustainability is a key focus in Santa Teresa and Mal Pais. Many businesses are dedicated to eco-friendly practices, making this a responsible and environmentally conscious destination.

Nightlife: While not as wild as some of Costa Rica's party hubs, these towns have a vibrant nightlife with beachfront bars, live music, and opportunities to socialize with fellow travelers.

Santa Teresa and Mal Pais offer a unique blend of natural beauty, adventure, culture, and relaxation. Whether you're a surfer seeking the perfect wave, a nature lover exploring the lush forests, or a traveler simply looking to unwind on pristine beaches, these coastal towns have something special to offer.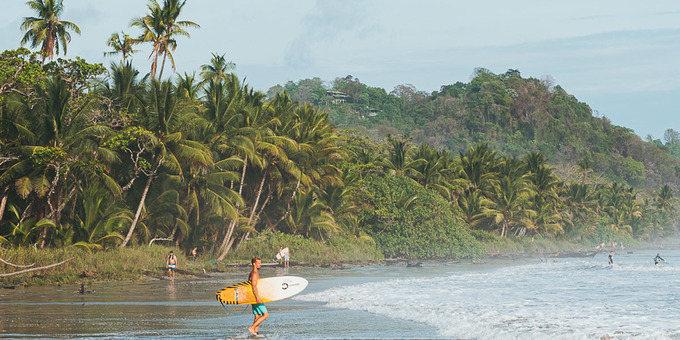 More About Surfing, Yoga, & Wellness in Santa Teresa - Because, Well, That's What This Area is All About...
Santa Teresa is a haven for yoga and surfing enthusiasts, offering a harmonious blend of both activities in one breathtaking setting. The town's idyllic beaches, lush jungles, and laid-back atmosphere make it the perfect backdrop for finding your Zen on the mat and riding the waves in the ocean.

Yoga in Santa Teresa:
The yoga scene in Santa Teresa is thriving, with numerous studios and experienced instructors offering classes for all levels. Whether you're a seasoned yogi or a beginner, you'll find a class that suits you. Many studios overlook the beach or are nestled within the jungle, providing a serene environment for your practice. The soothing sound of the waves and the gentle ocean breeze create a truly immersive experience. Some hotels even offer yoga as part of their wellness packages, making it convenient for guests to participate.

Surfing in Santa Teresa:
Santa Teresa is renowned for its consistent surf breaks, making it a prime destination for surfers of all skill levels. Playa Santa Teresa and Playa Carmen are famous for their long, peeling waves that are ideal for both beginners and advanced surfers. There are numerous surf schools and board rental shops, so even if you've never touched a surfboard, you can take lessons and ride the waves in no time. The surf culture here is welcoming and inclusive, and you'll find a supportive community eager to share the stoke of catching waves.

Yoga and Surf Retreats:
For a holistic experience, many retreat centers and resorts in Santa Teresa offer packages that combine yoga and surf. These retreats often include daily yoga sessions, surf lessons, healthy meals, and accommodations. They provide an excellent opportunity to deepen your yoga practice, improve your surfing skills, and connect with like-minded individuals.

In Santa Teresa, the synergy between yoga and surfing is palpable. Whether you choose to start your day with a sunrise yoga session, catch waves in the afternoon, or unwind with a restorative yoga class after a day in the surf, this coastal haven offers the perfect balance for those seeking both adventure and serenity.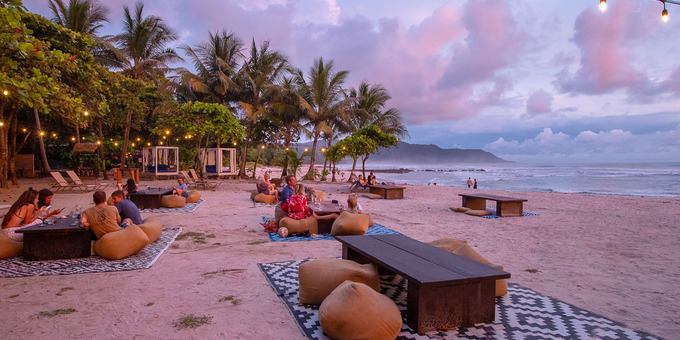 Planning a Vacation to Santa Teresa and Mal Pais
Malpais is a little difficult to access by car, so we recommend a minimum stay of 3 nights, but ideally 4 or 5 nights for those traveling by land. If you are flying in and out, we would recommend 3 – 5 nights. We would not recommend a longer stay as you should experience more of the country if you have more time. Costa Rica is simply too diverse to ignore other areas.
The Best Hotels in Santa Teresa and Mal Pais
Santa Teresa and Mal Pais have rapidly evolved into a coveted tropical getaway. These sister towns are not only known for their world-class surf breaks, but they also boast a thriving wellness and eco-tourism scene. Amidst this natural paradise, a diverse array of hotels has emerged, catering to the preferences of every traveler. From intimate boutique hideaways to eco-conscious luxury resorts, the accommodations in Santa Teresa and Mal Pais offer not only a comfortable place to rest your head but also a chance to immerse yourself in the breathtaking surroundings. In this guide, we'll delve into the best hotels in Santa Teresa and Mal Pais, each offering a unique slice of Costa Rican paradise.
Nantipa Hotel: Nantipa is a hidden gem nestled within the pristine natural beauty of Santa Teresa. This beachfront boutique hotel offers an intimate and luxurious experience. Guests can choose from spacious and elegantly designed bungalows or suites, each thoughtfully crafted with modern amenities and a touch of rustic charm. The hotel's open-air restaurant, featuring farm-to-table cuisine, serves up exquisite dishes while you enjoy panoramic ocean views. Nantipa's commitment to sustainability is evident in its eco-friendly practices, making it an ideal choice for conscious travelers seeking both comfort and environmental responsibility.

Casa Chameleon: Casa Chameleon is a haven for couples seeking a romantic and secluded retreat. Perched on a hilltop, this adults-only boutique hotel offers breathtaking views of the Pacific Ocean and lush rainforest. The villas feature private infinity pools, making it an ideal spot for honeymooners or those celebrating a special occasion. The on-site restaurant, Brasas del Mar, specializes in fusion cuisine, combining local flavors with international influences. Casa Chameleon provides a tranquil and luxurious escape for couples looking to reconnect amidst the beauty of nature.

Flor Blanca Luxury Beach Resort: Flor Blanca is a five-star beachfront resort that combines luxury and sustainability seamlessly. The resort offers a range of accommodations, from spacious villas to deluxe rooms, all designed with a Balinese-inspired aesthetic that blends harmoniously with the natural surroundings. Guests can unwind at the tranquil spa, practice yoga in the open-air shala, or enjoy world-class surf breaks just steps from the property. The Nectar Restaurant showcases organic and locally sourced ingredients, creating a culinary experience that complements the beauty of the area.

Moana Lodge: For travelers seeking a more budget-friendly option without sacrificing comfort, Moana Lodge is an excellent choice. This charming boutique hotel offers a variety of accommodations, from private rooms to shared dormitories. The laid-back atmosphere and communal spaces make it a great place to meet fellow travelers. Moana Lodge's central location provides easy access to Santa Teresa's beaches and vibrant dining and nightlife scene. It's an ideal base for adventurous backpackers and surf enthusiasts looking for affordability and a welcoming atmosphere.

Santa Teresa and Mal Pais offer a range of accommodations, from luxury resorts to budget-friendly options, ensuring that travelers of all preferences can enjoy the beauty and charm of these coastal towns. Whether you're seeking a romantic escape, a wellness retreat, or a lively surfing adventure, you'll find a hotel that suits your needs in this stunning corner of Costa Rica.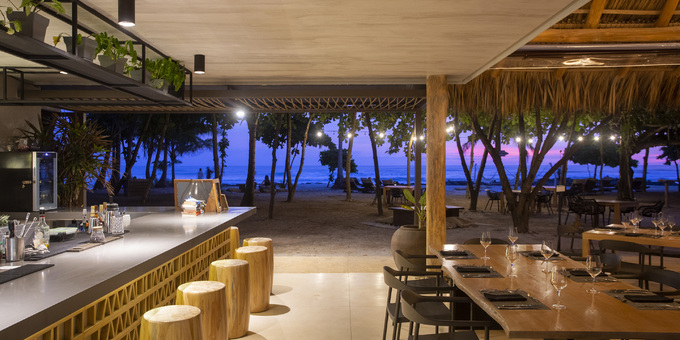 The Best Restaurants in Santa Teresa & Mal Pais
Santa Teresa and Mal Pais, two charming beach towns on the Nicoya Peninsula of Costa Rica, are not just renowned for their stunning coastline and excellent surf breaks; they also boast a burgeoning culinary scene that caters to a diverse range of tastes and preferences. From Mediterranean-inspired delights to street-style feasts and fresh, healthy options, these beachside towns offer a delightful array of dining experiences. In this guide, we'll explore some of the best restaurants in Santa Teresa and Mal Pais, where you can savor the flavors of both Costa Rica and the world while soaking in the laid-back, tropical atmosphere that defines this coastal paradise. Whether you're a seafood aficionado, a pizza lover, or a sushi enthusiast, there's something here to satisfy every palate.
El Tercer Ojo Costa Rica:
Nestled in the heart of Santa Teresa, El Tercer Ojo is a culinary gem offering a delightful fusion of international flavors with a focus on Caribbean and Costa Rican cuisine. This restaurant stands out for its warm and inviting atmosphere, complete with cozy seating and beautiful garden surroundings. Dishes here are prepared with love and attention to detail, making it a fantastic choice for those seeking a unique dining experience. Don't miss their casados with a flare for flavor, tacos, and vegetarian dishes.

Eat Street:
As the name suggests, Eat Street is all about good food served street-style with a twist. Located in the heart of Santa Teresa, this vibrant eatery offers a diverse menu with international influences. From mouthwatering burgers to flavorful Thai dishes and everything in between, there's something to satisfy every palate. The casual, open-air setting adds to the laid-back vibe of Santa Teresa, making it a popular spot among locals and tourists alike.

The Somos Cafe:
The Somos Cafe is a charming beachside restaurant with a strong focus on sustainability and using locally sourced ingredients. Their menu features an array of healthy options, including fresh salads, smoothie bowls, and delicious coffee. It's an excellent choice for breakfast or brunch, and the cozy atmosphere and ocean view create a truly relaxing dining experience.

Manzú Restaurant:
Manzú Restaurant offers a taste of Italy in the heart of Santa Teresa. Known for its seafood, steak, and homemade pasta dishes, this restaurant combines authentic Italian recipes with fresh, locally sourced ingredients. The warm and welcoming ambiance, along with friendly staff, adds to the overall dining experience. Whether you're a seafood lover or craving traditional Italian cuisine, Manzú won't disappoint.

Satori Sushi:
For those who appreciate the art of sushi, Satori Sushi is a must-visit. This restaurant in Santa Teresa excels in crafting beautifully presented sushi rolls, sashimi, and other Japanese delights. Their menu features a variety of options to cater to different tastes, including vegetarian choices. With a relaxing atmosphere and skilled sushi chefs, it's an excellent place to unwind and savor the flavors of Japan while in Costa Rica.

These restaurants in Santa Teresa and Mal Pais offer a diverse culinary journey, reflecting the international influences and vibrant culture of this coastal region. Whether you're in the mood for Mediterranean, street-style eats, healthy options, Italian classics, or sushi, Santa Teresa and Mal Pais have something to satisfy every craving. Enjoy the fantastic food, laid-back vibes, and stunning ocean views that these establishments have to offer.
Reasons to visit
World class surfing
Excellent yoga studios
It is an off the beaten path area that many celebrities visit
Good selection for nightlife
Many restaurants to choose from
Reason NOT to visit
Due to the big waves, it is not safe to swim
There are no large resorts or all inclusive resorts
The area has a bohemian feel
It is difficult to access, meaning long drives or expensive flights
The main road is not paved and therefore, there is always dust around it
How to get there
From San Jose: The quickest route to Malpais from San Jose is on the Autopista del Sol to Caldera where you drive on to Puntarenas and get on the ferry to the town of Paquera. Drive for about an hour to the town of Cobano and from there, follow the signs to Malpais and Santa Teresa.
Weather and packing list
Malpaís and Santa Teresa's beating sun and heat are guaranteed to have you bursting with Vitamin D in no time. This part of Costa Rica enjoys the country's driest weather, with daytimes high ranging between the upper 80s and lower 90s, and dropping to the upper 70s at night. Rainfall levels vary throughout the year in this area, and you can expect radiant blue skies and sunshine in the season that extends from November to August.
Remember to pack all your surf gear and beach clothes, including shorts, swimsuits, rash guards, t-shirts, beach towel or sarong, and don't forget to bring sunblock and aloe vera gel to soothe your skin, which may fry here if you're not careful! Visit our Costa Rica packing list for more ideas.
Fun Fact: Cabo Blanco Absolute Natural Reserve is referred to as absolute natural reserve because when the park was originally created, people were not allowed to enter it, leaving it in an absolute natural state.