Sophistication lingers in the air around Flamingo town, which has seen a lot of development in recent years. Boutiques, restaurants and bars tastefully line its streets and the area is a favorite among wealthy Ticos and foreigners looking to avoid the pace of nearby Tamarindo.
Although sunbathing and relaxing on the gorgeous beach is a must, scores of tours and activities can be arranged in Flamingo. Diving trips to the superb Catalina Islands, right off Playa Flamingo, are highly recommended for underwater enthusiasts who might run into a white tipped reef shark or two, while catamaran tours departing from Flamingo head to the nearby Sugar Beach and Potrero for a day of fun on the water.
Though the Flamingo Marina was shut down by the government years ago efforts persist to reopen it and world-class sport fishing charters are available here while tournaments continue to draw aficionados to the area. Flamingo waters are home to lots of beautiful Sailfish, Marlin, Roosterfish, Snapper and Yellow Fin Tuna, which is nearly under threat of extinction due to overfishing.
Playa Grande, just a short drive away, is a top surfing location and home to Las Baulas National Marine Park, one of the world's most important leatherback turtle nesting sites. The leatherback nesting season runs from mid-October to mid-February, when visitors may enjoy nighttime guided tours to watch these magnificent creatures as they lay their eggs. There is a small museum on site.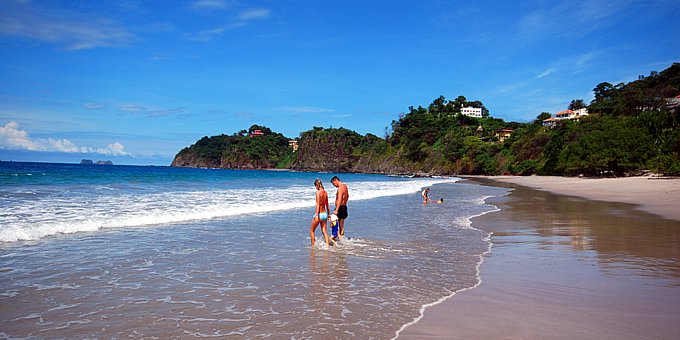 Planning a Vacation to Flamingo Beach
We recommend a stay of 3 – 5 nights at Playa Flamingo. Any less than 3 days and you will not have enough time to enjoy the beauty and laid back feel. Any more than 5 days and you will be overstaying, missing out on other attractions. Planning this way in advance can save you plenty of money and headaches.
There are several hotels in Flamingo to choose from. We highly recommend the laid back experience at Jimmy Buffett's Margaritaville Beach Resort for anybody seeking a tropical escape at an upper mid-range oceanfront hotel. They offer a breakfast only plan or all inclusive. In nearby Playa Conchal, there is the Westin Playa Conchal Resort for luxury travelers seeking the country's best all inclusive resort.
It is easy to get around Flamingo, so a rental car is not necessary. Most shops and restaurants are within walking distance and cabs are readily available. A rental car is nice if you plan to visit other nearby beach towns or attractions.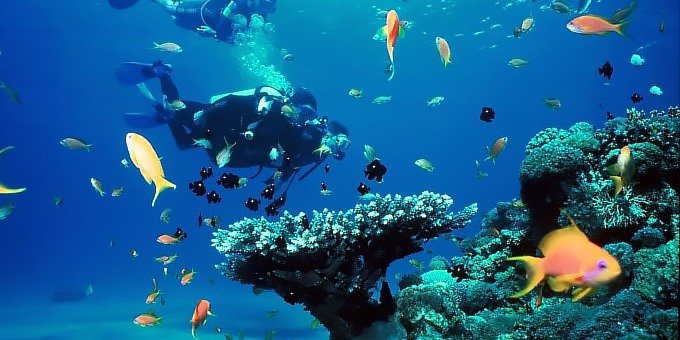 The Best Things to do in Playa Flamingo
Playa Flamingo is a fantastic base for exploring some of the best activities and attractions that Costa Rica's northwestern coast has to offer. Here are the top activities you can enjoy from Playa Flamingo:

Snorkeling and Scuba Diving at Las Catalinas Island: Las Catalinas Island, located just off the coast from Playa Flamingo, is a snorkeling and scuba diving paradise. Explore vibrant coral reefs, swim alongside colorful marine life, and discover underwater caves and tunnels. Certified divers can go deeper to experience the thrill of diving in this pristine marine environment.

Catamaran Cruise for Sunsets: Enjoy a relaxing catamaran cruise along the stunning Pacific coastline. These cruises often include snorkeling opportunities, open bars, delicious meals, and, most importantly, breathtaking sunsets over the ocean. It's a perfect way to unwind and soak up the beauty of the region.

Surfing at Playa Tamarindo: Just a short drive from Playa Flamingo, Playa Tamarindo is one of Costa Rica's top surf destinations. Whether you're a beginner looking for lessons or an experienced surfer seeking big waves, Tamarindo offers a variety of surf breaks suitable for all levels.

Riverboat Safari at Palo Verde National Park: Take a day trip to Palo Verde National Park, where you can embark on a riverboat safari along the Tempisque River. This park is a haven for wildlife enthusiasts, with opportunities to spot crocodiles, monkeys, iguanas, and a wide variety of bird species.

Walking the Beach: Playa Flamingo itself is a stunning beach with pristine golden sands and clear blue waters. Take leisurely walks along the shoreline, collect seashells, or simply relax while listening to the waves and enjoying the tranquil atmosphere.

Sportfishing: Playa Flamingo is known for its excellent sportfishing opportunities. Head out to sea on a deep-sea fishing excursion to catch a variety of game fish, including marlin, sailfish, dorado, and more. Many charters operate in the area, catering to both novice and experienced anglers.

Horseback Riding: Explore the beautiful surroundings of Playa Flamingo on horseback. Guided horseback tours can take you through lush jungles, along pristine beaches, and even to secluded waterfalls.

Golf: If you're a golf enthusiast, don't miss the chance to tee off at the Reserva Conchal Golf Course, located nearby. This championship golf course offers spectacular views and a challenging game amidst tropical landscapes.

Hiking and Nature Tours: Discover the region's natural beauty by taking guided hiking or nature tours. You can explore the dry tropical forests, spot local wildlife, and learn about the unique flora and fauna of the area.

Rincon de la Vieja: A day trip to Rincon de la Vieja National Park, a couple of hours from Playa Flamingo, offers opportunities for hiking, hot springs, mud baths, and even ziplining over the canopy.

With its prime location on the Guanacaste coast, Playa Flamingo provides a gateway to many exciting adventures and outdoor activities. Whether you're seeking underwater exploration, wildlife encounters, or simply relaxation on the beach, this area has something for everyone to enjoy.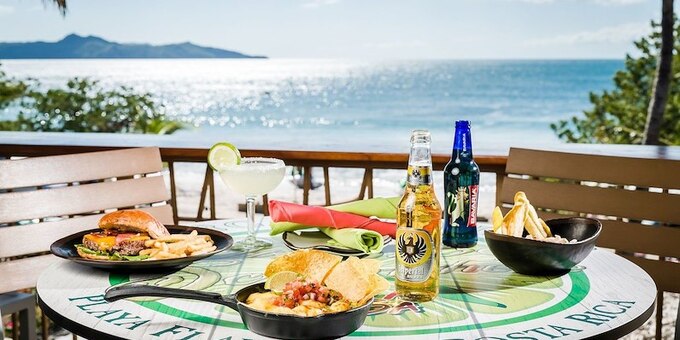 The Best Restaurants in Flamingo Beach
Flamingo Beach offers a variety of dining options, from casual beachfront eateries to upscale restaurants. Here are some of the best dining establishments in the area, including those you mentioned:

Coco Loco: Coco Loco is a popular beachfront restaurant and bar known for its laid-back atmosphere and delicious seafood dishes. Enjoy fresh ceviche, grilled fish, and tropical cocktails while taking in the stunning ocean views. It's an excellent spot to watch the sunset.

Angelina's Restaurant And Bar: Angelina's Restaurant is a charming establishment that offers a mix of Italian and Costa Rican cuisine. The menu features pasta dishes, seafood, steaks, and a variety of appetizers. The romantic ambiance and attentive service make it a great choice for a special evening.

Marie's Restaurant: Marie's Restaurant is a local favorite known for its diverse menu, including Costa Rican and international dishes. From traditional casados to burgers and pizza, there's something for everyone here. The restaurant often hosts live music, adding to the lively atmosphere.

Camparino Pizzeria: If you're in the mood for pizza, Camparino Pizzeria won't disappoint. They serve up delicious wood-fired pizzas with a variety of toppings. The cozy setting and friendly staff make it a welcoming place to dine with family or friends.

A Lo Nico Restaurant: A Lo Nico Restaurant offers a taste of Costa Rican cuisine in a casual and welcoming setting. Enjoy dishes like arroz con pollo, grilled chicken, and seafood with a Caribbean flair. The restaurant's friendly staff adds to the overall dining experience.

While these restaurants are some of the highlights in Flamingo Beach, the area also offers plenty of other dining options, including beachside bars, seafood shacks, and international cuisine. Whether you're looking for a romantic dinner, a family-friendly meal, or a quick bite after a day at the beach, Flamingo Beach has something to satisfy every palate.
Reasons to visit Flamingo
It is a beautiful swimming beach
There are shops and restaurants, but it is not overly developed
All inclusive resorts are available
It is only 45 minutes to Liberia Airport
Tamarindo is only 25 minutes away, providing more shopping and nightlife
Great sport fishing
Reasons NOT to visit
It is located in Guanacaste, where there is no jungle, little wildlife and not very many good adventure activities
There really is not any nightlife in town
It is a long drive to San Jose Airport (4 hours)
If you prefer an active town with a lot of shops, restaurants and kiosks, you may prefer Tamarindo
Not a good surfing beach
How to get there
From San Jose: The shortest route to Flamingo is via the Autopista del Sol or the Interamerican Highway to Caldera. Make a left turn after Puntarenas and follow the sign to the Puente de la Amistad (Friendship Bridge). After you drive past it, follow the signs to Nicoya until you start seeing signs to Flamingo. The roads here are well signaled!
Weather and packing list
Flamingo is blessed with strong doses of sunshine and dry heat for a good portion of the year. Daytime highs hover around the upper 80s to lower 90s, while nighttime lows are generally in the upper 70s. You can expect clear, blue skies and sunshine during the dry season, between the months of November and August.
Remember to pack beach clothes including swimsuits, flip flops, shorts, t-shirts, towels and sarongs, rain gear, sunblock and aloe vera gel for those painful lobster red days. Our Costa Rica packing list article offers a more detailed list of things to bring for your trip.
Fun Fact: The Catalina Islands are located just off the Playa Flamingo coast and are great for White Tipped Shark observation while scuba diving.