Cahuita: Costa Rica's Caribbean Coastal Charmer
Cahuita, a picturesque coastal town situated on Costa Rica's Caribbean coast, is a captivating blend of rich natural beauty and vibrant Caribbean culture. The village was first settled by an Afro Caribbean fisherman who moved his family to the area in 1828. The family not only brought their possessions, but also brought along the Afro Caribbean culture and influence which can still be observed today. Today, this laid-back paradise offers travelers a unique experience, with its relaxed atmosphere, stunning beaches, and lush tropical surroundings.

Natural Wonders: Cahuita is famous for its breathtaking national park, aptly named Cahuita National Park. This park is a pristine marine and terrestrial reserve that spans both land and sea. Visitors can explore walking trails that meander through the jungle, providing opportunities for wildlife spotting, especially howler monkeys and sloths. However, the park's most celebrated feature is its coral reef, which offers incredible snorkeling experiences. Snorkeling enthusiasts are treated to a vibrant underwater world filled with colorful coral formations and an array of marine life.

Caribbean Culture: The town of Cahuita is a delightful mix of cultures, primarily Afro-Caribbean. This cultural blend is evident in the local cuisine, music, and way of life. You can savor delicious Afro-Caribbean dishes like rice and beans, jerk chicken, and fresh seafood at the town's quaint restaurants and food stalls. Live reggae and calypso music often fills the air, adding to the vibrant atmosphere.


Charming Village: The village itself is charming, with colorful wooden houses and a relaxed vibe. You can take leisurely strolls along its sandy streets, perhaps stopping for a fresh coconut water or a chat with the friendly locals.

Untamed Beaches: Cahuita boasts some of the most beautiful and unspoiled beaches in Costa Rica. Playa Blanca, Playa Negra, and Playa Grande are just a few examples. These stretches of pristine coastline are perfect for sunbathing, swimming, and taking in the mesmerizing Caribbean views. When the surf is up, Playa Negra offers fantastic surfing in a beautiful setting with a black sand beach.

A Place to Unwind: Cahuita's unhurried pace and natural beauty make it an ideal destination for those seeking relaxation and a taste of authentic Caribbean culture. Whether you're exploring the national park, enjoying the local food, or simply lounging on the beach, Cahuita offers a genuine and enchanting Costa Rican experience on the Caribbean coast.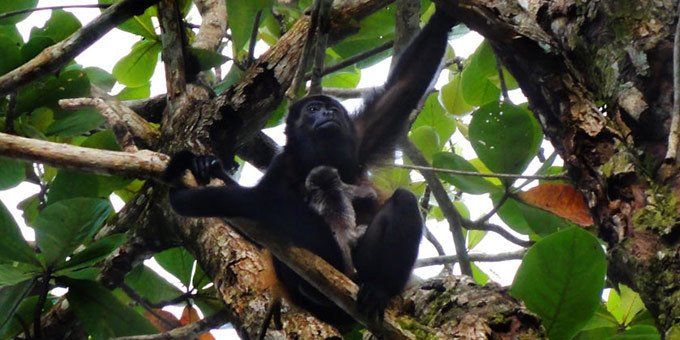 Cahuita National Park: A Caribbean Gem in Costa Rica
Cahuita National Park, located on the stunning Caribbean coast of Costa Rica, is a natural wonder that captivates visitors with its diverse ecosystems and breathtaking beauty. This coastal park, covering both land and sea, offers a unique opportunity to explore the rich biodiversity of the region, both above and below the water's surface.

Underwater Paradise: One of Cahuita National Park's primary attractions is its remarkable coral reef. Stretching over 600 acres, it's the largest coral reef system in Costa Rica. Snorkelers and scuba divers are drawn to its crystal-clear waters, where they can encounter a kaleidoscope of marine life. Colorful coral formations house a wide variety of fish, including parrotfish, angelfish, and surgeonfish. Lucky visitors might spot larger species like rays, nurse sharks, and even sea turtles.

Terrestrial Treasures: Beyond the coral reefs, the park offers several hiking trails that wind through lush rainforests. These trails provide opportunities for wildlife viewing, with howler monkeys, white-faced capuchins, sloths, and numerous bird species frequently spotted. The park's diverse flora includes towering trees, ferns, and a variety of tropical plants.

Beaches and Picnic Areas: Cahuita National Park features several pristine beaches with powdery white sands, providing a tranquil setting for sunbathing, swimming, or beachcombing. There are designated picnic areas where visitors can enjoy a meal amidst the natural beauty, listening to the gentle lapping of the waves.

Guided Tours: While exploring the park, guided tours are available and highly recommended. Knowledgeable guides can enhance your experience by pointing out hidden wildlife, explaining the park's ecological significance, and sharing local stories and folklore. A guide is required for snorkeling.

Visitor Information: The park does not have a required entrance fee but donations are requested. It's advised to arrive early to make the most of your visit. While the park is generally safe, it's essential to follow guidelines regarding wildlife interactions and environmental conservation. Stay on the marked trails and watch for snakes as the park is home to several species of poisonous snakes.

Conservation Efforts: Cahuita National Park plays a vital role in conserving the unique marine and terrestrial ecosystems of the Caribbean coast. Efforts to protect the coral reefs and preserve the park's natural beauty are ongoing, making it a destination that allows visitors to appreciate the beauty of nature while contributing to its conservation.

For those seeking an immersive experience in Costa Rica's Caribbean paradise, Cahuita National Park offers a captivating journey through both the undersea world and the lush rainforests, making it a must-visit destination for nature lovers and adventure seekers alike.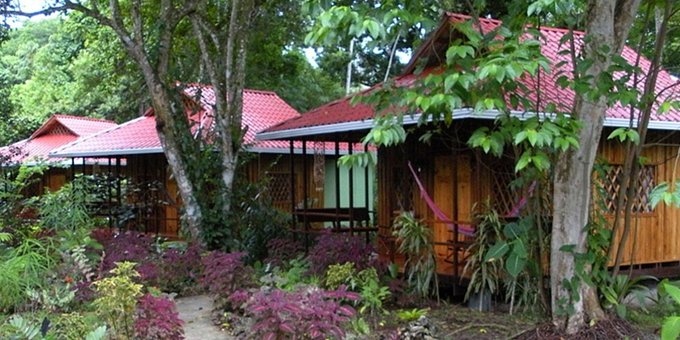 Charming and Rustic Lodging in Cahuita
Cahuita, a laid-back Caribbean town in Costa Rica, offers travelers a unique and authentic experience with its charming and rustic lodging options. Unlike the bustling resorts or large hotels found in some tourist destinations, Cahuita is known for its smaller, more intimate accommodations that immerse guests in the natural beauty and relaxed atmosphere of the region. Here are some of the best lodging options in Cahuita:

Coral Hill Bungalows: Nestled amidst lush tropical gardens, Coral Hill Bungalows offers cozy and well-appointed bungalows that provide a serene retreat. These rustic-chic accommodations blend harmoniously with the natural surroundings. Guests can enjoy the sounds of wildlife while relaxing on their private terrace. The property's personalized service and attention to detail create a warm and inviting atmosphere.

Ciudad Perdida Ecolodge: For travelers seeking an eco-friendly experience, Ciudad Perdida Ecolodge is an excellent choice. This ecolodge embraces sustainable practices and offers guests the chance to stay in eco-friendly cabins surrounded by the sights and sounds of the jungle. It's a place where you can truly disconnect from the outside world and connect with nature. Ciudad Perdida's commitment to conservation and responsible tourism enhances the experience.

Suizo Loco Lodge: Suizo Loco Lodge captures the essence of Cahuita's relaxed Caribbean vibe. This lodge is a hidden gem tucked away in the rainforest. The lodge's Swiss-Costa Rican fusion restaurant is a culinary delight, serving dishes with a tropical twist.

While Cahuita may not have traditional resorts or large hotels, these rustic lodgings offer a unique and authentic experience that aligns perfectly with the town's relaxed and natural ambiance. Visitors seeking a genuine taste of Caribbean Costa Rica will find these options to be charming, cozy, and immersed in the beauty of the surrounding environment.
Weather and Packing List
The Southern Caribbean is a region of vast contrasts in weather. Temperatures remain the same nearly year round with average day time highs in the low 90s and night time lows in the upper 70s. Precipitation varies by month with the months of February, March, September and October being the driest.
Visitors should pack a bathing suit, towel, shorts, tee shirts, appropriate shoes, rain gear, sun block, and insect repellent.
Fun Fact: Three species of Sea Turtles nest on the beaches of Cahuita National Park.