Your Costa Rica sport fishing vacation starts here!
Prepare for an angler's paradise in Costa Rica, a country blessed with its long, slender shape that is nearly surrounded by water, creating a haven for fishing enthusiasts. The Costa Rican government's protection of the majority of the coast has allowed fish populations to thrive year-round, ensuring an unforgettable fishing experience.

Whether your passion lies in freshwater, river, lake, or deep-sea fishing, Costa Rica has it all. While Playa Tamarindo, Flamingo, Tortuguero, and Jacó are popular fishing destinations, hidden gems like Golfito and Drake Bay offer a chance for more secluded adventures with bigger catches.

For avid anglers seeking the ultimate fishing week, Guanacaste is the place to be. Mahi Mahi, Tuna, Sailfish, and Marlin are regularly reeled in from these productive waters. Meanwhile, the untouched splendor of the Osa Peninsula awaits those in search of pristine fishing grounds. Corcovado National Park, established in 1975 and home to some of the world's purest waters, harbors impressive fish species that can't be found elsewhere in Costa Rica.

Uncertain about where to find billfish or hesitant to deal with private boat captains? Leave your worries behind as we have everything covered for you. Countless charter boats depart from the coast daily, whisking fishermen away to the most sought-after fishing spots in the world. With meticulously planned itineraries, we ensure that your chances of landing a trophy catch are maximized. In addition to exceptional tour services, our knowledgeable experts possess valuable insights into the best fishing times and locations, allowing you to relax and fully enjoy your vacation.

Get ready to cast your line into the bountiful waters of Costa Rica, where a fishing adventure awaits like no other. From thrilling battles with majestic billfish to reeling in prized catches, your fishing dreams are about to become a reality. Sit back, relax, and let us take care of all the details, so you can focus on creating unforgettable fishing memories in the beautiful waters of Costa Rica.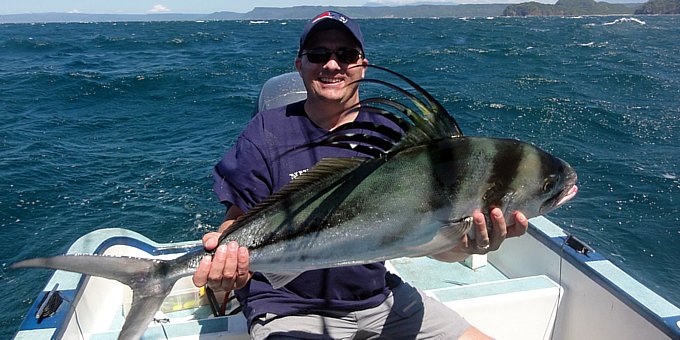 Where should I go for the best sport fishing in costa rica?
Costa Rica offers a plethora of incredible sport fishing destinations, each with its unique charms and abundant marine life. Here are some of the best places to go for sport fishing in Costa Rica:

Jaco & Los Sueños Marina, Herradura: Located on the Central Pacific coast, just north of Jaco, Los Sueños Marina is renowned for its world-class sport fishing. The waters here are teeming with billfish, including Marlin and Sailfish, as well as Mahi Mahi, Tuna, and Roosterfish. many anglers choose to stay in nearby Jaco to take advantage of casinos, nightlife, and a plethora of dining options, all in close proximity to Los Sueños Marina.

Manuel Antonio & Quepos: Situated on the Central Pacific coast, Quepos is another popular sport fishing destination. The offshore waters are known for their rich diversity, offering opportunities to catch Marlin, Sailfish, Dorado, Wahoo, and more.

Papagayo Gulf, Guanacaste: In the northwest region of Costa Rica, the Papagayo Gulf offers exceptional sport fishing experiences. The waters are abundant with Marlin, Sailfish, Roosterfish, Tuna, and other prized game fish.

Drake Bay & Osa Peninsula: Located on the Osa Peninsula, Drake Bay offers a more secluded sport fishing experience amidst the pristine waters of the Pacific. Here, you can target Marlin, Sailfish, Dorado, and Snapper while surrounded by the breathtaking beauty of the rainforest.

Golfito: Situated in the southern part of Costa Rica, Golfito is renowned for its exceptional offshore fishing opportunities. The waters here attract Marlin, Sailfish, Yellowfin Tuna, and other exciting game fish.

Tamarindo: On the northern Pacific coast, Tamarindo is a popular destination for both experienced anglers and beginners. Its proximity to deep waters offers chances to catch Marlin, Sailfish, Mahi Mahi, and other species.

These destinations are just a few examples of the fantastic sport fishing spots in Costa Rica. Each location offers a unique experience with an abundance of game fish, experienced captains, and well-equipped fishing charters. Whether you choose to fish on the Pacific coast or explore the pristine waters of the Osa Peninsula, you can expect an exhilarating sport fishing adventure in Costa Rica.