Discovering San Isidro del General - Perez Zeledon's Vibrant Hub
Tucked away in the lush embrace of Costa Rica's Southern Zone, San Isidro del General, affectionately known as "Perez Zeledon" by the locals, is a captivating town that epitomizes the fusion of time-honored traditions and contemporary vitality. Situated at the crossroads of bustling urban life and serene rural landscapes, San Isidro stands as the largest town in the region, boasting a unique blend of cultural richness, verdant natural beauty, and a thriving agricultural tapestry.

A Town Steeped in Tradition: San Isidro del General remains deeply connected to its roots, making it a treasure trove for cultural enthusiasts. The town's streets hum with a sense of tradition, as local artisans craft intricate goods, while the melodious notes of folk music fill the air. It's a place where the past coexists harmoniously with the present.

Nature's Playground: Beyond the town's borders, the landscape unfolds into a symphony of natural wonders. Rolling hills blanketed in emerald forests invite you to explore hiking trails that lead to hidden waterfalls and secluded valleys. The region's rich biodiversity showcases Costa Rica's commitment to conservation, offering travelers a chance to spot vibrant bird species, curious monkeys, and elusive big cats.
Agriculture and Sustainability: San Isidro's thriving agricultural community reflects the region's dedication to sustainability. Here, organic farms flourish, producing a cornucopia of fresh produce and delectable coffee. Visitors can immerse themselves in the local food culture, savoring farm-to-table dining experiences that celebrate the flavors of Costa Rica.

Pulsating Urban Energy: The town center buzzes with life as markets, shops, and cafes beckon. Vibrant murals adorn the streets, illustrating Perez Zeledon's artistic spirit. The town's friendly residents are always eager to share stories of their home and lend a helping hand.

Gateway to Adventure: San Isidro del General serves as a gateway to some of Costa Rica's most exhilarating adventures. From here, you can embark on journeys to cloud forests, serene beaches, and remote national parks, all within a reasonably short drive.

Join us on an enchanting voyage through the heart of San Isidro del General, and discover why this vibrant town, lovingly called Perez Zeledon, is an increasingly sought-after destination for those looking to uncover the diverse wonders of Costa Rica's Southern Zone.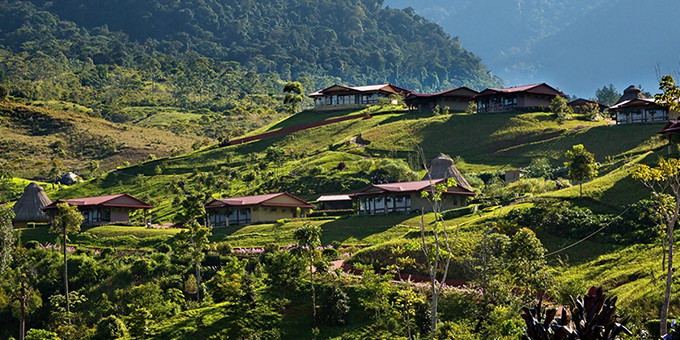 The Best Hotel in San Isidro del General and Possibly in All of Costa Rica - Hacienda AltaGracia, Auberge Resorts Collection
Overview:
Hacienda AltaGracia, part of the esteemed Auberge Resorts Collection, stands as a true gem in San Isidro del General, and indeed, one of the most prestigious hotels in all of Costa Rica. Nestled in the lush hills of Perez Zeledon, this luxurious resort offers a serene and indulgent retreat for travelers seeking the pinnacle of comfort, service, and natural beauty.
Accommodations:
The resort features a variety of exquisite accommodations, including sumptuous suites and private casitas. Each room is beautifully appointed with Costa Rican hardwoods and contemporary décor, offering stunning views of the surrounding mountains or the San Isidro Valley. Whether you choose a suite with a private plunge pool or a secluded casita, you'll experience unparalleled comfort and tranquility.
Dining:
Hacienda AltaGracia boasts world-class dining experiences. The Ambar Terrace restaurant combines the flavors of Costa Rican cuisine with international influences, offering an array of delectable dishes. The dining experience here is not just a meal but a culinary journey that reflects the region's vibrant flavors.
Activities:
This resort offers an array of activities that immerse you in Costa Rica's natural wonders. You can explore the lush landscapes on horseback, embark on canopy adventures, or take a guided nature hike. For a truly rejuvenating experience, indulge in the Auberge Spa's treatments, which are inspired by indigenous healing traditions.
Unique Features:
One of Hacienda AltaGracia's standout features is its equestrian center, where you can connect with the region's cowboy heritage. You can take riding lessons, enjoy horseback trail rides through the forest, or even arrange a horseback picnic in the countryside.
Local Exploration:
While the resort itself is a paradise, it's also a gateway to the broader Perez Zeledon region. You can explore local markets, visit coffee plantations, or venture to nearby national parks like Chirripó, where you can hike to the highest peak in Costa Rica.
Why Hacienda AltaGracia:
Hacienda AltaGracia is not just a hotel; it's an experience. From its luxurious accommodations and gourmet dining to its unique activities and breathtaking surroundings, it offers an unparalleled level of luxury and relaxation. If you're seeking an unforgettable escape in the heart of Costa Rica's natural beauty, Hacienda AltaGracia is the place to be. It truly deserves its reputation as one of the best hotels in not only San Isidro del General but all of Costa Rica.
Weather and Packing List
Surrounded by rainforest and cloud forest, the weather in San Isidro del General is fairly predictable. Expect damp conditions and dress for rain. Daytime temperatures average in the upper 70s with night time lows averaging in the mid 60s. The most consistent rain is experienced between the months of May through November with the heaviest rains September through November.
Visitors should pack shorts, tee shirts, appropriate shoes, rain gear, sun block. It is also advised to bring at least one pair of pants, a long sleeve shirt, and even a sweat shirt or light jacket.
Fun Fact: San Isidro del General is a great launch point to climb Cerro Chirripo, which is the tallest peak in Central America.