Overview | Reasons to Visit | Best Hotels | Things To Do | Best Times | Dining | Weather & Packing
Cloaked mysteriously in cool mist amid giant vines, ancient trees, and leaves of green, Monteverde (meaning Green Mountain in Spanish) invites you to explore one of Costa Rica's most unique biological corridors. Located at the top of the Continental Divide at an elevation over 4,500, the Monteverde Cloud Forest Reserve, Santa Elena Cloud Forest Reserve, and the Children's Eternal Rainforest all offer excellent guided natural history and night hikes, as well as self-guided walks.
Privately owned protected parks, such as Selvatura, Extremo, and Aventuras, provide opportunities to soar over the canopy on high powered ziplines, traverse the treetops on hanging bridges, or leisurely explore the jungle by horseback or ATVs. There is even bungee jumping! Finca Modelo Ecologica will take you on an exhilarating waterfall rappel, and Sky Adventures offers a slow, easy, informative Tram ride to the top of the mountains where you can stop for hot chocolate and if lucky, catch a view of Arenal Volcano and the Pacific Ocean in the distance. This stunning event only happens on occasion when the cloud cover breaks but is an awesome experience.

Birdwatchers from around the globe flock to Monteverde, hoping for a glimpse of the elusive Resplendent Quetzal, while nature enthusiasts explore the myriad butterfly, insect, snake, and hummingbird habitats. The cloud forest's unique climate, perched atop the Continental Divide, creates a captivating tapestry of life, with towering old-growth trees cloaked in vines and adorned with vibrant epiphytic blooms. This enchanting ecosystem is the only place on Earth where the stunning Resplendent Quetzal, with its emerald tail feathers and fiery plumage, can be found. Over 400 bird species, alongside monkeys, sloths, coatis, kinkajous, and jungle cats, make this cloud forest their home. Amidst this prehistoric paradise, you'll also encounter fascinating insects, reptiles, and snakes.

The charming town of Santa Elena, home to approximately 6,000 residents, serves as the perfect hub for exploring Monteverde's wonders. Within a 5-mile radius, you'll discover both the Cloud Forest Reserves and the Children's Eternal Rainforest. Santa Elena boasts an array of quality souvenir shops, museums, art galleries, and captivating exhibits, including a serpentarium and Butterfly Garden.

A visit to the Butterfly Garden promises an enchanting experience as you observe around 1,250 butterfly species, representing 10% of the world's population, amidst 29,000 square feet of lush gardens. Don't forget your camera!

Santa Elena offers a culinary fusion, with cafes like Cabure, serving international dishes with flair. The Tree House Restaurant, nestled around a colossal Ficus tree, invites you to savor shrimp-stuffed avocados and mouthwatering hamburgers. Taco Taco Taqueria serves Mexican-style tacos, while Tramonti's Restaurant offers authentic Italian cuisine and brick-oven pizzas. Sabor Tico's presents the traditional Costa Rican casada, a delightful combination of local flavors, all on one plate.

Cheese enthusiasts will be delighted by "La Lachera" cheese factory, where 13 types of cheeses, including popular Monte Rico, are freshly produced. Though not sharp or aged, these cheeses are worth sampling.

Santa Elena's thriving art scene attracts both artists and art enthusiasts, with studios and galleries like Alas y Raices dedicated to supporting indigenous Costa Rican art. The Cooperativa de Artesanas de Santa Elena promotes local female artists and offers a glimpse into their creative process. Luna Azul, a charming blue house, entices visitors with handmade gifts and souvenirs.

During your Costa Rican adventures, you may find the need to freshen up your clothes, especially when staying at hotels and ecolodges without laundry services. In Santa Elena, the Santa Elena Hostel Resort offers laundry services at $5.00 per kilo (dry weight), conveniently located in town next to Banco Nacional. You don't have to be a guest at the hostel to utilize this service.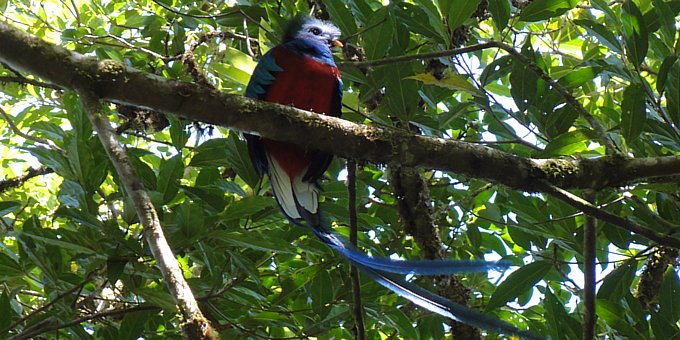 Monteverde's rich history stretches back over 3,000 years, marked by the growth and organization of small indigenous tribes. However, their population dwindled significantly, possibly due to the heightened activity of nearby Arenal Volcano. In the 1950s, Quakers from the United States sought refuge in Monteverde to escape the military draft and lead peaceful lives. They selected Costa Rica, which had recently abolished its army and offered an ideal climate for year-round food production. The Quakers excelled in farming and collectively decided to protect the highlands' watershed area above their community, resulting in the establishment of the cloud forest reserves.

Interestingly, Costa Rica boasts six other wonders, including the Poas Volcano, Rio Celeste, Arenal Volcano, Isla del Coco, Tortuguero, and Cerro Cirripo, alongside the remarkable Monteverde.
Reasons to visit Monteverde:
To discover the beauty of the cloud forest
Phenomenal birdwatching
Best zipline experiences
Unique hanging bridges in old growth forests
The Monteverde Cloud Forest Reserve
The diversity of wildlife at this unique elevation
Stand at the top of the Continental Divide
Experience a real ecolodge
Reasons NOT to visit:
Because it's a cloud forest, it rains a lot
The high elevation can be quite cool
Hotels aren't typically air conditioned
Hard to find a swimming pool
Some roads are small, bumpy and unpaved
Not into hiking or outdoor adventures
No all-inclusive resorts or 4-star luxury hotels
Long drive to reach the top
No nearby beaches
Planning a vacation to Monteverde
Planning a vacation in Monteverde, Costa Rica, is embarking on a journey into the heart of a mystical cloud forest paradise. With its lush greenery, abundant wildlife, and a sense of serene isolation, Monteverde offers a unique and immersive experience for nature enthusiasts and adventure seekers alike. Whether you're drawn to the thrill of ziplining through the canopy, the quiet contemplation of a butterfly garden, or the chance to spot the elusive Resplendent Quetzal, Monteverde promises an unforgettable getaway. Join us as we explore the essential aspects of planning your dream vacation in this enchanting corner of Costa Rica.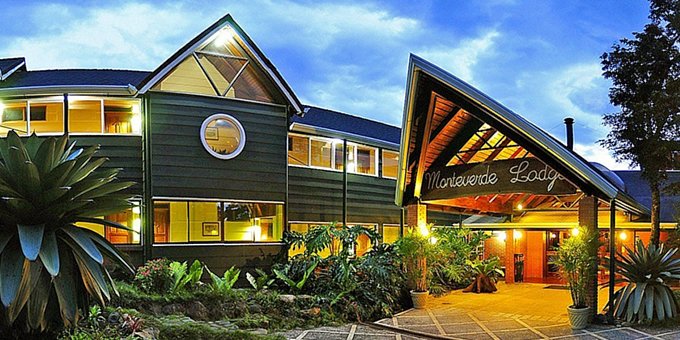 The Best Hotels in Monteverde
Monteverde offers a selection of charming hotels and ecolodges, catering to different budgets and preferences. While all-inclusive resorts are scarce in this rustic region, you'll find a range of mid-range, upscale, and budget-friendly accommodations to choose from:
Upscale Hotels:
Monteverde Lodge & Gardens: Known for its lush gardens and warm hospitality, this upscale lodge provides a luxurious experience in Monteverde.

Boena Cloud Forest Lodge: Set amidst the cloud forest, Boena offers a unique blend of comfort and immersion in nature.

Senda Monteverde: Senda Monteverde boasts modern design and sustainability, providing a comfortable and eco-conscious stay.

Hidden Canopy Treehouses Boutique Hotel: Experience the magic of Monteverde from treehouse accommodations, offering a one-of-a-kind treetop escape.

Koora Monteverde Boutique Hotel: Koora Monteverde provides a boutique experience with personalized service and stylish accommodations.

Hotel Belmar: This eco-friendly hotel offers breathtaking views of the cloud forest and features a farm-to-table restaurant for a memorable dining experience.
Mid-Range Hotels:
El Establo: Nestled in the heart of Monteverde, El Establo offers comfortable accommodations and stunning views. Its location makes it convenient for exploring the area's attractions.

Hotel Poco a Poco: This welcoming hotel in Santa Elena provides a cozy atmosphere and is within easy reach of local shops and restaurants.

Monteverde Country Lodge: A charming lodge surrounded by the cloud forest, Monteverde Country Lodge offers a tranquil retreat amidst nature.
Budget-Friendly Options:
Cala Lodge: Cala Lodge is a budget-friendly choice that offers comfortable lodgings without breaking the bank.

Quality Cabins: Quality Cabins provides affordable accommodations in Monteverde, ideal for travelers seeking value for money.

For more detailed information on these hotels and additional lodging options, please visit our Hotels section under Monteverde. While swimming pools are not common in this region due to the cooler climate, you'll find warmth and comfort in the unique experiences and natural beauty that Monteverde has to offer.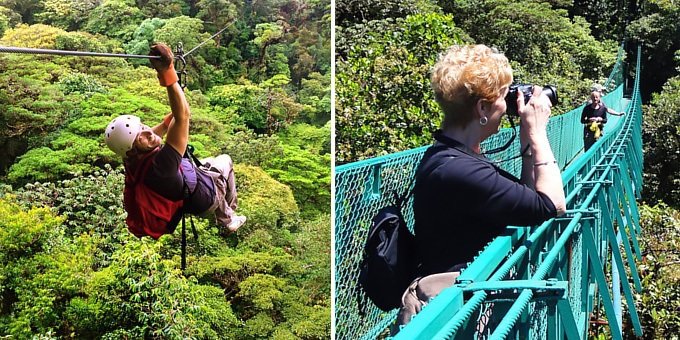 The Top 10 Things to Do in Monteverde
Exploring Monteverde offers a treasure trove of natural wonders and thrilling adventures. Here are the top 10 things to do in this Costa Rican paradise:

Birdwatching at Curi-Cancha Reserve: Begin your journey with the melodious tunes of Monteverde's avian residents. Curi-Cancha Reserve is a haven for birdwatchers, home to a diverse array of species, including the resplendent quetzal.

Monteverde Cloud Forest Reserve: Dive into the heart of the cloud forest at Monteverde Cloud Forest Reserve. Traverse its well-maintained trails, soak in the ethereal beauty of towering trees, and keep your eyes peeled for elusive wildlife.

Santa Elena Reserve: Explore the enchanting Santa Elena Reserve, a lesser-known gem boasting lush trails, magnificent flora, and an immersive cloud forest experience.

Night Hike: Embark on a night hike to witness Monteverde's nocturnal world come alive. Guided tours reveal creatures like tree frogs, owls, and insects that emerge in the cover of darkness.

Canopy Zipline: Get your adrenaline pumping by soaring above the canopy on a thrilling zipline adventure. Feel the rush of wind and the awe-inspiring views as you glide through the treetops.

Hanging Bridges: Traverse the treetop canopy on hanging bridges. These suspended pathways offer a unique perspective of the forest, perfect for photographers and nature enthusiasts.

Hiking on the Continental Divide: Take a hike along the Continental Divide, where you'll straddle both the Pacific and Caribbean watersheds, offering sweeping vistas of the landscape.

Canyoning and Waterfall Rappelling: For adventurous souls, canyoning and waterfall rappelling offer an exhilarating challenge. Descend through cascading waterfalls amid the verdant backdrop.

Coffee Tour: Dive into the world of Costa Rican coffee with a guided tour. Learn about the art of coffee cultivation and indulge in freshly brewed java.

Art Galleries: Monteverde is not only a natural wonder but also a hub for artistic expression. Explore local art galleries, such as Alas y Raices and Cooperativa de Artesanas de Santa Elena, dedicated to showcasing the work of indigenous peoples and local female artists.

These 10 activities showcase the diverse wonders of Monteverde, ensuring an unforgettable journey in this captivating cloud forest haven.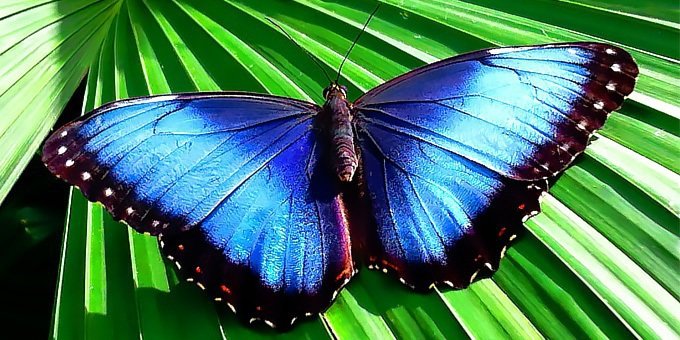 Best Times to Visit Monteverde
The best times to visit Monteverde, Costa Rica, offer unique experiences depending on your preferences. From December through April, you'll find the driest weather, making it an ideal period for exploring this lush cloud forest. However, it's also the most popular and, consequently, the most expensive time to visit. If you plan to travel during this peak season, be sure to book your accommodations well in advance.

Another great time to visit Monteverde is in July and August, perfect for families on vacation. These months provide a mix of favorable weather and a bustling atmosphere, creating an excellent setting for family adventures.

For those seeking a more tranquil and budget-friendly experience, the rainy season from May through November may be your best bet. In particular, May and June offer a hidden gem known as the "secret season." During this period, you can enjoy lower prices and easier availability, making it an excellent choice for budget-conscious travelers. Just be prepared for occasional rain showers, which are part of the region's charm and contribute to its lush, green landscapes.
The Best Restaurants in Monteverde
Monteverde, known for its stunning natural beauty, also offers a delightful culinary scene. Here are some of the best restaurants in Monteverde that promise a memorable dining experience:
San Lucas Treetop Dining Experience: For a truly unique and romantic dining adventure, the San Lucas Treetop Dining Experience stands out. Enjoy a candlelit dinner high in the treetops, surrounded by the enchanting sounds of the forest. The setting is perfect for a special occasion.

El Sapo Restaurant & Bar: Located in Senda Monteverde Hotel, this restaurant offers a diverse menu featuring international and local dishes. You can savor fresh seafood, Costa Rican classics, and vegetarian options in a cozy and welcoming atmosphere.

Monteverde Brewing Company: Craft beer enthusiasts will appreciate a visit to the Monteverde Brewing Company. Sample a selection of locally brewed beers and enjoy pub-style snacks in a relaxed environment.

The Green Restaurant: This eco-friendly restaurant is committed to sustainability and serves a range of delectable dishes made from locally sourced ingredients. The Green Restaurant's menu includes an international fusion of flavors and dishes.

Restaurante Celajes at Hotel Belmar: Located in the Hotel Belmar, Restaurante Celajes offers exquisite farm-to-table dining with a focus on organic ingredients. The restaurant boasts panoramic views of the surrounding cloud forest, creating a picturesque backdrop for your meal.

Restaurante Thomas & Thiago: This family-run restaurant offers a warm and welcoming atmosphere. You can enjoy a mix of international and Costa Rican cuisine, faturing Italian and hearty steaks.

Tree House Restaurante & Cafe: As the name suggests, this restaurant is built around a giant Ficus tree, creating a unique and enchanting dining setting. The menu offers a mix of international and local dishes, and it's known for its hamburgers and pizzas.

Restaurante Morpho's: Located in Santa Elena, 50 Meters East of the Plaza Monteverde shopping center, Restaurante Morpho's offers farm-to-table dining with an emphasis on sustainability. The menu features a variety of dishes, including gluten-free, vegetarian, and vegan options, and provides a delightful culinary journey.

These restaurants in Monteverde cater to a wide range of tastes, from those seeking traditional Costa Rican cuisine to those interested in international flavors and craft beer. With stunning natural surroundings and a commitment to sustainable dining, Monteverde's culinary scene is sure to leave a lasting impression on your taste buds.
How to get to there:
Traveling to this fascinating area after turning off the main highway, you'll be driving steadily up on small back roads that are sometimes unpaved until you reach the top of the mountain. There are several approaches from different areas but due to poor road conditions we recommend you use the following directions.

From San Jose or from Juan Santamaria Airport (SJO): Drive west toward Puntarenas on the Inter-American Highway. As you reach Puntarenas, follow the signs that say to Liberia. You will still be on the Inter-American Highway. At Kilometer 133, you will turn off to the right onto Route 606 going toward Sardinal. Follow Route 606 and the last 18 kilometers before Santa Elena will be gravel. When you reach the top of the mountain you will be in the town of Santa Elena. This trip will take you approximately 3.5 hours from San Jose or 2.5 hours from the airport.

From Liberia and the Daniel Oduber Quiros International Airport (LIR): Drive south on the Inter-American Highway until you reach Route 606 at Kilometer 133. Turn left going towards Sardinal and continue to follow the signs for Route 606. About 18 kilometers before you reach the mountain top town of Santa Elena, the road will change to gravel for the rest of the way up to the town. This trip will take you approximately 2.5 hours.
Monteverde weather and packing list
Monteverde weather is generally predictable, with the most rainfall experienced between the months of May through November, although the heaviest rains typically occur between September and November. The weather can be cool and often permeated with a mist due to the Gulf winds meeting the Pacific winds on top of the Continental Divide creating a heavy cloud cover. You may expect average daytime temperatures to be in the low 70s with nighttime lows in the 50s (Fahrenheit).
You will need to bring rain gear and wear hiking boots with pants. Depending on the time of year, you can layer your clothing although long sleeve shirts and light jackets are needed during the chilliest, wettest periods. Sunscreen is recommended.
Fun Fact: In 1983 a writer from National Geographic Magazine stated that Monteverde was THE place to observe the Resplendent Quetzal. Subsequently, tourists from all over the world began arriving armed with cameras, tripods and binoculars.