Centered around a beautifully landscaped downtown park providing public benches under shady trees and ablaze with flowers, La Fortuna's busy streets offer souvenir shops, tour desks, restaurants, and friendly bars. A refreshing water fountain's gentle cascade invites you to rest a moment and enjoy the view of the majestic Arenal Volcano hovering over the town closer than you can imagine. One of the prime spots for taking an eye-catching selfie or group photo with the volcano's display of an occasional plume of smoke from its perfectly formed conical top. No longer performing pyroclastic explosions as in years past, its epic symmetrical shape with large swaths of dried lava fields fascinate hikers as they follow the trail through lush rainforests full of wildlife to walk on the ribbons of dried molten rock. Visitors can easily hike on well-marked trails at the base of the volcano or in nearby rainforests.
Planning Your Vacation to Arenal and La Fortuna
La Fortuna welcomes tourists who come to see the majestic Arenal Volcano towering over the town with an almost mythical presence. Several beautifully built hot spring resorts come in a variety of prices. Some, such as Tabacon Grand Thermal Resort, integrate secluded grottos and waterfalls landscaped into the natural warm river waters where you can indulge in a luxurious day or evening of relaxation. Others, like Arenal Springs Resort, have an abundance of pools fed by both warm and cool rivers running through the property surrounded by lush tropical flowers. You'll find swim up bars, yoga platforms, kid's areas, and often more than one restaurant on site offering a variety of tasty cuisine. Some of the hot spring hotels such as Tabacon, Baldi Resort and The Springs Resort, offer partial day passes for those who are not staying at the hotel.
Thrill seekers will find an array of heart pumping adrenaline tours. Two excellent whitewater rafting rivers are within a two-hour drive. Beginners might like to go down Rio Balsa's easy Class ll and Class lll rapids. For the experienced rafters, the Sarapiqui River offers more advanced Class lll and Class lV whitewater rafting. While these rivers are not located in La Fortuna, transportation is included in most tours.
An excellent adventure company with a great safety record, Pure Trek provides exciting canyoning tours at their own private canyon located just 15 minutes outside of La Fortuna. Visitors can rappel vertically down natural rainforest waterfalls while being assisted by professional guides carefully belaying the ropes.
Ziplining may be the most popular sport since almost anyone can do it. A number of adventure tours are available including Skytrek, Ecoglide, Big 11 AMA, and Athica Canopy, all located within a reasonable drive of La Fortuna. Ziplining invites participants to zip over the tree tops on a course of steel cables secured high up in the tree canopy offering stunning views of the surrounding landscape.
Top 10 Things to do in Arenal
For those who are less enthusiastic about soaring through the air like Superman, the suspended walkways at Arenal Hanging Bridges allow you to leisurely hike over the tree canopy surrounded by jungle, providing vital habitat for many animals. Trams available at Sky Tours can take you high above the forest affording breathtaking views on a clear day.
At ground level, a trip to Arenal would not be complete without a hike down the side of the La Fortuna Waterfalls. The towering cascade drops over 200 feet into a circular pool and stream bed. Visitors descend a few hundred stairs stopping at viewing platforms throughout the rainforest before reaching the base for a refreshing swim or to explore the banks of the beautiful meandering stream below. There are also several options in the La Fortuna area for horseback riding, mountain biking, and driving 4-wheel All-Terrain Vehicles.
Nearby Lake Arenal offers freshwater activities like wake boarding, kayaking, lake tours, and fishing. It is the largest lake in Costa Rica with clean, clear refreshing water located in the middle of an alpine panorama.
Safari Float tours, typically in inflatable rafts or kayaks, will transport you down the gentle Rio Penas Blancas, popular for viewing river dwelling creatures and birdwatching. Tours are also available on covered pontoon boats down the Cano Negro River, a fantastic birding area. Both rivers are within a couple hour's drive.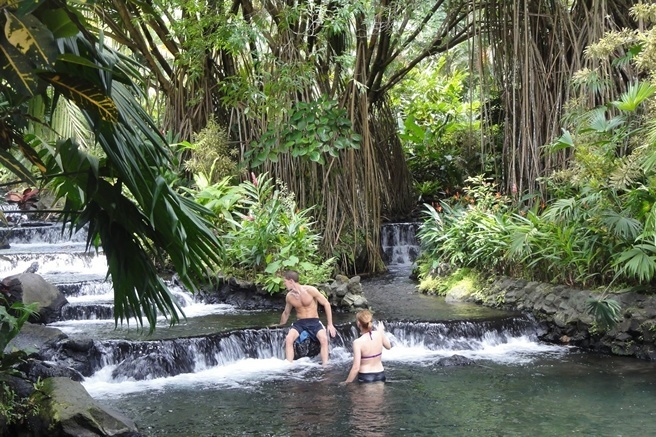 For a good night's sleep after all your adventures, settle into one of the many charming hotels, resorts, and ecolodges found in and around La Fortuna. Several luxury options at the base of the volcano as previously mentioned feature their own hot springs and lavish spas such as Tabacon Grand Thermal Resort, The Springs Resort & Spa, Royal Corin Thermal Water Spa & Resort, and Hotel Arenal Kioro Suites & Spa. You'll also find a variety of mid-range options with onsite hot springs such as the four-star Arenal Springs Resort & Spa, Los Lagos Hotel Spa & Resort, Arenal Paraiso Hotel Resort & Spa, and Hotel El Silencio del Campo. Budget hotels offer easy town access and often include breakfast with an ever-present view of Arenal Volcano in good weather. You'll likely find a little bit of in-town nightlife, especially on the weekend, more than is usually found in a town of the same size.
There are several rental car companies in La Fortuna including Alamo and Adobe Car Rentals. Having a rental car during your trip is an added bonus but not completely necessary. The winding, unmarked roads, and unpredictable weather can make driving a bit challenging. There is a reliable taxi system located in La Fortuna that can take you to the various hotels surrounding the area.
There are also airport shuttles traveling on a daily basis to and from the local airport located on the outskirts of La Fortuna. Private transportation can be arranged to take you to all your destination locations within Costa Rica.
Around Town - Practical Information, Restaurants, Souvenir Shops, Laundromats and More...
The sheer amount of dining options in La Fortuna is worth a stroll around the town. If you are in the mood for Japanese, Kappa Sushi is an excellent choice whose menu features freshly caught Costa Rican fish. Italian restaurants including Cafe Mediterraneo and Restaurante Anchio serve equally delicious thin crust pizzas and authentic pastas. During your stay in Costa Rica, you might notice that some restaurants are referred to as "Sodas". These are mom n' pop style restaurants serving traditional Costa Rican food. Be sure to try a "tipical casado", a hearty dish celebrating a marriage of rice, beans, salad, plantains, veggies, and a choice of meat. For an elegant dining experience, Don Rufino's reputation can't be beat with deliciously prepared steaks, seafood, tapas, and starters. This restaurant received the coveted national restaurant association's 2016 Outstanding Service and Quality Consistency Award. Open for lunch and dinner. A bunch of ice cream shops surround the park, including the family owned Chocolate Fusion, serving coffees, ice cream and a variety of handmade chocolates to choose from. To set up camp for an afternoon on your computer, try Organico Fortuna or My Coffee, two cafe-restaurants with easy access to WiFi that usually have plenty of room and sell delicious coffee and yummy pastries.

If you have an appreciation for handmade art or jewelry, several art galleries sell locally handmade objects including Galeria Estudio, on the north side of the park. The artisan owner makes pottery and glass pieces in her studio while you watch within the gallery where artwork, souvenirs, and jewelry are for sale. Handmade, another souvenir store, located beside Hotel Las Colinas, specializes in gemstone and macrame jewelry, plus artwork from several different Costa Rican indigenous tribes.

Several full-service laundromats can be found in town for those staying in accommodations that don't offer laundry service. Taunis Laundry is located 600 feet east of the Magic Mountain Hotel on the road to Lake Arenal. Lavanderia Burbujas is in La Fortuna on Calle 466. The average price for laundry is $15 per bag and can take up to a day to be ready. Some laundries include machines where you can do it yourself.

Reasons to visit:
Town sits at base of Arenal Volcano
Huge selection of hot springs
Spectacular La Fortuna Waterfall
Called the adventure epi-center of Costa Rica
Wide variety of hotels, resorts and ecolodges
Lots of outdoor activities and tours to choose from
Professional experienced tour operators
Lush jungle, rivers, waterfalls and Lake Arenal
Tropical birds, monkeys and other fascinating wildlife
Vibrant tourist town day and night
Reasons NOT to visit:
Seeking a beach destination
Can't ride in a car more than 2.5 hours
Expecting to see live lava flows
Not interested in outdoor activities
Hot springs are not for you
You don't like rain
Looking for late night venues
Prefer the city life
How to get to La Fortuna
From Juan Santamaria International Airport (SJO) located just outside of San Jose, the drive takes approximately 3 hours depending on traffic. Head northwest on Rt.1 until you reach San Ramon. Turn right on Rt. 702 north and follow the signs through the mountains to La Fortuna. The two-lane winding mountainous road with stunning daytime views can be windy and often foggy. Beware at night, there is little to no artificial street lighting so night driving is not recommended for those unfamiliar with the area. From the Daniel Oduber Quiros International Airport, also known as Liberia International Airport (LIR), the drive is approximately 2.5 hours. Drive south on the Inter-American highway, exiting at Canas. From Canas go to Tilaran and take Rt 142 around the lake passing throught Nuevo Arenal midway before reaching La Fortuna. Drive slowly on the small road around the lake which often has signs saying CEDA, meaning to yield, when there is only one lane available.
When to visit Arenal
Weather is often unpredictable in the Arenal region. In La Fortuna, it is quite common to have unexpected downpours so bring your rain jacket and a sense of adventure. Depending on the time of year and the length of your stay, you may not be able to see the volcano because of cloud coverage. The months of February, March, April, and July are usually the best months to visit because there is a better chance for sun. Temperatures are steady most of the year, ranging in the daytime from the upper 70s to mid-80s. Night time temperatures average in the mid-60s.
Visit our packing list page for ideas of what to bring to Arenal. Don't forget a rain jacket, long sleeve shirt, hiking shoes, and a pair of pants.
Fun Fact: September and October are usually the best months of the year for volcano observation. Locals attribute this to heavy rains knocking down the cloud cover around the volcano.