Overview | Reasons | Hotels | Things To Do | Hot Springs| Best Times | Dining | Weather & Packing
Centered around a beautifully landscaped downtown park providing public benches under shady trees and ablaze with flowers, La Fortuna's busy streets offer souvenir shops, tour desks, restaurants, and friendly bars. A refreshing water fountain's gentle cascade invites you to rest a moment and enjoy the view of the majestic Arenal Volcano hovering over the town closer than you can imagine. One of the prime spots for taking an eye-catching selfie or group photo with the volcano's display of an occasional plume of smoke from its perfectly formed conical top. No longer performing pyroclastic explosions as in years past, its epic symmetrical shape with large swaths of dried lava fields fascinate hikers as they follow the trail through lush rainforests full of wildlife to walk on the ribbons of dried molten rock. Visitors can easily hike on well-marked trails at the base of the volcano or in nearby rainforests.
Planning Your Vacation to La Fortuna & Arenal Volcano
La Fortuna welcomes tourists who come to see the majestic Arenal Volcano towering over the town with an almost mythical presence. Several beautifully built hot spring resorts come in a variety of prices. Some, such as Tabacon Grand Thermal Resort, integrate secluded grottos and waterfalls landscaped into the natural warm river waters where you can indulge in a luxurious day or evening of relaxation. Others, like Arenal Springs Resort, have an abundance of pools fed by both warm and cool rivers running through the property surrounded by lush tropical flowers. You'll find swim up bars, yoga platforms, kid's areas, and often more than one restaurant on site offering a variety of tasty cuisine. Some of the hot spring hotels such as Tabacon, Baldi Resort and The Springs Resort, offer partial day passes for those who are not staying at the hotel.
Thrill seekers will find an array of heart pumping adrenaline tours. Two excellent whitewater rafting rivers are within a two-hour drive. Beginners might like to go down Rio Balsa's easy Class ll and Class lll rapids. For the experienced rafters, the Sarapiqui River offers more advanced Class lll and Class lV whitewater rafting. While these rivers are not located in La Fortuna, transportation is included in most tours.
An excellent adventure company with a great safety record, Pure Trek provides exciting canyoning tours at their own private canyon located just 15 minutes outside of La Fortuna. Visitors can rappel vertically down natural rainforest waterfalls while being assisted by professional guides carefully belaying the ropes.
Ziplining may be the most popular sport since almost anyone can do it. A number of adventure tours are available including Skytrek, Ecoglide, Big 11 AMA, and Athica Canopy, all located within a reasonable drive of La Fortuna. Ziplining invites participants to zip over the tree tops on a course of steel cables secured high up in the tree canopy offering stunning views of the surrounding landscape.
Top 10 Things to Do in La Fortuna

La Fortuna, situated in the stunning Arenal region of Costa Rica, offers a plethora of exciting activities and attractions for travelers. Here are the top 10 things to do in La Fortuna:

Arenal Volcano: Begin your adventure by visiting the iconic Arenal Volcano. While you can't climb the volcano itself, you can explore the Arenal Volcano National Park, which offers hiking trails and exceptional viewpoints to witness the majestic volcano.

Hot Springs: Relax and unwind in the natural hot springs that are heated by Arenal's volcanic activity. Tabacón Hot Springs and Baldi Hot Springs are popular choices, offering a range of pools, waterfalls, and spa services.

Hiking: Lace up your hiking boots and explore the diverse trails in the Arenal area. Options include hikes in the Arenal Volcano National Park, the Arenal Hanging Bridges, and the Children's Eternal Rainforest.

Waterfall Tours: Don't miss a visit to La Fortuna Waterfall, a 70-meter cascade surrounded by lush rainforest. You can hike down to the base for a refreshing swim.

Adventure Tours: Thrill-seekers will find plenty to do in La Fortuna. Try activities like ziplining, canyoning, white-water rafting, and mountain biking.

Wildlife Watching: The Arenal region is rich in biodiversity. Go birdwatching at Mistico Arenal Hanging Bridges Park or explore the Arenal Oasis Wildlife Refuge to spot a variety of species, including toucans and monkeys.

La Fortuna Town: Spend some time exploring the charming town of La Fortuna. You'll find local shops, restaurants, and a relaxed atmosphere.

Lake Arenal: Head to Lake Arenal for water activities like kayaking, stand-up paddleboarding, and boat tours. The lake offers stunning views of the volcano.

Cultural Tours: Immerse yourself in the rich culture of Costa Rica by exploring its culinary traditions. Take part in a coffee tour at a local coffee farm like Don Juan Coffee Tour or learn the art of chocolate making on a chocolate tour. You can also join traditional cooking classes to prepare authentic Costa Rican dishes. These cultural experiences provide insights into the country's history and flavors, making your visit to La Fortuna even more memorable.

Horseback Riding: Explore the countryside on horseback with guided tours that offer a unique perspective of the Arenal landscape.

Whether you're seeking relaxation in hot springs, thrilling adventures, or encounters with Costa Rica's incredible natural beauty, La Fortuna has something to offer every type of traveler. Don't forget to take in the breathtaking views of Arenal Volcano as you embark on your unforgettable journey in this picturesque region.
Click here for a full list of tours and activities in La Fortuna.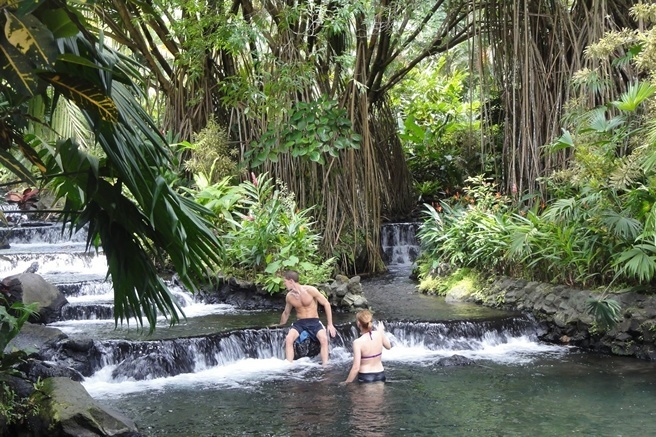 The Best Hotels in La Fortuna
La Fortuna offers a variety of exceptional accommodations to suit every traveler's preferences and budget. Here are some of the best hotels in La Fortuna, ranging from luxury to midrange options:
Luxury:
Amor Arenal: This boutique hotel offers an intimate and romantic escape with luxurious suites, stunning volcano views, and suites with private plunge pools.

Nayara Gardens: Known for its world-class service and lush rainforest surroundings, Nayara Gardens features beautifully appointed casitas, a fantastic spa, and gourmet dining options.

Nayara Tented Camp: For a unique and luxurious experience, stay at Nayara's Tented Camp. These luxury tents offer a blend of adventure and comfort in the heart of nature.

Tabacon Thermal Resort & Spa: Tabacon is synonymous with luxury and relaxation. This resort boasts its own hot springs, a top-notch spa, and exceptional dining.
Superior Class:
Arenal Springs Resort: A beautiful resort featuring hot spring-fed pools, a spa, and fantastic volcano views. It's perfect for travelers looking for a blend of comfort and value.

Lomas del Volcan: Nestled in the rainforest at the foot of Arenal Volcano, this charming lodge offers cozy cabins with volcano views, a lovely pool, and proximity to Arenal's natural wonders.

Arenal Kioro: Known for its spacious suites with whirlpool tubs, Arenal Kioro provides a tranquil escape with impressive volcano vistas.

Midrange:

Magic Mountain Hotel: With modern amenities and volcano views, Magic Mountain Hotel offers a comfortable stay at an affordable price point.

Arenal Volcano Inn: A welcoming inn with spacious rooms, a lovely pool, and convenient access to La Fortuna's attractions.

Casa Luna Lodge: This eco-friendly lodge offers a rustic charm combined with modern comforts. It's an excellent choice for budget-conscious travelers seeking an authentic experience.

Whether you're looking for a luxurious escape, a comfortable stay, or budget-friendly accommodations, La Fortuna has the perfect hotel to make your visit to Arenal Volcano unforgettable.
Click here for a full list of hotels and resorts in La Fortuna & the Arenal Volcano Region.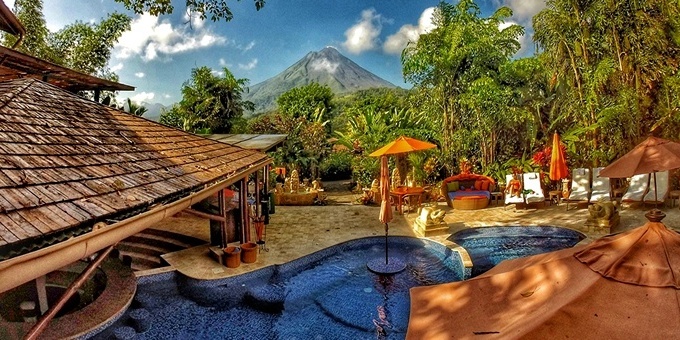 Transportation in La Fortuna
There are several rental car companies in La Fortuna including Alamo and Adobe Car Rentals. Having a rental car during your trip is an added bonus but not completely necessary. The winding, unmarked roads, and unpredictable weather can make driving a bit challenging. There is a reliable taxi system located in La Fortuna that can take you to the various hotels surrounding the area.
There are also airport shuttles traveling on a daily basis to and from the local airport located on the outskirts of La Fortuna. Private transportation can be arranged to take you to all your destination locations within Costa Rica.
Click here to reserve your Arenal transportation.
Around La Fortuna Town - Practical Information, Restaurants, Souvenir Shops, Laundromats and More...
The sheer amount of dining options in La Fortuna is worth a stroll around the town. If you are in the mood for Japanese, Kappa Sushi is an excellent choice whose menu features freshly caught Costa Rican fish. Italian restaurants including Cafe Mediterraneo and Restaurante Anchio serve equally delicious thin crust pizzas and authentic pastas. During your stay in Costa Rica, you might notice that some restaurants are referred to as "Sodas". These are mom n' pop style restaurants serving traditional Costa Rican food. Be sure to try a "tipical casado", a hearty dish celebrating a marriage of rice, beans, salad, plantains, veggies, and a choice of meat. For an elegant dining experience, Don Rufino's reputation can't be beat with deliciously prepared steaks, seafood, tapas, and starters. This restaurant received the coveted national restaurant association's 2016 Outstanding Service and Quality Consistency Award. Open for lunch and dinner. A bunch of ice cream shops surround the park, including the family owned Chocolate Fusion, serving coffees, ice cream and a variety of handmade chocolates to choose from. To set up camp for an afternoon on your computer, try Organico Fortuna or My Coffee, two cafe-restaurants with easy access to WiFi that usually have plenty of room and sell delicious coffee and yummy pastries.

If you have an appreciation for handmade art or jewelry, several art galleries sell locally handmade objects including Galeria Estudio, on the north side of the park. The artisan owner makes pottery and glass pieces in her studio while you watch within the gallery where artwork, souvenirs, and jewelry are for sale. Handmade, another souvenir store, located beside Hotel Las Colinas, specializes in gemstone and macrame jewelry, plus artwork from several different Costa Rican indigenous tribes.

Several full-service laundromats can be found in town for those staying in accommodations that don't offer laundry service. Taunis Laundry is located 600 feet east of the Magic Mountain Hotel on the road to Lake Arenal. Lavanderia Burbujas is in La Fortuna on Calle 466. The average price for laundry is $15 per bag and can take up to a day to be ready. Some laundries include machines where you can do it yourself.

Reasons to visit:
Town sits at base of Arenal Volcano
Huge selection of hot springs
Spectacular La Fortuna Waterfall
Called the adventure epi-center of Costa Rica
Wide variety of hotels, resorts and ecolodges
Lots of outdoor activities and tours to choose from
Professional experienced tour operators
Lush jungle, rivers, waterfalls and Lake Arenal
Tropical birds, monkeys and other fascinating wildlife
Vibrant tourist town day and night
Reasons NOT to visit:
Seeking a beach destination
Can't ride in a car more than 2.5 hours
Expecting to see live lava flows
Not interested in outdoor activities
Hot springs are not for you
You don't like rain
Looking for late night venues
Prefer the city life
The Best Hot Springs in La Fortuna
La Fortuna, Costa Rica, is famous for its incredible hot springs, thanks to the Arenal Volcano's geothermal activity. Here are some of the best hot springs in the area:
Tabacón Thermal Resort & Spa: Tabacón is one of the most renowned hot springs resorts in La Fortuna. It offers a series of naturally flowing hot springs surrounded by lush tropical gardens. The resort features a range of pools with varying temperatures, waterfalls, and swim-up bars. Visitors can indulge in spa treatments, dine in its restaurants, and enjoy the relaxing ambiance.
Baldi Hot Springs: Baldi is another well-known hot springs complex with a vast network of pools of varying temperatures. The setting is more family-oriented, making it an excellent choice for visitors traveling with children. There are also waterslides for added fun. It offers beautiful views of the Arenal Volcano.
The Springs Resort and Spa (Perdido Springs): This luxury resort boasts hot springs with panoramic vistas of the Arenal Volcano. It features several pools with different temperatures, including a cool freshwater pool for contrast. The Springs offers a variety of dining options and outdoor activities, making it ideal for a romantic getaway.

EcoTermales Hot Springs: EcoTermales provides a more intimate and secluded hot springs experience. It has a limited number of visitors each day to maintain a tranquil atmosphere. The natural thermal springs are set amid the rainforest, offering a serene and authentic Costa Rican experience.

Los Lagos Hot Springs: Los Lagos offers a range of pools with varying temperatures and sizes. It's a family-friendly destination, complete with water slides, a children's play area, and a swim-up bar for the adults. The resort is set within beautiful gardens and offers great volcano views.

Kalambu Hot Springs Water Park: Kalambu is a unique combination of hot springs and a water park. It's an excellent choice for families looking for both relaxation and excitement. The park includes various thermal pools, water slides, and activities for all ages.

Paradise Hot Springs: Paradise Hot Springs offers a quieter and more serene experience compared to some of the larger resorts. It features several pools, all fed by natural hot springs, surrounded by lush gardens and wildlife. It's a peaceful retreat with a focus on relaxation.

Termalitas del Arenal: This smaller, family-owned hot springs facility provides an authentic and budget-friendly experience. The pools are filled with fresh, natural spring water, offering a more rustic atmosphere. It's an excellent choice for travelers looking for a less crowded option.

Rio Chollín Hot Springs (free): This is the locals favorite. Located just past Tabacon Resort, Rio Chollín offers a more off-the-beaten-path hot springs experience. The springs are situated in a picturesque jungle setting with natural river pools and small cascades. It's an excellent choice for nature enthusiasts. These hot springs are free but please keep an eye on your valuables and do not leave anything of value in your car as petty theft is common here.

Arenal Springs Resort: This eco-resort offers guests access to its natural hot springs with incredible views of the Arenal Volcano. It's a quieter option for those who prefer a peaceful soak in a serene environment. Please note that these hot springs are only available to guests of the resort.

Remember that some hot springs facilities may require advance reservations, and it's a good idea to check their websites or contact them directly for current prices and availability. Whether you seek relaxation, adventure, or a mix of both, La Fortuna's hot springs provide a soothing and rejuvenating experience in the heart of Costa Rica's natural beauty.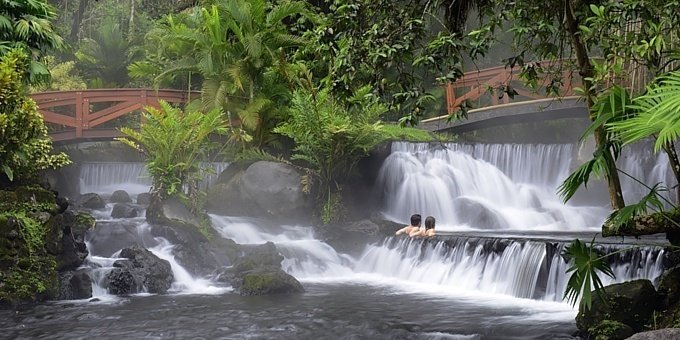 The Best Restaurants in La Fortuna
When visiting La Fortuna, Costa Rica, not only are you treated to breathtaking views of the iconic Arenal Volcano, but you also have the opportunity to indulge in a wide range of culinary delights. The town boasts a vibrant food scene that caters to all tastes, from traditional Costa Rican dishes to international cuisine. Whether you're looking for a romantic dinner with a view or a quick bite between adventures, La Fortuna's restaurants offer a delightful array of options. Join us on a gastronomic journey as we explore some of the best dining establishments in this charming town, each offering a unique blend of flavors and ambiance.

Tiquicia Restaurant: Tiquicia offers a true taste of Central American cuisine. Enjoy traditional dishes like casados, arroz con pollo, and gallo pinto in a relaxed setting.

Jalapas Restaurant: If you're craving Mexican food, Jalapas is the place to be. Their menu includes traditional Costa Rican fare, all prepared with fresh ingredients.

Essence Arenal Restaurant: This upscale restaurant combines local flavors with international cuisine. With a focus on organic and sustainable ingredients, you can savor dishes like sushi, gluten-free, and vegetarian plates.

Restaurante Travesia: Travesia offers a fusion of flavors from around the world. Their diverse menu includes seafood, pasta, and vegetarian options, all served in a cozy atmosphere.

La Ventanita: For a quick bite or a sweet treat, visit La Ventanita. This café serves a variety of pastries, burritos, and coffee, making it a perfect spot for a morning or afternoon snack.

Restaurante Tierra Mia: Tierra Mia specializes in Central America Grill with gluten-free, vegan, and vegetarian options.

Don Rufino: Don Rufino is known for its upscale dining experience. Their menu features gourmet dishes with a focus on fresh, locally sourced ingredients. Try the grilled snapper or filet mignon.

La Fonda 506: This restaurant offers a mix of Costa Rican and international flavors. From ceviche to ribeye steaks, there's something to satisfy every palate.

These restaurants showcase the diversity of dining options in La Fortuna, ensuring a memorable culinary experience during your visit.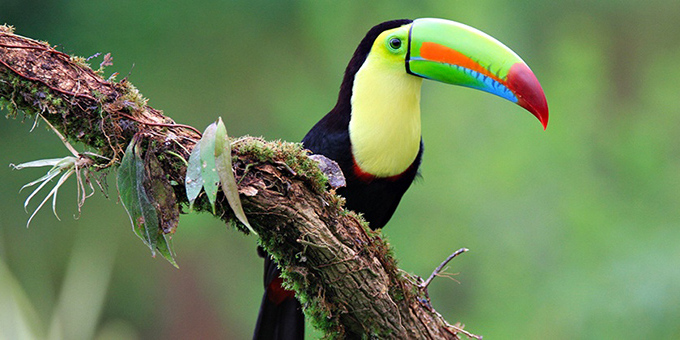 Best Times to Visit La Fortuna
The best time to visit La Fortuna and Arenal Volcano largely depends on your preferences for weather, crowds, and budget. Here's a breakdown of different periods to help you plan your trip:
December - April: This period is the busiest and most expensive due to the cold weather in the northern hemisphere, making it ideal for travelers who want to avoid the cold up north. However, it's essential to book accommodations well in advance.
July - August: These months are popular for family vacations. While there may be more tourists, it's still a good time to visit if you're comfortable with some crowds.
March, April, September, and October: These months are the driest in La Fortuna, making them great choices for travelers who prefer sunny days and want to avoid rain.
May - June: Considered secret seasons, May and June offer lower prices and more hotel availability. This is an excellent option if you want to avoid crowds and don't mind occasional rain showers.
Overall, the choice of when to visit La Fortuna depends on your priorities, whether it's avoiding rain, lower prices, or fewer tourists. Each season has its unique advantages, allowing you to tailor your visit to your preferences.
How to get to La Fortuna
From Juan Santamaria International Airport (SJO) located just outside of San Jose, the drive takes approximately 3 hours depending on traffic. Head northwest on Rt.1 until you reach San Ramon. Turn right on Rt. 702 north and follow the signs through the mountains to La Fortuna. The two-lane winding mountainous road with stunning daytime views can be windy and often foggy. Beware at night, there is little to no artificial street lighting so night driving is not recommended for those unfamiliar with the area. From the Daniel Oduber Quiros International Airport, also known as Liberia International Airport (LIR), the drive is approximately 2.5 hours. Drive south on the Inter-American highway, exiting at Canas. From Canas go to Tilaran and take Rt 142 around the lake passing throught Nuevo Arenal midway before reaching La Fortuna. Drive slowly on the small road around the lake which often has signs saying CEDA, meaning to yield, when there is only one lane available.
La Fortuna Weather
Weather is often unpredictable in the Arenal region. In La Fortuna, it is quite common to have unexpected downpours so bring your rain jacket and a sense of adventure. Depending on the time of year and the length of your stay, you may not be able to see the volcano because of cloud coverage. The months of February, March, April, and July are usually the best months to visit because there is a better chance for sun. Temperatures are steady most of the year, ranging in the daytime from the upper 70s to mid-80s. Night time temperatures average in the mid-60s.
Visit our packing list page for ideas of what to bring to Arenal. Don't forget a rain jacket, long sleeve shirt, hiking shoes, and a pair of pants.
Fun Fact: September and October are usually the best months of the year for volcano observation. Locals attribute this to heavy rains knocking down the cloud cover around the volcano.