What to Expect in Tortuguero
Tortuguero, often referred to as the "Amazon of Costa Rica," is a unique and remote destination located on the northern Caribbean coast. Known for its pristine natural beauty and abundant wildlife, Tortuguero offers a truly immersive rainforest experience. Here's what you need to know:

1. Remote and Accessible by Boat: Tortuguero is a remote area accessible only by boat or small aircraft. Most visitors arrive by taking a boat ride along the intricate network of canals and rivers that wind through the dense rainforest.

2. Protected National Park: The heart of Tortuguero is the Tortuguero National Park, which spans over 77,000 acres and includes a wide range of ecosystems, from coastal beaches to wetlands and tropical rainforests. The park is renowned for its conservation efforts, particularly for sea turtles.

3. Sea Turtle Nesting: Tortuguero is one of the world's most important nesting sites for sea turtles, including green sea turtles, hawksbill turtles, leatherback turtles, and loggerhead turtles. Nesting season typically occurs from July to October, with peak activity between July and September. Witnessing a sea turtle laying her eggs at night is a remarkable and highly regulated experience.


4. Abundant Wildlife: Beyond sea turtles, Tortuguero is teeming with wildlife. You can spot howler, spider, and capuchin monkeys, sloths, caimans, crocodiles, river otters, toucans, and countless bird species. Jaguars are even spotted from time to time! Boat tours along the canals offer excellent opportunities for wildlife viewing.

5. Unique Canal System: The village of Tortuguero is crisscrossed by a series of natural and man-made canals. These waterways serve as the main transportation routes, and boat tours are a popular way to explore the region's lush rainforests and water-rich landscapes.

6. Eco-Tourism and Sustainability: Tortuguero places a strong emphasis on eco-tourism and sustainable practices. Many lodges and guides are dedicated to preserving the fragile ecosystem while providing visitors with educational and immersive experiences.

7. Outdoor Activities: Besides sea turtle watching and wildlife tours, Tortuguero offers activities like kayaking, hiking, birdwatching, and fishing. Guided tours are widely available to help you explore the natural wonders of the area.

8. Rainforest Lodges: Accommodation in Tortuguero typically consists of eco-friendly lodges nestled within the rainforest. Staying in these lodges allows you to immerse yourself in nature and enjoy the sounds of the jungle. Few ecolodges have air conditioning or televisions, so you can often hear wildlife fro your room at night!

9. Rainy and Dry Seasons: Tortuguero experiences a rainy season from May to August and again from November through February. The drier seasons are from March through April and again from September through October. Keep in mind Tortuguero is a rainforest, and even in the drier seasons, this area often receives a fair amount of rain.

10. Conservation Efforts: Local organizations and conservationists work diligently to protect Tortuguero's fragile ecosystems and wildlife. Your visit can contribute to these ongoing efforts to preserve this natural paradise.

Tortuguero is an off-the-beaten-path destination that offers a rare opportunity to connect with nature in its purest form. It's a place where you can witness the wonders of wildlife and experience the magic of sea turtle nesting, all while surrounded by lush rainforests and tranquil waterways.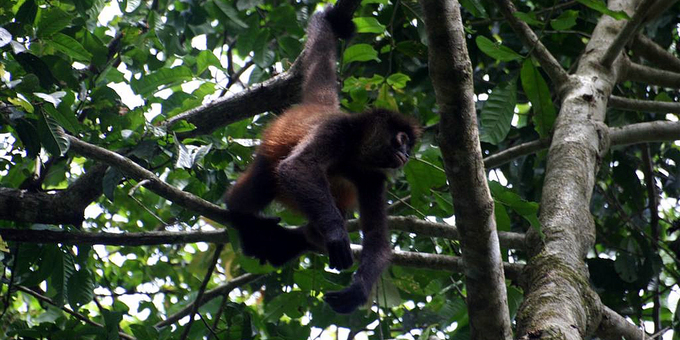 Tortuguero National Park
Tortuguero National Park, located along Costa Rica's Caribbean coast, is a captivating testament to the country's commitment to preserving its natural wonders. Spanning approximately 77,000 acres, this park boasts an intricate network of winding canals, rivers, dense rainforests, and lagoons, earning it the moniker "Costa Rica's Amazon." One of the park's most remarkable features is its intricate system of natural and man-made canals, which provide the primary means of transportation within the area.

Tortuguero is celebrated for its rich biodiversity and is home to an astounding array of wildlife. The park is particularly renowned as a nesting site for endangered sea turtles, including green turtles, leatherbacks, and hawksbills. Witnessing the awe-inspiring sight of these gentle giants returning to the very beaches where they were hatched to lay their eggs is a humbling experience and one of the park's main attractions.

Apart from sea turtles, Tortuguero teems with exotic wildlife. Howler monkeys, capuchin monkeys, and spider monkeys swing through the treetops, while jaguars, pumas, and tapirs roam the forest floor. Vibrant birdlife is another highlight, with over 300 species, including toucans, herons, and kingfishers, gracing the skies.

Exploration in Tortuguero often takes the form of boat trips along the labyrinthine waterways, where expert guides help you spot caimans, sloths, monkeys, river otters, and an incredible variety of bird species. Hiking trails lead through the rainforest, providing opportunities to encounter elusive creatures and immerse yourself in the lush greenery.

Tortuguero is a place where the rhythms of nature prevail, and visitors are humbled by the sheer abundance and diversity of life that thrives in this remote corner of Costa Rica. It is an ecological treasure trove and a testament to the country's commitment to conservation, inviting travelers to connect with the wild heart of the rainforest in all its untamed glory.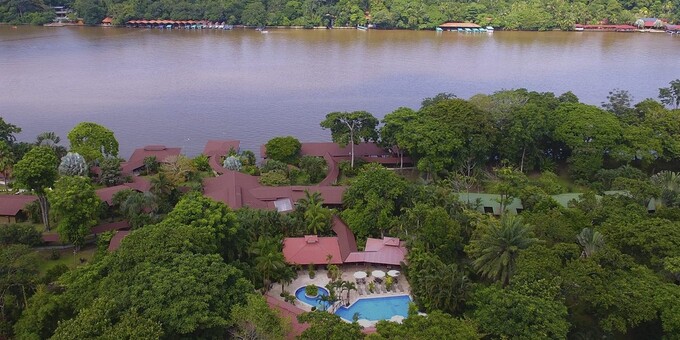 The Best Lodges in Tortuguero
Tortuguero offers a range of lodges that seamlessly blend into the lush rainforest surroundings, providing visitors with a unique opportunity to immerse themselves in the beauty and tranquility of this remote natural paradise. Many of these lodges understand the logistical challenges of reaching Tortuguero and thus offer convenient packages that include round-trip transportation from San Jose hotels, comfortable lodging, delectable meals, and an array of exciting tours.
Manatus Hotel: For those who prefer their rainforest experience with a touch of luxury, Manatus Hotel is a prime choice. Nestled amidst the lush jungle, this upscale lodge offers elegant accommodations, complete with modern amenities and private terraces overlooking the canals. Your stay here includes gourmet dining experiences, and guided riverboat tours through Tortuguero's famed canals where you can spot an array of wildlife, including howler monkeys and exotic birds. Additionally, guests have the opportunity to explore the local village, gaining a deeper understanding of the area's rich culture. Transportation is not included in the price but can easily be added.

Tortuga Lodge and Gardens: Another luxury option in Tortuguero is Tortuga Lodge and Gardens. This lodge blends seamlessly into the rainforest surroundings, offering a serene escape. The lodge features well-appointed rooms with rainforest views, providing a sense of tranquility. Guests can savor delicious cuisine at the onsite restaurant and embark on guided riverboat tours to discover the wonders of Tortuguero National Park. You'll also have the chance to explore the nearby village, where you can interact with locals and learn about their way of life. Note that, unlike most Tortuguero Lodges, Tortuga Lodge does not include anything aside from the lodge stay in its pricing. You can, however, easily add on tours and transportation.

Mawamba Lodge: If you're seeking upper midrange accommodations in Tortuguero, Mawamba Lodge is an excellent choice. Situated within the rainforest, this lodge provides comfortable rooms that allow you to connect with nature. Their packages typically include transportation, lodging, meals, and guided tours. You can explore the park's canals on boat trips, witness the breathtaking nesting of sea turtles, and get a taste of local culture by visiting the nearby village. Mawamba is in a privileged location and you can easily walk to town or to the beach.

Laguna Lodge: Laguna Lodge offers an upper midrange option for travelers to Tortuguero. This eco-friendly lodge blends harmoniously with its natural surroundings. The lodge's packages often encompass transportation, lodging, meals, and guided excursions, making your stay convenient and enjoyable. Enjoy riverboat tours through the park's waterways, birdwatching (extra fee with a guide), and educational village visits to gain insight into the region's unique culture.

Aninga Lodge: Aninga Lodge, nestled within Tortuguero's captivating environment, is a midrange choice for travelers. You'll find comfortable accommodations that immerse you in the rainforest, and many packages include transportation, lodging, meals, and guided tours. Explore the park's canals by boat, witness incredible sea turtle nesting (extra charge and seasonal), and discover the village's traditions and lifestyle.

Pachira Lodge: Pachira Lodge is another midrange lodge that provides a delightful Tortuguero experience. Set amid the natural beauty of the rainforest, this lodge offers comfortable rooms and comprehensive packages. Enjoy guided riverboat tours that unveil the park's wildlife, participate in sea turtle conservation efforts, and connect with the local community by visiting the village.

Evergreen Lodge: For those looking for midrange accommodations with a focus on nature, Evergreen Lodge is an ideal choice. Surrounded by the rainforest, this lodge offers comfortable rooms and package deals that cover transportation, lodging, meals, and guided tours. Discover the wonders of Tortuguero National Park on boat excursions, observe sea turtle nesting (seasonal and extra charge), and engage with the village's culture during your stay.

Each of these lodges in Tortuguero provides a unique experience, allowing you to immerse yourself in the beauty of the rainforest, explore the canals, and partake in various tours and activities while enjoying comfortable and convenient accommodations.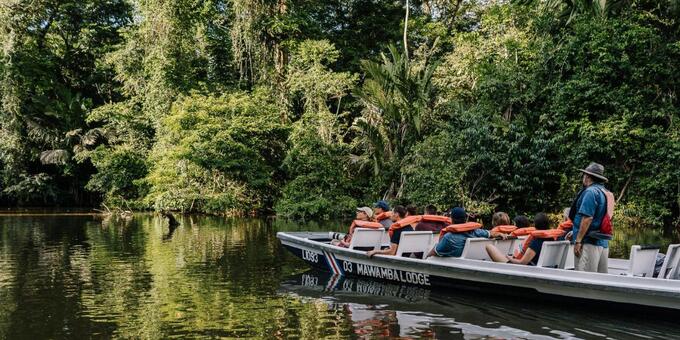 How to Get to Tortuguero
Getting to Tortuguero involves a combination of either a flight or ground and water transportation, as this remote area is not accessible by road. Most lodges include a combination of land and boat transfers to Tortuguero in their package rates and also handle the logistics. But, here's a step-by-step guide on how to get to Tortuguero if you are doing it the hard way or using a rental car:

Step 1: Fly to San José, Costa Rica
Your journey to Tortuguero typically starts with a flight to Costa Rica's capital city, San José. Most international flights land at Juan Santamaría International Airport (SJO), which is the main international gateway to the country.

Step 2: Arrange Transportation to Tortuguero
From San José, you'll either need to book a domestic flight (Sansa Airlines offers daily flights) or make your way to the dock in the town of La Pavona, where you can catch a boat to Tortuguero. Here are your transportation options:

Option 1: Shuttle or Private Transfer
Many hotels and lodges in Tortuguero offer shuttle services or private transfers from San José directly to La Pavona. This is a convenient and hassle-free option. Check with your accommodation to see if they provide this service. Private transfers can also be arranged from anywhere in the country and some shuttles are available from a limited number of destinations. We only recommend connecting the following destinations with Tortuguero by land transfers, including La Fortuna/Arenal Volcano, Sarapiqui, Turrialba, San Jose, and Pacuare River.

Option 2: Public Bus
Take a taxi or public bus to the Caribeños Bus Station or Gran Carinb Terminal in downtown San José. From there, you can catch a public bus to the town of Cariari (approximately 2.5 hours). Buses usually depart in the morning. Once in Cariari, take a taxi or bus to La Pavona (around 1.5 - 2 hours), which is the boat departure point for Tortuguero.
Option 3: Domestic Flight to Tortuguero
Sansa Airlines offers direct flights to Tortuguero from SJO. You'll need to arrange a pickup from the airport and boat transfer (to most lodges) to your lodge. If you choose this option, skip to Step 4.

Step 3: Boat Ride to Tortuguero
Upon reaching La Pavona, you'll need to board a boat to Tortuguero (if you have a rental car, you can pay to leave your car in a secure parking lot). These boats are typically arranged by your lodge or can be hired on-site. The boat ride takes you through picturesque waterways and canals, allowing you to immerse yourself in the natural beauty of the area. The boat ride can take anywhere from an hour to an hour and a half, depending on where your lodge is located.

Step 4: Arrival in Tortuguero
The boat journey from La Pavona to Tortuguero is an adventure in itself, as you'll have the opportunity to spot wildlife along the way. Upon arrival in Tortuguero, you'll be greeted by the unique charm of this remote village.

Be sure to coordinate your transportation arrangements with your chosen lodge or accommodation, as they often offer comprehensive packages that include transportation from San José to Tortuguero.

Keep in mind that traveling to Tortuguero may require some flexibility in your schedule, as transportation can be subject to weather conditions and other factors. Nevertheless, the journey is part of the experience, and once you arrive, you'll be rewarded with the incredible natural beauty and wildlife of Tortuguero National Park.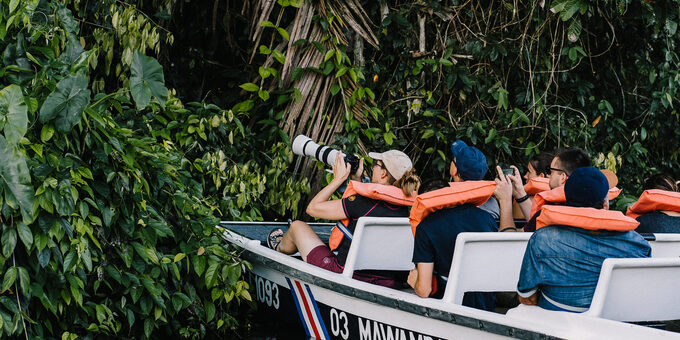 Reasons to visit
This is one of the best destinations in Costa Rica for wildlife observation.
This is the land of true ecolodges.
Tortuguero can only be accessed by boat or plane, so it remains in a natural state.
Though rarely spotted, there is a healthy population of jaguars in this area.
Several species of sea turtles nest here.
If you are visiting between mid-July through Mid-October, you will have a good chance of seeing a nesting turtle.
The idea of a jungle boat safari intrigues you.
You would like to learn about the Costa Rica Caribbean culture.
You enjoy photographing unique locations and exotic wildlife.
You do not mind roughing it a little in order to experience the real Costa Rica.
Reason not to visit
If you opt for the land and boat transfer, it is going to take 5+ hours from most destinations.
All but one lodge in Tortuguero are very rustic and do not have televisions or air conditioning.
It is hot and humid. Daytime temps usually reach the low 90s.
You would prefer a catamaran cruise to a jungle boat safari.
Though it is located on the coast, you cannot swim on the beaches due to dangerous riptides and a large bull shark population.
Bugs bother you.
Most lodges include meals. These meals are normally served buffet style.
Your idea of a vacation is relaxing in a lounge chair on the beach.
Weather and Packing List
The Caribbean is a region of vast contrasts in weather. Temperatures remain the same nearly year round with average day time highs in the low 90s and night time lows in the upper 70s. Precipitation varies by month with the months of February, March, September and October being the driest.
Visitors should pack a bathing suit, towel, shorts, tee shirts, appropriate shoes, rain gear, sun block, and insect repellent. Visit our packing suggestion page for a more cmprehensive list.
Fun Fact: Tortuguero was named a national park in 1970 with the primary purpose of protecting the turtle nesting grounds in an effort led by biologist Archie Carr.