San Gerardo de Dota: Where Nature's Beauty Takes Center Stage
Nestled in the heart of Costa Rica's Talamanca Mountains, San Gerardo de Dota is a hidden gem that beckons to nature enthusiasts, birdwatchers, and seekers of tranquility. This enchanting mountain hamlet, cradled within a lush valley, is a testament to Costa Rica's rich biodiversity and breathtaking landscapes.
Natural Wonders Abound: San Gerardo de Dota is celebrated for its pristine cloud forests, roaring rivers, and abundant flora and fauna. Here, the legendary Quetzal, a symbol of rare beauty, graces the skies, drawing birdwatchers from around the world to witness its splendor.

Birdwatcher's Paradise: Birding enthusiasts are in for a treat as they traverse the forest trails and catch glimpses of a dazzling array of avian species. The resplendent Quetzal, emerald toucanets, and elusive hummingbirds are among the stars of this natural spectacle.

Hiking Adventures: Explore the lush greenery by embarking on hiking adventures that lead to hidden waterfalls and offer panoramic views of the valleys below. The trails here range from leisurely strolls to challenging treks, making it perfect for hikers of all levels.

Serene Escapes: San Gerardo de Dota offers a peaceful escape from the hustle and bustle of modern life. Visitors can indulge in the simple joys of hiking, horseback riding, or lounging by crystal-clear streams. The cool, crisp mountain air is both rejuvenating and invigorating.

Quaint Comforts: While San Gerardo de Dota is a paradise for nature lovers, it doesn't skimp on creature comforts. Rustic lodges and cabins provide cozy retreats, often with fireplaces to chase away the evening chill. These accommodations blend seamlessly with their surroundings, allowing guests to immerse themselves fully in nature.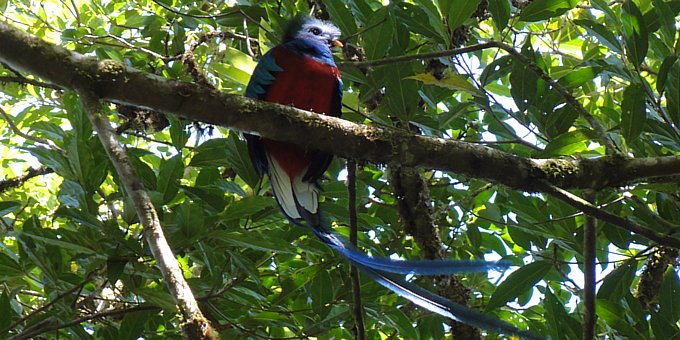 Delicious Discoveries: Local cuisine here is a treat for the taste buds. Savory Costa Rican dishes infused with fresh ingredients and traditional flavors are a delightful part of the experience. Dining in the midst of lush forests or beside rushing streams adds to the charm.

Cool and Refreshing: San Gerardo de Dota enjoys a unique climate. While the rest of Costa Rica may be warm and humid, this mountain hideaway offers cool, damp, and often rainy weather. It's the perfect retreat for those seeking respite from the tropical heat.

Fly Fishing Haven: For avid anglers, the Savegre River presents an enticing opportunity. Here, you can cast your line for rainbow trout, immersing yourself in the tranquil rhythm of fly fishing amidst stunning natural beauty.

Savegre River Waterfall: A visit to the Savegre River waterfall is a must. The journey through the verdant forest to reach this cascading gem is an adventure in itself. Once there, you can take a refreshing dip in the crystal-clear waters and savor the serenity of this hidden oasis but beware, it's cold!

Sustainable Tourism: San Gerardo de Dota is a shining example of sustainable tourism. The community takes pride in preserving its natural wonders and local culture, ensuring that future generations can revel in this paradise.

A Hidden Treasure: Often overlooked by tourists rushing to Costa Rica's more famous destinations, San Gerardo de Dota remains an unspoiled haven. It's a place where the chorus of nature's symphony serenades visitors, and every moment is an opportunity to connect with the extraordinary beauty of Costa Rica's mountains and forests.

So, if you seek a tranquil retreat in the embrace of pristine nature, consider San Gerardo de Dota, where the ordinary becomes extraordinary, and every day is an adventure in paradise.
Planning a Vacation to San Gerardo de Dota
When it comes to savoring the beauty of San Gerardo de Dota, we suggest embarking on a 2-3 night sojourn to fully immerse yourself in its natural wonders. This idyllic time frame allows you to explore the cloud forests, birdwatch to your heart's content, and uncover the serenity that envelops this charming valley. Moreover, San Gerardo de Dota perfectly complements other awe-inspiring Costa Rican destinations, making it an ideal addition to your travel itinerary. Pair it with a visit to Manuel Antonio's beaches or set your sights on the South Pacific coast, including the enchanting Osa Peninsula, for an enriching journey through the diverse landscapes of Costa Rica. With each passing day in San Gerardo de Dota, you'll find yourself attuned to the rhythms of the wilderness and entranced by the splendid offerings of this pristine paradise.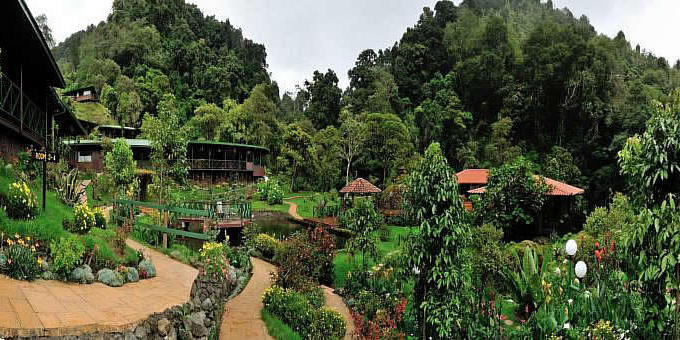 The Best Lodges in San Gerardo de Dota
San Gerardo de Dota boasts a unique charm, with rustic ecolodges that nestle harmoniously into the surrounding cloud forest. Here, the focus is on intimate encounters with nature, and these exceptional lodges offer precisely that:

Savegre Mountain Hotel: Nestled in the heart of the valley, the Savegre Mountain Hotel provides an authentic cloud forest experience. With cozy rooms, delightful local cuisine, and a wealth of birdlife just outside your window, it's a sanctuary for nature enthusiasts.

Trogon Lodge: Tucked away in the mystical cloud forest, Trogon Lodge offers comfortable accommodations with stunning views. Wake up to the melodious calls of exotic birds, explore nearby trails, and savor traditional Costa Rican meals.

Dantica Cloud Forest Lodge: For a touch of elegance in the midst of nature, Dantica Cloud Forest Lodge stands out. Surrounded by lush forests, this lodge blends luxury with eco-consciousness. Discover artistic flair in every detail, dine on gourmet cuisine, and unwind in serene surroundings.

In San Gerardo de Dota, these lodges not only provide a place to rest your head but also serve as gateways to the enchanting cloud forest, promising unforgettable moments with the region's rich biodiversity. Whether you're an avid birder, an eco-adventurer, or simply seeking solace in nature's embrace, these rustic ecolodges offer an idyllic retreat in Costa Rica's pristine wilderness.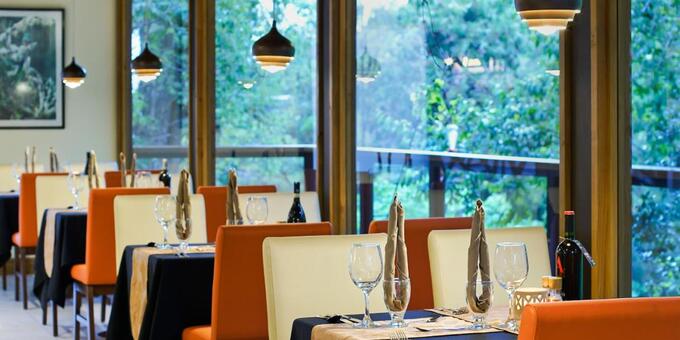 The Best Restaurants in San Gerardo de Dota
While San Gerardo de Dota is a remote and tranquil destination, you can still savor delicious local flavors in its charming eateries. Here are some of the best dining spots to explore:
1) Alma de Árbo
Cuisine: International, Costa Rican
Highlights: Located 700 meters north of Savegre Mountain Hotel, Alma de Árbol offers a diverse menu with both local and international dishes. Enjoy your meal while surrounded by stunning cloud forest views.
2) Pizzería los Colibríes
Cuisine: Italian, Pizza
Highlights: This cozy pizzeria serves up mouthwatering pizzas with a variety of toppings. It's a great place to unwind after a day of hiking or birdwatching.
3) Lauraceas Restaurante Cafeteria Lodge
Cuisine: Costa Rican, Central American, Seafood
Highlights: Lauraceas offers a mix of traditional Costa Rican dishes and international cuisine. You can dine with a view of the cloud forest right outside.
4) Comidas Tipicas MIRIAM
Cuisine: Costa Rican, Local
Highlights: For an authentic taste of Costa Rican cuisine, visit Comidas Tipicas MIRIAM. It's a small, family-run eatery where you can savor local dishes prepared with love.
5) Cafe Kahawa
Cuisine: Cafe, Costa Rican
Highlights: Cafe Kahawa is a great spot to enjoy typical Costa Rican favorites. It's a cozy, open-air place to relax and take in the serene mountain atmosphere.
In this peaceful cloud forest destination, dining experiences are often characterized by the harmony of nature, making each meal a unique and memorable part of your San Gerardo de Dota adventure.
Getting to San Gerardo de Dota
Nestled in the lush Costa Rican mountains, San Gerardo de Dota offers a secluded escape, and while a 4x4 rental car is recommended for flexibility, getting there is possible without one. By Car (4x4 Recommended):
From San Jose: Head southeast towards Cartago on Route 2 (Pan American Highway). After Cartago, continue on Rt. 2 to Cerro de la Muerte.

Follow signs to San Isidro de El General and once there, look for signs to San Gerardo de Dota.

The journey takes around 3-4 hours. The road can be challenging, so a 4x4 vehicle is advisable, especially during the rainy season.
A word to the wise:
1) The mountainous section of Rt. 2 is locally known as Cerro de la Muerte, which translates to "hill of death" in Spanish. Take it slow on this road and avoid driving on it after dark. Plan accordingly. This road is often covered with dense fog and landslides are common in the rainy season.
2) Roads can be narrow and winding as you approach San Gerardo de Dota. While a 4x4 isn't strictly necessary, it provides peace of mind, especially if you plan to explore the area extensively. Regardless of your mode of transportation, the journey to San Gerardo de Dota rewards you with breathtaking scenery and a sense of immersion in Costa Rica's cloud forest wonderland.
By Private Transfer:
Private transfer services can be arranged from anywhere in Costa Rica. This option offers convenience and comfort, particularly if you're not comfortable with the mountainous terrain or prefer a stress-free journey.
By Shuttle Transfer:
Shuttle transfers to San Gerardo de Dota are limited, and there is no nearby airport with shuttle service. Most visitors opt for private transfers or rental cars for more flexibility.
Weather and Packing List
Located in the cloud forest, the weather in San Gerardo de Dota is fairly predictable. Expect cool and damp conditions and dress for rain. Daytime temperatures average in the low 70s with night time lows averaging in the upper 50s. The most consistent rain is experienced between the months of May through November with the heaviest rains September through November.
Visitors should pack shorts, tee shirts, appropriate shoes, rain gear, sun block. It is also advised to bring at least one pair of pants, a long sleeve shirt, and even a sweat shirt or light jacket.
Fun Fact: San Gerardo de Dota is located well above 7,000 feet in altitude.