Playa Manuel Antonio is one of three stunning beaches on this idyllic coastline. Playa Espadilla, the main public beach, has decent waves for surfing at its northern end and smaller waves ideal for swimming and body surfing to the south. Playa Biesanz, an ideal spot for snorkeling at certain times of the year, is the northernmost beach, while the heavenly Manuel Antonio Beach lies within the national park.
Three main trails wind their way through Manuel Antonio National Park, offering unique opportunities for bird watching and viewing the rainforest wildlife. Although none of these trails are strenuous or menacing, a guide is recommended for those who seek detailed knowledge about the rainforest and the creatures that live there. No more than 600 visitors are allowed inside the park per day, so if you visit during peak season starting in December, make sure to arrive early in the morning.
The Manuel Antonio village center is a tiny collection of a few small shops, restaurants, bars and a multitude of street vendors selling souvenirs.
The hill that connects Manuel Antonio with the port city of Quepos is lined with the area's finest hotels, spas, restaurants and bars with stunning views of the ocean below. Sunset cocktails here are a great way to end a sun-filled day at the national park.
Budget accommodations are abundant in Quepos, where you can also find great restaurants specializing in typical food and international cuisine, and a lively bar scene on weekends.
Planning a vacation to Manuel Antonio
When planning a vacation to Manuel Antonio, we recommend a 3 - 5 day stay in the Manuel Antonio area. There is plenty to keep you busy or gorgeous beaches for relaxation. The only reason that we do not recommend a longer stay is due to the fact that there is so much to do and see in Costa Rica, that a stay longer than 5 days would be taking away from your overall experience.
The vast majority of hotels in Manuel Antonio are located along the hillside. There are only a couple hotels on the beach. Some of our favorite mid-range hotels include La Vela Boutique Hotel, The Falls Resort, Si Como No Resort, and The Shana Hotel. Our favorite luxury hotels include Si Como No, Los Altos Resort, Arenas del Mar Resort, Parador Resort, Gaia Hotel and La Mansion Inn. If you are on a budget, we would recommend Cabinas Espadilla, Costa Verde, or Hotel Plaza Yara.
You will never be bored in Manuel Antonio, and apart from the national park, scores of activities await the adrenaline hungry. Rappeling, ziplining, whitewater rafting, scuba diving, and riverboat safaris through the Damas Island Estuary are just a few ways in which you can spend your energies here.
You do not need a rental car in Manuel Antonio. In fact, it can actually be a burden as parking spaces are limited. There is a beach bus that runs every half hour between Quepos and Manuel Antonio that costs around 50 cents. There are also plenty of cabs. In short, you will not have any difficulties getting around Manuel Antonio.
Reasons to visit
The national park is loaded with wildlife.
The beaches are gorgeous.
There are few businesses on the beaches so it has a natural feel.
There are more activities available from this beach area than any other beach area in Costa Rica.
Most hotels and resorts are eco-friendly and built in tune with the surrounding nature.
There is an excellent bus system which runs between Quepos and the beach every half hour.
There is a wide variety of restaurants to choose from.
The sport fishing is excellent most of the year.
Great beach for swimming.
The north end of the beach is perfect to learn to surf.
Reasons NOT to visit
The majority of hotels and resorts are built on the hill.
If you prefer beaches with a boardwalk.
If you prefer beach front hotels versus jungle lined beaches.
The end of August through the beginning of November can be fairly rainy.
If wildlife does not intrigue you.
There are no all-inclusive resorts.
There is little nightlife.
Monkeys are known to come down and steal food from the table (yes, this is true).
While Manuel Antonio is home to a lot of wildlife and the national park, it is also one of the most popular beaches in Costa Rica. If you are looking for an off the beaten path experience, this is not the best beach for you.
You prefer a lounge chair to a hammock.
Your money will not go as far as other beach areas. Due to the popularity of Manuel Antonio and limited number of hotel rooms (there are plenty of hotels, but most have less than 20 rooms), accommodations in this area cost more than any other beach destination.
You are using Liberia as an airport (5 – 5.5 hour drive in each direction).

Best Things to do in Manuel Antonio
Manuel Antonio offers a wide range of activities and attractions that cater to nature lovers, adventure enthusiasts, and those seeking relaxation. Here are some of the best things to do in Manuel Antonio:
Manuel Antonio National Park: Explore the lush rainforests and pristine beaches of this famous national park. Hike the well-maintained trails to spot a variety of wildlife, including monkeys, sloths, and colorful birds.
Beach Days: Spend your time lounging on the beautiful beaches of Manuel Antonio. Enjoy sunbathing, swimming, and building sandcastles at Manuel Antonio Beach and Espadilla Sur Beach.
Zip Lining and Canopy Tours: Get an adrenaline rush by zip-lining through the rainforest canopy. Many tour operators offer canopy adventures with multiple platforms and thrilling lines that provide panoramic views of the area.
Nauyaca Waterfalls: Take a day trip to the stunning Nauyaca Waterfalls, located about an hour south of Manuel Antonio. Hike through the lush jungle to reach these cascading waterfalls, where you can swim in the natural pools and admire the scenery.
Canyoning & Waterfall Rappelling:
Imagine hiking through the dense jungle and then rappelling down rainforest waterfalls! Yes, you really can do this. It's safe and fun!
Rafting and Kayaking:
Paddle down the Savegre or Naranjo Rivers on a rafting adventure, enjoying the rush of white-water rapids and taking in the scenic surroundings. You can also rent kayaks for a more tranquil experience on the calm coastal waters.
Mangrove Tours:
Take a guided boat tour through the mangrove forests of Damas Island or the nearby Tarcoles River. These tours provide opportunities to see crocodiles and various bird species.
Surfing Lessons:
Manuel Antonio's beaches offer ideal conditions for both beginners and experienced surfers. Sign up for surf lessons with local instructors and catch some waves.
Sportfishing:
Try your hand at deep-sea or sportfishing excursions in the rich waters of the Pacific Ocean. Common catches include marlin, sailfish, dorado, and snapper.
Dining:
Enjoy delicious Costa Rican cuisine at local restaurants in Manuel Antonio. Savor fresh seafood, traditional dishes, and international cuisine in a beachfront setting.
Relaxation and Spa:
Many hotels and resorts in Manuel Antonio have on-site spas where you can unwind with massages and wellness treatments.
Sunset Viewing:
Witness breathtaking sunsets over the Pacific Ocean from various viewpoints, including the beach and hillside locations.
These activities offer a mix of natural beauty, adventure, and relaxation, allowing you to make the most of your visit to Manuel Antonio. Whether you're exploring the rainforest, taking in the scenery, or enjoying outdoor adventures, this coastal paradise has plenty to offer.
The Best Restaurants in Manuel Antonio
Manuel Antonio, Costa Rica, is not only famous for its stunning natural beauty but also for its diverse culinary scene. Here are some of the best restaurants in Manuel Antonio, where you can savor a variety of delicious dishes while enjoying breathtaking ocean views and a relaxed tropical atmosphere:
Emilio's Café: Emilio's Café is a Manuel Antonio institution known for its Mediterranean-inspired cuisine. Set on a hillside, this restaurant offers panoramic views of the Pacific Ocean and lush rainforest. The menu features fresh seafood, succulent steaks, and a range of creative dishes. Don't miss their famous seafood paella.

Ronny's Place: Perched on a hillside, Ronny's Place provides some of the most spectacular sunset views in Manuel Antonio. This restaurant specializes in seafood and international cuisine. Try their seafood platter, which includes a variety of fresh catches, or enjoy a delicious cocktail while taking in the view.

El Avión: Set within an old Fairchild C-123 cargo plane, El Avión offers a unique dining experience. This restaurant is renowned for its seafood and traditional Costa Rican dishes. The open-air setting and sunset views make it a favorite among visitors.

Gabriella's Steak and Seafood Restaurant: Located in the heart of Manuel Antonio, Gabriella's is known for its succulent steaks and fresh seafood. The restaurant has a cozy ambiance and serves a range of dishes, from filet mignon to grilled mahi-mahi.

Agua Azul: Agua Azul offers a blend of Mediterranean and Costa Rican cuisine in a lush rainforest setting. The restaurant features a natural waterfall and tropical gardens, providing a serene backdrop for your meal. Try their seafood dishes and cocktails.

La Luna Restaurant: Located on the road to the Manuel Antonio National Park, La Luna offers a charming beachfront setting. This Italian restaurant serves wood-fired pizzas, homemade pasta, and fresh seafood. Dining under the stars with the sound of the waves is a memorable experience.

Keep in mind that Manuel Antonio's dining scene is diverse, and there are many more restaurants to explore, ranging from casual beachfront cafes to upscale eateries. Reservations are recommended, especially during the high tourist season, to ensure you get a table at your preferred restaurant. Enjoy your culinary journey in this tropical paradise!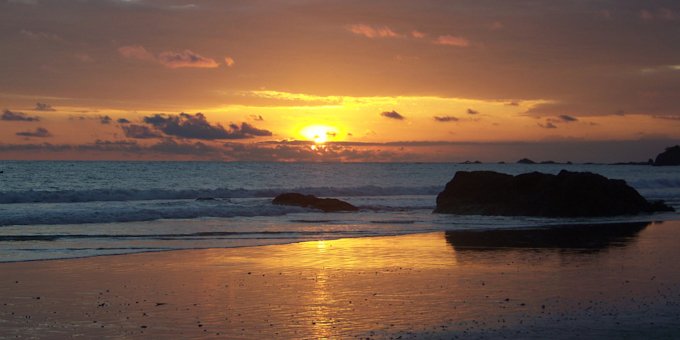 Beaches in Manuel Antonio
Manuel Antonio, Costa Rica, is renowned for its pristine beaches, each offering unique charms and natural beauty. Here are some of the best beaches in Manuel Antonio:

Manuel Antonio Beach: This is the most famous beach in the area and is located within the Manuel Antonio National Park. The beach features soft, golden sands and gentle waves, making it perfect for swimming and sunbathing. Keep an eye out for monkeys and sloths in the surrounding trees. The beach can get crowded during peak tourist season, but it's worth a visit for its natural beauty.

Playa Espadilla: Adjacent to Manuel Antonio Beach, Playa Espadilla stretches along the coastline and is a bit less crowded. It's an excellent spot for a leisurely stroll along the shoreline. You'll find vendors selling coconuts and snacks along the beach.

Playa Biesanz: A hidden gem, Playa Biesanz is a secluded cove with calm waters, making it ideal for swimming and snorkeling. The beach is surrounded by lush jungle, providing shade and a peaceful atmosphere. You can rent kayaks and snorkel gear here to explore the underwater world.

Playa Gemelas: Gemelas means "twin sisters" in Spanish, and this beach consists of two small, picturesque bays separated by a rocky outcrop. This beach is inside of the national park. The clear waters and rocky tide pools make it a fantastic place for snorkeling and observing marine life.

Playa La Macha: Located between Manuel Antonio and Quepos, this beach is less crowded than Manuel Antonio Beach and offers excellent wildlife viewing opportunities. It's common to see capuchin monkeys and iguanas here. The beach is surrounded by lush vegetation, providing shade.

Playa Puerto Escondido: This beach is inside of Manuel Antonio National Park and is only accessible during low tide. Be careful, as you can get stuck there if the tide rises before you leave!

When visiting these beautiful Manuel Antonio beaches, it's essential to respect the local environment by avoiding littering, following park regulations, and not disturbing wildlife. Whether you're seeking relaxation, water sports, or wildlife encounters, Manuel Antonio's beaches have something to offer every type of traveler.

How to get there
From San Jose: Compared to other beach destinations in Costa Rica, Manuel Antonio is a short 3-hour drive from San Jose. Go west on Autopista del Sol (the Caldera Highway) to the town of Orotina and take the Costanera Sur Highway after the Pavon toll booth. Take the exit to Jaco and drive straight to Manuel Antonio. Jaco makes a great stopover if hunger strikes during your drive.
Weather and packing list
Manuel Antonio temperatures remain fairly stable throughout the year, with average daytime highs in the upper 80s to low 90s and nighttime lows dropping to the upper 70s. During the dry season, which extends from December to April, you can expect glorious blue skies, heat and non-stop sunshine.
While working on your packing list, remember to pack your beach clothes including a swimsuit, hat, beach towel or sarong, flip flops, shorts, t-shirts, rain gear (particularly if you plan to visit during the wet season), insect repellent, and when sunbathing becomes your full time job, tons of sun block and aloe vera gel will come in handy.
Fun Fact: Manuel Antonio Beach is located within the national park and can only be visited with a paid entrance. This is the most deserted of the beaches and an absolute tropical paradise.