There are also destinations that are not fully accessible by road. Destinations such as Drake Bay and Tortuguero can only be accessed by a combination of driving and a boat or a domestic flight. The most common way to transfer between Arenal Volcano and Monteverde is a combination of driving and boat. In addition, the easiest way to access the southern Nicoya Peninsula from anywhere other than Guanacaste destinations is by taking the ferry from Puntarenas to Paquera.
Aside from the routes that require a boat or ferry, a good rule of thumb is to count on an average speed of 50 kilometers per hour. You can follow this link to our Costa Rica country map page which lists the distance between the most popular destinations.
This page lists the average drive times for some of the more common routes.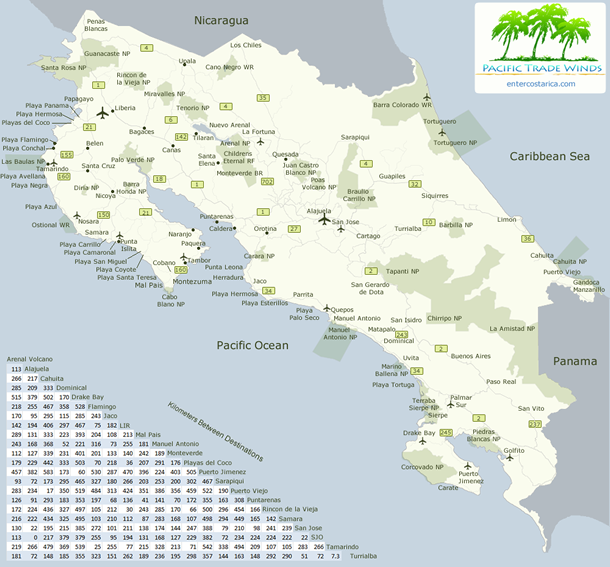 Similar Topics
What is the difference between shuttles and private transfers?
Can I reserve a shared shuttle transfer from the airport?
Are there baggage restrictions for shuttle transfers?
How will I know who my driver is at the airport?
How are the roads in Costa Rica?
How long does it take to drive between destinations?
Can I use public buses to get around Costa Rica?
Should I rent a car in Costa Rica?
Will my driver's license work in Costa Rica?
Are there domestic airports at all tourist destinations?
Are there baggage restrictions on domestic flights?
Should I take a domestic flight?
What is the Land-Boat-Land transfer?
Can I do a day trip to Monteverde from Arenal or vice versa?
Can I do a day trip to Monteverde or Arenal from Guancaste?
Can I do day trips from San Jose to Arenal Volcano, Tortuguero or the beach?