Location, location, location when choosing your Manuel Antonio hotels!
Many hotels in Manuel Antonio are perched on hillsides, offering breathtaking views of the Pacific Ocean and the surrounding rainforest. The accommodations are designed to blend seamlessly with the natural environment, creating a serene and immersive experience for guests. The area is abundant in wildlife, and it's not uncommon to spot monkeys, sloths, toucans, and other tropical creatures near the hotels.

The town of Manuel Antonio is adjacent to Manuel Antonio National Park, one of the country's most renowned national parks. The park is known for its rich biodiversity, including a diverse range of flora and fauna, as well as stunning coastal landscapes. The proximity of the hotels to the national park allows visitors to easily access its trails, beaches, and wildlife observation points.

In addition to the natural beauty, the location of the hotels in Manuel Antonio provides easy access to a wide range of outdoor activities. Visitors can enjoy activities such as hiking, zip-lining, white-water rafting, horseback riding, and fishing. The nearby town of Quepos offers a vibrant culinary scene, with various restaurants serving delicious Costa Rican cuisine and fresh seafood.

Many hotels in Manuel Antonio are also conveniently located near other attractions, including beautiful beaches like Playa Espadilla and Playa Biesanz. These beaches offer opportunities for sunbathing, swimming, and snorkeling in the crystal-clear waters of the Pacific.

Overall, the location of hotels in Manuel Antonio allows guests to experience the best of Costa Rica's natural wonders, from its stunning beaches to its abundant wildlife, while providing convenient access to outdoor activities and the charming town of Quepos. We strongly recommend checking their locations on the map before choosing a hotel. Often, even if the hotels are located in an area with easy beach access, they are surrounded by rainforests and loaded with wildlife.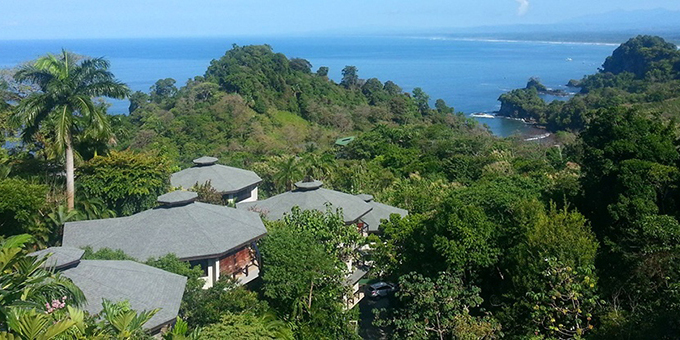 What are some of the best hotels in Manuel Antonio?
Manuel Antonio is home to several exceptional hotels that offer a luxurious and unforgettable stay for visitors. Here are some of the best hotels in Manuel Antonio, according to verified reviews received from our guests:

Los Altos Resort: Situated on a hilltop, Los Altos Resort offers stunning views of the ocean and rainforest. The spacious condo suites and villas provide a blend of modern comfort and tropical elegance, and guests can enjoy amenities like a swimming pool, spa, and on-site restaurant.

Shana by the Beach: Located just a short hike away from Playa Biesanz, Shana by the Beach offers a tranquil and intimate atmosphere. The boutique hotel features stylish rooms, an infinity pool, a restaurant, and a spa, all surrounded by lush tropical gardens.

Hotel Parador: Nestled in the rainforest, Hotel Parador offers breathtaking views of Manuel Antonio National Park and the Pacific Ocean. The hotel boasts spacious rooms, a pool with a swim-up bar, multiple restaurants, and a full-service spa.

Arenas del Mar Resort: Perched on a hillside overlooking the ocean, Arenas del Mar Resort offers eco-luxury accommodations with a strong commitment to sustainability. The resort features beautifully appointed rooms, a beachfront pool, a spa, and direct access to two stunning beaches.

Oceans Two Resort: Oceans Two Resort is a luxurious boutique hotel that offers spacious suites with ocean views. The resort boasts a swimming pool, a restaurant serving international cuisine, and a laid-back tropical ambiance.

Tulemar Resort: Tulemar Resort offers a secluded and private getaway within a lush tropical setting. Guests can choose from a variety of accommodations, including luxurious private villas, bungalows, and spacious rooms. The resort features a private beach, multiple swimming pools, restaurants, a spa, and complimentary shuttle service within the property. With its exclusive amenities and stunning ocean views, Tulemar Resort is a popular choice for those seeking a tranquil and upscale experience in Manuel Antonio.

La Vela Boutique Hotel: Located near the renowned Manuel Antonio National Park and within a short walk to the beach, La Vela Boutique Hotel offers a charming and intimate atmosphere. The boutique hotel showcases elegant rooms with modern amenities, a swimming pool, and a nice tiki and pizza bar. The hotel's personalized service and attention to detail create a warm and inviting ambiance, making it an ideal choice for those seeking a cozy and memorable stay in Manuel Antonio.

This list is far from complete as there are many other truly amazing hotels inn Manuel Antonio! Whether you seek luxury, eco-consciousness, or beachfront access, Manuel Antonio has a range of exceptional hotels to choose from.