Tenorio Park includes 12,867 hectares or 31,795 acres of land. The elevation ranges from 30 – 1,916 meters or 98 – 6,286 feet. There are several habitats within the park including rainforest, cloud forest, and river habitats. There are several hiking trails within the park, though government permission is required to climb to the summit of the volcano.
There is plenty of wildlife in Tenorio National Park. In fact, this is a prime area for birdwatchers. Birds that inhabit the park include tody motmots, bear-necked umbrella birds, sunbitterns, trogons, toucans, toucanettes, crested guans, woodpeckers, hummingbirds, ruffous-necked tanagers, and much more. Mammals that inhabit the park include pumas, jaguars, margays, ocelots, tapirs, tayras, howler monkeys, spider monkeys, capuchin monkeys, sloths, and many more. There are many amphibians including blue jeans dart frogs, red-eyed leaf frogs, and smoky jungle frogs. In addition, there are many reptiles such as eyelash pit vipers, fer-de-lances, jumping pit vipers, boa constrictors, hog-nosed pit vipers, parrot snake, vine snakes, as well as many lizards.
Tenorio National Park is managed by the Costa Rican government. The park is open from 8 AM – 4 PM daily. There is a ranger station with public restrooms. The entrance fee is $12 per person. There are overnight facilities at the park for students and researchers. Most visitors elect to stay in more comfortable lodges surrounding the park.
Celestial Wonders: Exploring the Enchanting Rio Celeste Waterfall in Costa Rica's Tenorio Volcano National Park
The Rio Celeste Waterfall is one of Costa Rica's most enchanting natural wonders, nestled within the Tenorio Volcano National Park. This captivating waterfall is renowned for its celestial blue color, which seems almost otherworldly. Here are some key details about this remarkable natural attraction:
1. Stunning Blue Hue: What sets Rio Celeste apart is the startling blue color of its water, which is a result of a unique chemical reaction. The river's clear waters mix with minerals from the volcano, creating this brilliant azure shade.
2. Hiking Adventure: To reach Rio Celeste and its waterfall, visitors typically embark on a moderately challenging hike through the Tenorio Volcano National Park. The hike, which takes approximately 2 to 4 hours round-trip, leads you through lush rainforests, and along the river's edge.
3. Los Teñideros: One of the highlights of the hike is the "Los Teñideros," a point in the river where two streams, both clear and colorless, merge. When these two streams combine, the chemical reaction occurs, and the water turns into the mesmerizing blue hue.
4. Viewing the Waterfall: After a captivating journey through the rainforest, you'll arrive at the stunning Rio Celeste Waterfall. It plummets from an emerald-colored pool, creating a picture-perfect setting. You can relax, take photos, or simply soak in the natural beauty.
5. Wildlife and Nature: The national park is home to a diverse range of wildlife, including howler monkeys, capuchin monkeys, sloths, and a variety of bird species. While hiking to the waterfall, you'll have opportunities to observe these creatures in their natural habitat. Pro tip: Going with a certified naturalist guide will significantly increase your odds of spotting willdife. Your guide should have a spotting scope that allows you to take photos through the scope with your camera or phone.
6. Visitor Tips: It's essential to check the park's opening hours and any permit requirements before your visit. The trail can be muddy, so wear appropriate hiking shoes. Additionally, bringing water, snacks, and insect repellent is advisable.
7. Conservation: Due to the vulnerability of this unique ecosystem, it's crucial to respect the park's rules and regulations to help preserve its pristine condition for future generations.
In summary, Rio Celeste Waterfall in Tenorio Volcano National Park is a captivating natural wonder that offers a unique hiking experience through lush rainforests, culminating in the awe-inspiring sight of its brilliant blue waters. It's a must-visit destination for nature enthusiasts and adventurers exploring Costa Rica's natural beauty.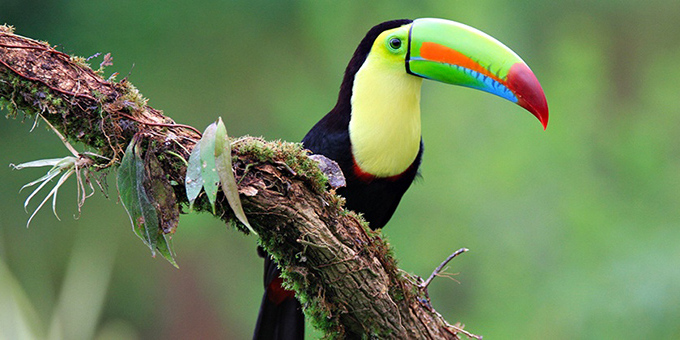 Embark on a Symphony of Feathers: Birdwatching in Tenorio Volcano National Park
Nestled amidst the heart of Costa Rica's ecological wonderland, the Tenorio Volcano National Park offers an unparalleled stage for birdwatching. This slice of paradise is a testament to the country's remarkable diversity in micro-climates and habitats. Picture this: a lush valley cradled between two majestic volcanoes, with the continental divide weaving its way from the slopes of Volcán Miravalles to the rising majesty of Tenorio, just beyond the quaint Bijagua village. While this geographical magic may not immediately strike your senses, it's the secret key to a unique avian phenomenon. Here, the continental divide creates a natural flyway, akin to a grand avian highway, linking the wetlands of Lago de Nicaragua, the enchanting Caño Negro, and the lush northern Caribbean lowlands with the sun-kissed Pacific coast and the verdant Palo Verde wetlands along the Río Tempisque.

Imagine witnessing a flock of Roseate Spoonbills gracefully dancing against the backdrop of rugged mountains. The sheer wonder of it all! Yet, in this ecological crossroads, it's not surprising. Tenorio's diverse habitats play host to an astonishing array of bird species, drawing from ecosystems as varied as the coastal wetlands and the tropical rainforests. Birdwatching here isn't just a pastime; it's an entrancing symphony of colors, calls, and captivating encounters. As the sun bathes the landscape in its golden hues, you'll find yourself immersed in a world where the vibrant plumage of toucans, resplendent quetzals, and the delicate melodies of flycatchers compose the soundtrack of your adventure. And as you embark on this avian odyssey, don't forget to gaze through your binoculars and capture these moments on camera - you're about to become part of a living, breathing masterpiece in nature's grand gallery. So, ready your senses, bring your binoculars, and step into a realm where every feathered encounter is a five-star spectacle. Welcome to birdwatching in Tenorio Volcano National Park, where nature's wonders truly exceed the confines of any rating system.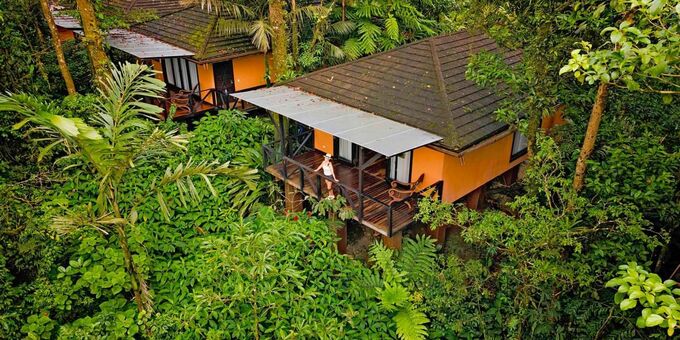 Where to Stay When Visiting Tenorio Volcano National Park and the Rio Celeste Waterfall
There are several lodges and accommodations near Tenorio Volcano National Park, offering visitors a range of options for experiencing the natural beauty and attractions of the region. Here are a few notable lodges:
Origins Lodge: Nestled in the rainforest between Bijagua and Upala, Origins Lodge offers a luxurious, serene, and eco-conscious retreat. This African-style boutique ecolodge is known for its luxurious accommodations, excellent cuisine, and proximity to the park's northern entrance. It provides a peaceful escape with private bungalows and beautiful natural surroundings.

Tenorio Lodge: Located just outside of Bijagua, Tenorio Lodge is recognized for its eco-friendly practices and sustainable approach. It's an ideal base for exploring both the national park and the nearby attractions.

Celeste Mountain Lodge: Situated in a lush rainforest setting, Celeste Mountain Lodge offers comfortable rooms and exceptional dining options. It is renowned for its commitment to sustainability and is relatively close to the park.

Rio Celeste Hideaway Hotel: For a more upscale experience amid nature, Rio Celeste Hideaway Hotel offers private bungalows, a restaurant, and access to hiking trails. It's a perfect choice for a luxurious stay and the closest to the national park.
Heliconias Lodge & Rainforest: This lodge offers a range of budget-friendly accommodation options, from cabins to (affordable) suites, and is known for its friendly staff and proximity to the national park.

These lodges provide different atmospheres and amenities, so you can choose the one that best suits your preferences and travel plans. Be sure to check their availability and make reservations in advance for a memorable stay near Tenorio Volcano National Park.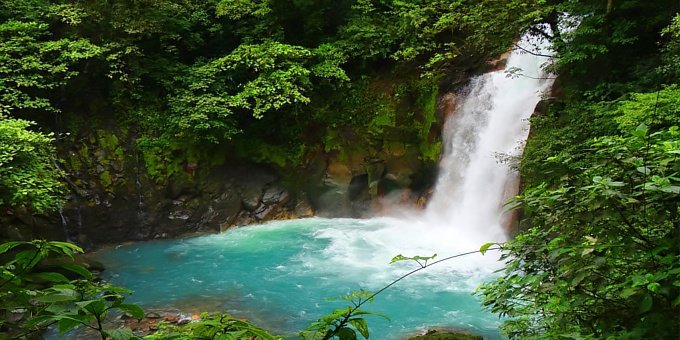 More Information About Tenorio Volcano National Park
The Rio Celeste runs through the park creating a beautiful backdrop for great photos. The river is a vibrant turquoise blue surrounded by emerald green forests. The river gains its interesting color from the natural minerals of a volcanic spring that mixes with the fresh waters of another mineral rich river. The result is what many consider to be the most beautiful waterfall in Central America. There are also several natural hot springs located on the river and around the volcano, though the trail to the hot springs is now closed to the public.
At a glance
Region: Northern Zone
Closest town: Bijagua
Size in hectares: 12,867 (31,795 acres)
Year established: 1976
Elevation in meters: 30 - 1,916 (98 - 6,286 feet)
Private managed: no
Government managed: yes
Rangers station: yes
Overnight facilities: yes
Public restrooms: yes
Entrance fee: $12 for non-residents, children under 12 are free. ¢800 colones for residents
Days: daily
Hours: 08:00 - 16:00
Hiking trails: yes
Boat tours: no
Average temperature range in Fahrenheit: 65 - 80
Average yearly precipitation in millimeters: 5,080 (200 inches)
Habitat: cloud forest, rainforest, river
How to Get There and a Free Prinatble Map
From San Jose, take Rt. 1 northwest to Canas. Continue past Canas approximately 10 km until you reach Rt. 6. Turn right on Rt. 6 and follow to Bijuagua. Continue through Bijagua and within a few km, you will see a sign on the right for Tenorio National Park. Turn right and follow signs to the park. The last 10 km are on an unpaved road that is in generally bad condition. Therefore, a 4x4 is recommended. You can also download a free printable map of the Tenorio Volcano National park and Bijagua region here.
Weather and Packing List
The weather at Tenorio is generally damp most of the year. The average temperatures range from 65 – 80 degrees. This area receives 5,080 mm or 200 inches of precipitation annually, so be prepared for rain. The driest months to visit are December through April and June and July.
Visitors to Tenorio should pack shorts, tee shirts, appropriate shoes, rain gear, sun block. It is also advised to bring at least one pair of pants and a long sleeve shirt. Stop by our packing page for more ideas.
Fun Fact: Though one of the most interesting and beautiful places in Costa Rica, Tenorio National Park is one of the least visited.