The wonder & allure of attractions in Costa Rica
Prepare to be captivated by the sheer magnificence of Costa Rica, a country that embodies unrivaled beauty and breathtaking diversity. With nearly 28 percent of its land protected as national parks, wildlife refuges, and reserves, Costa Rica stands as a testament to its commitment to preserving its natural treasures. Within these protected areas, you'll encounter a tapestry of 12 distinct climate and life zones, each showcasing its own unique wonders.
Imagine being nestled between the crystal-clear waters of the Caribbean Sea and the mighty Pacific Ocean, while the awe-inspiring Ring of Fire weaves its way through this enchanting land. Costa Rica's varied terrain, climate, and habitats create a paradise of extraordinary attractions that will leave even the most seasoned traveler in awe.

From the mist-shrouded cloud forests of Monteverde to the fiery spectacle of Arenal Volcano, the wonders of Costa Rica are boundless. Dive into the turquoise depths of Cocos Island, where you'll encounter a kaleidoscope of marine life, or venture into the untamed wilderness of Corcovado National Park, home to an astonishing array of biodiversity.

Feel the adrenaline surge as you raft down thrilling rapids, zip-line through the lush canopies of the rainforest, or embark on a wildlife safari to spot monkeys, sloths, and toucans in their natural habitats. Immerse yourself in the tranquility of hidden waterfalls, soak in natural hot springs, or simply unwind on pristine beaches caressed by gentle ocean breezes.

Costa Rica's vibrant culture and warm hospitality add an extra layer of allure to this remarkable country. Indulge in the tantalizing flavors of traditional cuisine, sway to the rhythm of lively music, and engage with the friendly locals who embody the essence of "Pura Vida."

Get ready to embark on an unforgettable journey as you delve into the rich tapestry of Costa Rica's attractions. Each link holds a story waiting to be discovered, a world waiting to be explored. Let the allure of Costa Rica's wonders beckon you into a realm of natural splendor and unforgettable experiences.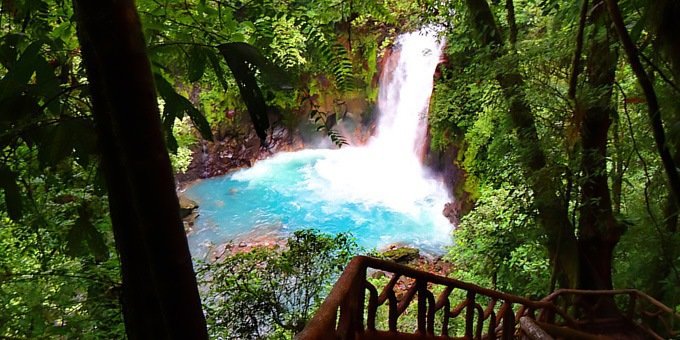 ---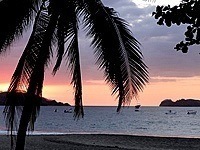 Costa Rica has well over 700 miles of combined coastline between the Pacific Ocean and Caribbean Sea. Many of these beaches are backed by rainforest, while others are the main attraction for booming towns such as Tamarindo or Jaco. Some are surf beaches, while others are ideal for swimming. One thing is certain; if you want a beach destination, you are in the right place! Click on the link above to read more about Costa Rica beaches.
---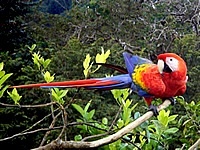 Costa Rica national parks, reserves and refuges account for an astounding 14,000 sq. km or 28 percent of the country's territory! They protect numerous of species of wildlife including over 800 species of birds, 250 mammal species, 225 reptiles, 175 amphibians and thousands upon thousands of species of plant and tree life. The various ecosystems are spread between 12 unique climate and life zones which cover everything from tropical mangroves to cool cloud forests higher than 10,000 feet in elevation. Click on the link above to read more about Costa Rica national parks.
---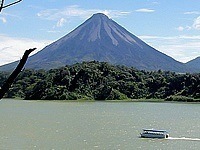 Costa Rica is positioned along one of the more active sections of the global Ring of Fire. There are more than 200 volcanic formations, some of which are more the sixty million years old. Six of these volcanic formations are considered to be active. Click on the link above to learn more about these volcanoes, which are iconic Costa Rica attractions.
---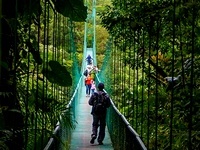 Creating a recommended list of Costa Rica attractions is a little like picking a needle out of a haystack. There are many to choose from and they all have their unique characteristics which make the special. Therefore we have selected a handful of our favorites for your consideration. For a more comprehensive view, check out our beaches, national parks sections, volcanoes and hidden treasures sections. Click the link above to see what Costa Rica attractions we recommend the most.
---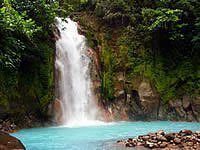 This section is dedicated to the many hidden treasures that Costa Rica is NOT famous for. You probably have not heard of these places and certainly would not come to Costa Rica with the sole intention of visiting them. With that said we believe the little things count and know that some of these small stops can actually result in the makings of a trip of a lifetime. Click on the link above to read more about these off the beaten path Costa Rica attractions.
---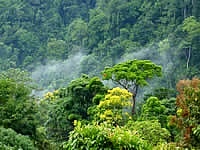 Costa Rica is home to three World Heritage sites. Each is different with unique habitats, characteristics and attributes. Click on the link above to learn more about the amazing Costa Rica attractions.
---
What are the top 10 attractions in Costa Rica?
Costa Rica is a land of abundant natural wonders and captivating attractions. Here are the top 10 must-visit attractions in Costa Rica:

These top attractions showcase the incredible diversity and natural beauty that Costa Rica has to offer, providing unforgettable experiences for every visitor.