Planning a Vacation to Tambor
When planning a vacation to Tambor, we recommend spending 3 – 5 days. It is not easy to access the area, so you would not want to spend less time than a few days. At the same time, there really is not a lot to do in the Tambor area, so we would not recommend spending more than 5 days.
Tambor is a beautiful coastal town located on the Nicoya Peninsula in Costa Rica. Known for its tranquil ambiance, stunning natural scenery, and abundant wildlife, Tambor is an ideal destination for travelers seeking a peaceful and nature-filled getaway. Here's what you can expect when visiting Tambor:
1. Gorgeous Beaches: Tambor boasts a long, crescent-shaped beach with grayish, natural colored sands and calm waters, making it a perfect spot for swimming, sunbathing, and beachcombing. The gentle waves are particularly welcoming for families and those looking to relax by the ocean.
2. Birdwatching: The surrounding area of Tambor is rich in birdlife. Birdwatchers can explore the nearby Curú Wildlife Refuge, which is home to various bird species, including scarlet macaws, toucans, and parrots. Early morning or late afternoon walks offer excellent birdwatching opportunities.
3. Nature Adventures: Tambor is close to several natural attractions and adventures. You can explore the lush rainforests of the Nicoya Peninsula, hike to waterfalls, and enjoy horseback riding or ATV tours. The Montezuma Waterfall, the Cabo Blanco Nature Reserve, and the Curu Reserve are popular destinations for nature enthusiasts.
4. Golf: Tambor is home to the Los Delfines Golf & Country Club, which features a 9-hole golf course set amidst stunning tropical scenery. Golfers can enjoy a round of golf with panoramic ocean views.
5. Snorkeling and Scuba Diving: The waters around Tambor offer opportunities for snorkeling and scuba diving. Explore colorful coral reefs, encounter diverse marine life, and enjoy the crystal-clear waters of the Pacific Ocean.
6. Relaxation: Tambor is all about relaxation. Many resorts and hotels in the area offer spa services and wellness programs. You can unwind with yoga sessions, spa treatments, and meditation while surrounded by nature's tranquility.
7. Local Culture: Tambor also offers a glimpse into Costa Rican culture. You can visit the small town, interact with friendly locals, and enjoy traditional Costa Rican cuisine at local restaurants and sodas (small eateries)
8. Isla Tortuga: Only accessible by boat, Isla Tortuga offers a great day trip to a beautiful tropical island. relax on the white sand beach, swim in the warm waters, or look for colorful fish as you snorkel off its pristine shores.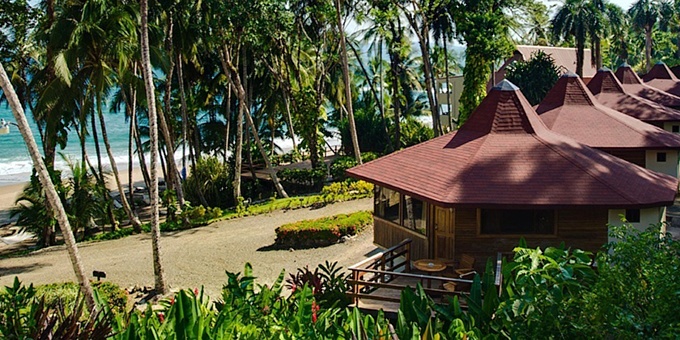 The Best Hotels in Tambor
Tango Mar Beachfront Boutique Hotel & Villas:

Overview: Tango Mar is a luxury beachfront resort nestled in a secluded cove on the Nicoya Peninsula. This eco-friendly resort offers a perfect blend of natural beauty and upscale amenities.
Accommodations: Guests can choose from various accommodations, including oceanfront rooms, beachfront suites, and tropical garden villas. All rooms are elegantly decorated and equipped with modern amenities.
Amenities: The resort features a beautiful private beach, a 9-hole golf course, a spa, and a swimming pool. Activities like horseback riding, snorkeling, and birdwatching are readily available. The on-site restaurant offers a mix of international and Costa Rican cuisine.

Tambor Tropical Beach Resort:

Overview: Tambor Tropical Beach Resort is a charming boutique hotel located on Tambor Beach. It's an ideal choice for couples seeking a peaceful and intimate escape.
Accommodations: The resort offers spacious and well-appointed suites with either garden or ocean views. Each suite is tastefully decorated and features modern amenities.
Amenities: Guests can enjoy the hotel's outdoor pool, beachfront yoga deck, and the picturesque tropical gardens. The on-site restaurant serves delicious Costa Rican and international cuisine. Tambor Tropical is also known for its excellent customer service.
Beachfront Location: The resort's prime beachfront location means you can step directly onto the sands of Tambor Beach, where you can swim, sunbathe, or explore the calm waters.
Both Tango Mar and Tambor Tropical Resort offer unique experiences in Tambor, with Tango Mar providing a larger, luxurious setting, and Tambor Tropical offering an intimate and tranquil beachfront getaway. Your choice depends on your preferences for accommodations, amenities, and the overall atmosphere you desire for your stay in Tambor.
More About Tambor
There are plenty of Tambor tours and activities available. Visitors can enjoy snorkeling, swimming, and fishing in the quiet waters. Golf courses are conveniently located to the area as well. Cabo Blanco Reserve is a great option for those that are interested in wildlife observation in a national park setting or Isla Tortuga makes a great day trip for diving or just getting lost in tropical paradise.
While it is not necessary to have a rental car in Tambor, it is a convenience as everything is spread out. However, one should keep in mind that in order to access Tambor, you have to take a ferry or unpaved roads which are generally in bad condition. Flying into the Tambor Airport is another option, though keep in mind you will have to arrange ground transfers.
Reason to visit
Off the beaten path seclusion
Nice swimming beach
Easy day trip to Isla Tortuga
Nice hotel selection
Reasons NOT to visit
It is too secluded for some
It is difficult to access
Brown sand beach (this matters to some)
How to get there
From San Jose: Take the Autopistas del Sol to Puntarenas and then take the ferry across the Gulf of Nicoya to Paquera. From Paquera, take the main road south to Tambor.
Weather and packing list
The Northwest Pacific is one of the driest climates in Costa Rica. The beach areas have a fairly steady year round temperature with daytime highs averaging in the upper 80s to lower 90s. Night time lows are usually in the upper 70s. Precipitation varies through the year with the nicest weather between November and August.
When creating your packing list, remember to include a bathing suit, towel, shorts, tee shirts, appropriate shoes, rain gear, sun block, and insect repellent.
Fun Fact: Tambor is one of the closest beaches to the incredibly beautiful Isla Tortuga, which provides excellent snorkeling and diving opportunities in a paradisiacal setting.