Costa Rican Adventure Vacation Packages
Are you tired of the cliche holiday trip to Florida? Or is your family looking to spice up the typical "beach vacation"? Then adventure awaits you in Costa Rica. The adventures here will be sure to get your heart racing, all while remaining safe and fun for the entire family.
Take a trip to Monteverde and roam through nearly 30,000 acres of protected forest, snorkel through crystal-clear waters, or take a jungle trek and immerse yourself in the rain forests of Costa Rica. Regardless of what you choose, we can guarantee that your adventure with us will be a memory to last a lifetime.
Due to the ample amount of activities available through our services, we are able to accommodate people of all ages, allowing families to enjoy a beautiful country together. Costa Rica blends adventure into every turn of your vacation, creating an experience that drifts from the cliché and towards the legendary.
Our adventure expeditions are meticulously planned to ensure complete satisfaction. Equipped with organized itineraries, knowledgeable guides, and comfortable accommodations, our team goes to the greatest lengths in terms of safety and service. Enjoy a day of zip-lining above the canopy, take a horseback ride along the coast, or float down the river in a safari raft and discover a completely new part of the country.
Our tour guides ensure safety and organization on excursions, allowing people of all ages to enjoy them. Did not rent a car? Forgot to pack a lunch? Need a refreshing drink? We have you covered. Nearly all of our adventure packages include accommodation, transportation, and can delicious meals, making sure you enjoy every second of your vacation. Our purpose as your Costa Rica travel guide is to ensure an exciting, worry-free, affordable experience while remaining affordable and reliable. We guarantee a vacation that simply cannot be found anywhere else, it's an experience that will truly change the way you think and feel every single day.
You will be able to admire wildlife while drifting down the rivers of Tortuguero, feel the gentle waves of the ocean as you kayak on the Pacific Ocean, and marvel at the rich marine bio-diversity of Isla Tortuga (Turtle Island) as you snorkel next to the island s turtles. Costa Rica truly is an adventure-land nestled in Central America that can cater to everyone. So, plan your excursion today and start living Pura Vida!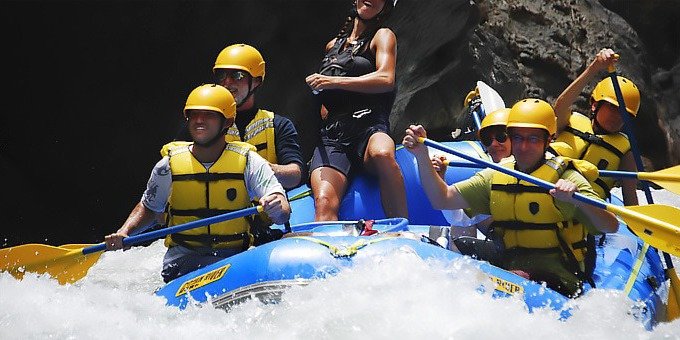 What are the best adventures in Costa Rica?
Costa Rica offers a wide range of thrilling adventures for nature enthusiasts and adventure seekers. Some of the best adventures in Costa Rica include:
Zip-lining: Experience the exhilaration of flying through the rainforest canopy on zip-line courses, offering breathtaking views and an adrenaline rush.
White-water rafting: Navigate the rapids of Costa Rica's rivers, such as the Pacuare, Savegre, or Sarapiqui, for an exciting and scenic rafting experience.
Hiking and Trekking: Explore the lush rainforests, national parks, and volcanoes of Costa Rica on various hiking and trekking trails, including the Arenal Volcano, Monteverde Cloud Forest, and Corcovado National Park.
Canyoning: Descend down waterfalls by rappelling and climbing through canyons, immersing yourself in the beauty of Costa Rica's natural landscapes.
Surfing: With its pristine beaches and consistent waves, Costa Rica is a popular destination for surfers of all levels. Destinations like Tamarindo, Jaco, and Santa Teresa offer excellent surfing conditions.
Wildlife Safaris: Take a guided tour through Costa Rica's national parks, such as Manuel Antonio or Tortuguero, to spot a variety of wildlife, including monkeys, sloths, toucans, and sea turtles.
Scuba Diving and Snorkeling: Explore the vibrant marine ecosystems off Costa Rica's coasts, teeming with colorful fish, coral reefs, and the opportunity to see sea turtles, rays, and sharks.
Canopy Tours: Traverse hanging bridges and walkways to observe the diverse flora and fauna in the treetops of the rainforest canopy.
Horseback Riding: Enjoy horseback rides along scenic trails, through coffee plantations, or on the beaches of Costa Rica, immersing yourself in the natural beauty of the country.
Volcano Exploration: Visit active volcanoes like Arenal and Rincon de la Vieja to witness their volcanic activity, soak in hot springs, and hike through volcanic landscapes.
Remember to prioritize safety during your adventures by booking with reputable tour operators, following instructions from experienced guides, and being mindful of the environment and wildlife conservation efforts. Need help with that? Contact us as we know all the best tour operators who are insured, reputable, and fun!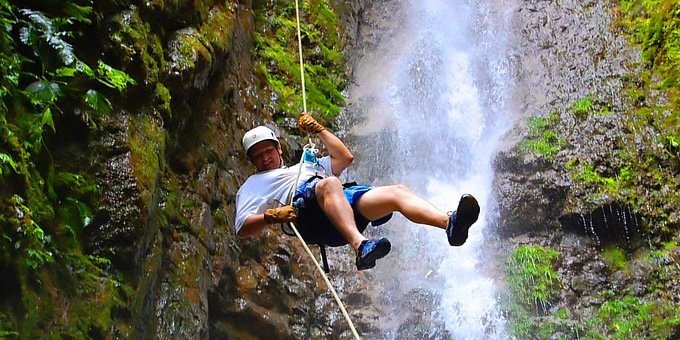 Where are the best places to go for a Costa Rica adventure vacation?
Costa Rica is a fantastic destination for adventure vacations, offering a wide range of exciting activities in its diverse natural landscapes. Here are some of the best places to visit for an adventure-filled vacation in Costa Rica: