Overview | Wildlife | Vacation | Hotels | Details | Transportation | Weather | Packing
Here's What You Can Expect When Visiting Tortuguero National Park:
Tortuguero National Park is one of Costa Rica's most unique and ecologically significant parks. It's located on the northern Caribbean coast and covers an area of approximately 49,949 acres (19,000 hectares). The park was established in 1975 to protect the nesting sites of sea turtles, including the green, leatherback, hawksbill, and loggerhead turtles, which come ashore to lay their eggs on the park's beaches.

Sea Turtle Nesting: Tortuguero is famous for its sea turtle nesting season, which typically occurs from July to October. During these months, hundreds of sea turtles arrive on the park's beaches to lay their eggs. Visitors can join guided night tours to observe this incredible spectacle. The park's most common visitor is the green sea turtle.

Biodiversity: Aside from sea turtles, Tortuguero is a haven for biodiversity. It's home to a wide variety of wildlife, including howler and capuchin monkeys, jaguars, ocelots, river otters, manatees, and countless bird species. The park's complex system of rivers, lagoons, and wetlands provides a rich habitat for these creatures.

Canal Tours: One of the best ways to explore the park is by taking a guided boat tour through its extensive network of canals and rivers. These tours offer excellent opportunities for wildlife viewing, including monkeys, sloths, caimans, basilisk lizards, and various bird species like toucans and herons.

Lush Rainforest: Tortuguero is part of the larger Tortuguero Conservation Area, which comprises the national park, as well as protected areas and a network of navigable canals. The region is characterized by lush tropical rainforests and swamps, providing a unique and immersive natural experience.


Eco-Tourism: While Tortuguero is known for its sea turtles, it also offers excellent eco-tourism opportunities, including hiking through the rainforest, birdwatching, and exploring the small village of Tortuguero, where you can learn about local culture and history.

Access: Access to Tortuguero is primarily by boat or plane, as there are no roads leading to the park. Many visitors take a boat tour from the town of La Pavona or reach the park via domestic flights from San Jose.

Weather: Tortuguero has a tropical climate with high humidity and rainfall year-round. The wettest months are from September to November, while the drier period occurs from February to March.

Accommodations: There are several eco-lodges and accommodations in the Tortuguero area, many of which are nestled within the rainforest and offer guided tours and activities. Most of these options are true ecolodges, without television or air conditioning.
Cerro Tortuguero: Cerro Tortuguero is a prominent hill located within Tortuguero National Park in Costa Rica, offering panoramic views of the surrounding rainforest and the Caribbean Sea. It is a popular hiking destination for visitors seeking breathtaking vistas of this lush and biodiverse coastal region.
What Not to Expect: While Tortuguero is a coastal village, you cannot swim on the beaches there due to dangerous riptides and the presence of bull sharks.
Visiting Tortuguero National Park is a unique opportunity to experience the natural wonders of Costa Rica's Caribbean coast and witness the incredible nesting rituals of sea turtles in a pristine natural setting.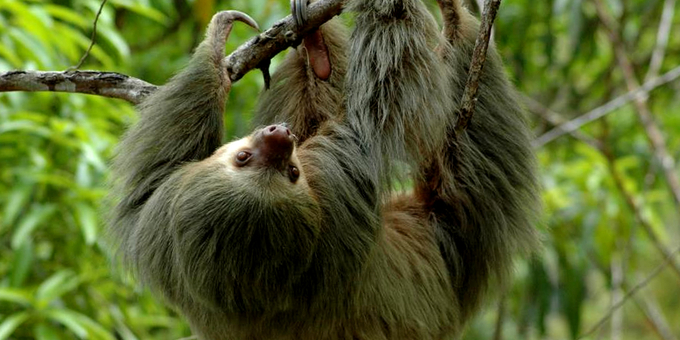 Overview | Wildlife | Vacation | Hotels | Details | Transportation | Weather | Packing
Wildlife in Tortuguero National Park
Tortuguero National Park is a living testament to the incredible biodiversity of Costa Rica. Its remarkable ecosystems support a wealth of wildlife that beckons nature enthusiasts and researchers alike. Among its most famous residents are the sea turtles, particularly the green sea turtle, leatherback sea turtle, hawksbill sea turtle, and loggerhead sea turtle. Tortuguero's beaches serve as their nesting grounds, where visitors can witness these ancient creatures in the delicate process of laying their eggs.

Venturing into the park's verdant rainforests, you'll encounter a mesmerizing array of animals. Howler monkeys and spider monkeys swing gracefully through the canopy, their echoing calls a soundtrack to your journey. Inquisitive capuchin monkeys may approach, displaying their playful antics. The park is home to a diverse array of birdlife as well, including toucans, parrots, and kingfishers, making it a birdwatcher's paradise.

Tortuguero's waterways are teeming with aquatic life. The park's rivers and canals are inhabited by caimans, crocodiles, and river turtles, while beneath the water's surface, you might glimpse manatees, bull sharks, and a variety of fish species.

In addition to these magnificent creatures, Tortuguero National Park boasts a staggering number of other species. Sixty species of mammals inhabit the park, including jaguars, pumas, ocelots, sloths, river otters, and manatees. Over 300 species of birds can be observed within the park, featuring parrots, parakeets, kingfishers, toucans, spoonbills, and more. There are 111 species of reptiles within the park, including green sea turtles, leatherback sea turtles, caimans, crocodiles, and boa constrictors. Of the 57 amphibian species, red-eyed leaf frogs and strawberry poison dart frogs are the most popular with visitors.

This park's incredible richness in flora and fauna, combined with its unique water-based access, makes it one of the prime destinations in Costa Rica for wildlife enthusiasts and adventurers seeking an unforgettable encounter with nature.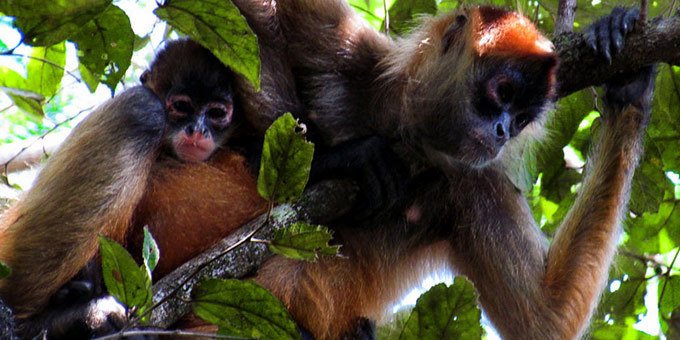 Overview | Wildlife | Vacation | Hotels | Details | Transportation | Weather | Packing
Planning a Vacation to Tortuguero National Park
To savor the essence of Tortuguero and immerse yourself in its captivating natural wonders, we suggest a minimum stay of 2 nights. This duration strikes a harmonious balance, allowing you ample time to explore the National Park's lush ecosystems and relish the unique charm of the area. Tortuguero enjoys a tropical climate, characterized by frequent rainfall, high temperatures, and humidity. While the accommodations in this paradise may lack air conditioning, a 2-night stay ensures that you can comfortably embrace the natural environment without feeling discomfort.

We recommend against a briefer visit, as getting to Tortuguero requires a substantial time investment, and you'll undoubtedly want a full day to uncover its treasures. Fortunately, most lodges offer comprehensive packages that encompass not only your lodging but also meals, a captivating canal tour deep within the park, an enlightening village tour, and the convenience of round-trip transportation from your San Jose hotel. This holistic experience provides the ideal opportunity to delve into the heart of Tortuguero's pristine wilderness and vibrant culture.
To witness the awe-inspiring spectacle of sea turtle nesting, plan your visit to Tortuguero National Park between late July and October. During this period, you can experience the peak of nesting activity, especially by the magnificent green sea turtles. Although turtles nest in these hallowed shores throughout the year, it's during these months that you can reliably witness higher numbers of these remarkable creatures gracing the beaches with their ancient ritual.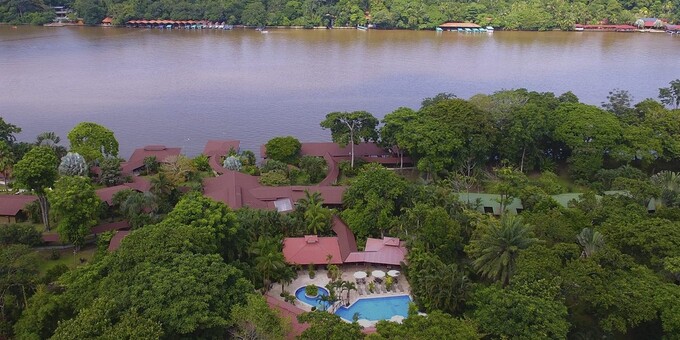 Overview | Wildlife | Vacation | Hotels | Details | Transportation | Weather | Packing

The Best Lodges in Tortuguero National Park
Luxury:
Tortuga Lodge and Gardens: Nestled amidst the natural beauty of Tortuguero, this lodge offers an indulgent experience. Luxurious rooms, exquisite dining, and a serene riverside setting make it a top choice for those seeking refinement in the heart of the rainforest.
Manatus Hotel: Offering an oasis of elegance, Manatus Hotel brings luxury to Tortuguero. With spacious suites featuring air conditioning and television, a gourmet restaurant, and exceptional service, it's perfect for travelers looking for a lavish retreat.
*Note that Tortuga Lodge and Manatus do not offer complete package rates as most other Tortuguero lodges do. As for details.
Midrange:
Mawamba Lodge: This charming midrange lodge strikes a balance between comfort and nature. Comfortable accommodations, buffet-style dining, and guided tours are part of the package, making it an excellent choice for an authentic Tortuguero experience.
Laguna Lodge: Nestled on a narrow strip of land between the Caribbean Sea and Tortuguero Lagoon, Laguna Lodge offers a relaxed midrange stay. The lodge features cozy bungalows and easy access to the park, making it an ideal choice for nature enthusiasts.
Pachira Lodge: Surrounded by lush vegetation and waterways, Pachira Lodge provides an immersive experience in the heart of Tortuguero. Comfortable rooms, forest trails, and boat tours allow guests to connect with the rich biodiversity of the area.
Whether you opt for luxury or midrange lodging, these accommodations provide a comfortable base for exploring the wonders of Tortuguero National Park. Enjoy the rainforest, wildlife, and natural beauty while experiencing the comforts of these fine lodges.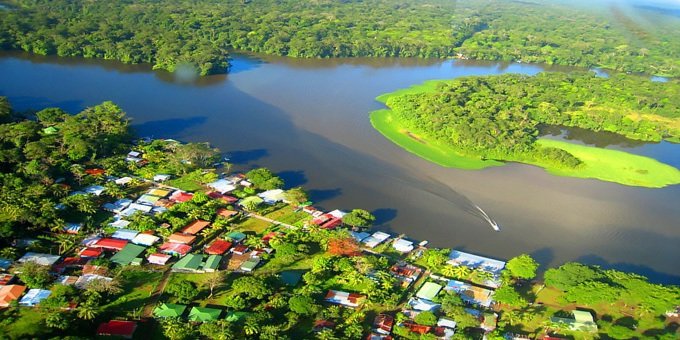 Overview | Wildlife | Vacation | Hotels | Details | Transportation | Weather | Packing
Facts At a Glance
Region: Northern Caribbean
Closest town: Tortuguero
Size in hectares: 19,000 (46,949 acres)
Year established: 1970
Elevation in meters: 0 – 311 (0 – 1,020 feet)
Private managed: no
Government managed: yes
Rangers station: yes
Overnight facilities: no
Public restrooms: yes
Entrance fee: $15pp
Days: Daily
Hours: 08:00 - 18:00 - guide required at night
Hiking trails: yes
Boat tours: yes
Average temperature range in Fahrenheit: 70 - 90
Average yearly precipitation in millimeters: 6,000 (236 inches)
Habitat: mangrove, rainforest, beach, river
Tortuguero National Park Ranger Station & Services
The ranger station in Tortuguero National Park serves as a vital hub for park management and conservation efforts. This station is located near the entrance to the park in the village of Tortuguero and provides essential services for both park rangers and visitors. Here are some key aspects of the ranger station in Tortuguero National Park:

Park Information: The ranger station is the go-to place for visitors to gather information about the park. You can find maps, brochures, and details about the various trails, wildlife, and regulations within the park. Park rangers are also available to answer questions and provide guidance.

Permit Issuance: Visitors often need permits to access the national park. These permits can usually be obtained at the ranger station. The staff will ensure that you have the necessary permissions to explore the park legally.

Educational Programs: Many ranger stations offer educational programs, including guided tours and talks about the park's flora and fauna. These programs are an excellent way to learn more about the park's ecology and conservation efforts.

Safety: Park rangers play a crucial role in ensuring visitor safety. They can provide advice on safe hiking practices, inform you about any potential hazards, and assist in case of emergencies.

Wildlife Monitoring: Rangers stationed in Tortuguero often monitor sea turtle nesting activities closely. They may conduct night patrols during nesting season to protect nesting turtles and their eggs from poachers and predators. Note that only authorized guides may walk the beach at night, during nesting times.

Research: Some ranger stations are involved in research activities related to the park's ecology and biodiversity. Researchers and scientists may collaborate with park rangers to conduct studies and gather data.

Conservation: The ranger station serves as a base for various conservation efforts, including habitat restoration, wildlife protection, and the management of invasive species.

It's important to note that specific services and facilities at the ranger station may vary depending on the location within Tortuguero National Park. Visitors should always follow park rules and regulations and respect the work of the park rangers in preserving this unique natural treasure.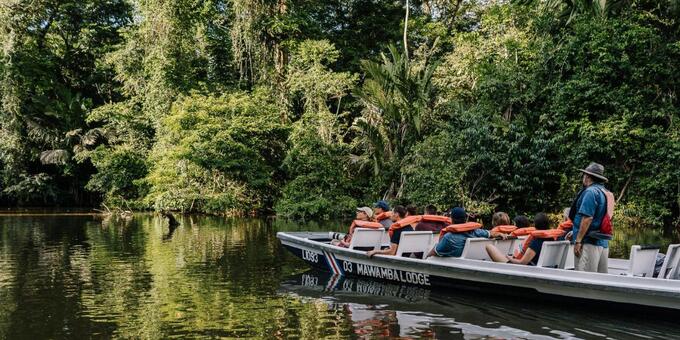 Overview | Wildlife | Vacation | Hotels | Details | Transportation | Weather | Packing
How to Get There
Tortuguero can only be accessed by boat or plane. Most lodges in the park include a combination van and boat ride to and from San Jose. You can also meet the lodges at the boat ramp and park your car in a fenced parking lot with security guards at La Pavona. From San Jose you would take Rt. 32 east towards Limon. When you reach Guapiles, take Rt. 247 north to the La Pavona boat launch. Much of Rt.247 is unpaved, so you will need a 4x4. In addition, this is not the safest route. If you are meeting a lodge, it is advised to coordinate with them in advance to meet in Guapiles and follow to La Pavona.
Overview | Wildlife | Vacation | Hotels | Details | Transportation | Weather | Packing
Tortuguero Weather
Tortuguero National Park boasts a tropical climate that can be characterized as hot and steamy. Daytime temperatures tend to linger around a balmy 90 degrees Fahrenheit (32 degrees Celsius), while nighttime brings some relief with temperatures typically settling in the pleasant mid-70s (around 24 degrees Celsius). The park's lush greenery thrives on an annual rainfall average exceeding 6,000 millimeters, so it's advisable to anticipate occasional rain during your visit. For those seeking drier days, the best months to explore this natural wonder are typically February, March, August, September, and October.
Tortuguero National Park Packing List
Packing for Tortuguero National Park requires consideration of its hot and humid tropical climate, frequent rainfall, and the specific activities you plan to undertake. Here's a packing list:

Lightweight Clothing: Pack lightweight, breathable clothing like shorts, T-shirts, and sundresses. Quick-drying fabrics are ideal due to the high humidity and occasional rain showers.

Rain Gear: Bring a good-quality rain jacket or poncho. A compact travel umbrella can also come in handy, especially for protecting camera gear.

Footwear: Sturdy, comfortable walking shoes or hiking boots with good traction are essential, especially if you plan to explore the park's trails. Sandals with straps or water shoes for water activities like boat tours and kayaking are advisable but do not wear them in the jungle.

Swimwear: Don't forget your swimsuit to enjoy the lodge's pool (but do not swim in the ocean or canals).

Sun Protection: Sunscreen, sunglasses, and a wide-brimmed hat are crucial to shield yourself from the strong tropical sun.

Insect Repellent: Mosquitoes and other insects can be prevalent, so pack insect repellent to stay comfortable and prevent insect-borne illnesses.

Backpack: A small daypack is useful for carrying essentials during excursions.

Electronics and Accessories: A waterproof bag or case for electronics like cameras and smartphones, along with chargers and power banks. Electricity may be limited in some lodges.

Medications: Include any necessary prescription medications and a basic first-aid kit.

Reusable Water Bottle: Help reduce plastic waste by carrying a refillable water bottle. Tap water in Tortuguero is typically safe to drink.

Binoculars: For birdwatching and wildlife spotting.

Cash: While some lodges may accept credit cards, it's a good idea to have some cash for small purchases or tips.

Travel Documents: Ensure you have your passport, travel insurance, lodging reservations, and any required permits or tickets in a waterproof bag or pouch.

Spanish Phrasebook: While English is widely understood in tourist areas, some knowledge of basic Spanish phrases can enhance your experience.

Optional Gear: Depending on your interests, you might want to bring snorkeling gear, a wildlife field guide, or a camera with a telephoto lens for wildlife photography.

Remember to pack light and efficiently, as you may need to transport your luggage on boats or along muddy paths in Tortuguero. Adapt your packing list to your specific activities and preferences, and always check the weather forecast before your trip for any last-minute adjustments.
For a complete packing list, you can visit our Costa Rica packing list page.
Fun Fact: Female green turtles nest once every two to four years and do so a couple times within a two week period. The turtle lays approximately 100 eggs in a hole which she digs with her flippers. Eggs require a 60 day incubation period before the baby turtles run the gauntlet to the sea. It is estimated that less than one percent make it to adulthood due to predation.