What to Expect in Montezuma
Montezuma, a bohemian beach town on the southern tip of Costa Rica's Nicoya Peninsula, offers a unique blend of natural beauty, cultural charm, and a relaxed atmosphere. This coastal gem attracts travelers seeking a laid-back, off-the-beaten-path experience. Here's what you can expect when visiting Montezuma:

1. Pristine Beaches: Montezuma boasts stunning beaches with soft cocoa-colored sand, crystal-clear waters, and lush jungle backdrops. Playa Montezuma, the town's main beach, is perfect for swimming and sunbathing. Nearby, Playa Grande and Playa Las Manchas are less crowded options.

2. Waterfalls: A highlight of Montezuma is its enchanting waterfalls. A short hike takes you to Montezuma Falls, a series of cascades with natural swimming pools. Don't forget to jump from the rope swings!

3. Bohemian Vibe: Montezuma's artistic and free-spirited atmosphere is reflected in its street art, lively street performances, and eclectic shops. You'll find an array of local crafts, jewelry, and clothing.

4. Yoga and Wellness: The town is a haven for yoga enthusiasts. Numerous studios offer classes amidst lush jungle settings. Additionally, there are wellness retreats and holistic healing centers.

5. Eclectic Dining: Despite its small size, Montezuma offers a wide range of dining options, from traditional Costa Rican fare to international cuisine. Fresh seafood is a local specialty.

6. Wildlife: Howler monkeys, iguanas, and various bird species are frequently seen around Montezuma. Birdwatchers and wildlife enthusiasts will have a field day. The Curu Reserve in nearby Tmabor is amazing!

7. Adventure Activities: Surrounding areas offer opportunities for snorkeling, scuba diving, horseback riding, and canopy tours. Nearby Cabo Blanco Nature Reserve is great for hiking.

8. Nightlife: Montezuma's nightlife scene is vibrant. Be sure to catch a beachfront fire-dancing performance. The town's nightlife offers a mix of laid-back bars and vibrant music spots.

9. Sustainable Tourism: Montezuma is dedicated to eco-friendly practices. Many businesses focus on sustainability and conservation.

10. Relaxation: Ultimately, Montezuma is a place to unwind. The absence of big resorts and a relaxed pace of life make it ideal for those seeking a tranquil escape.

Keep in mind that Montezuma's rustic charm also means limited amenities compared to larger tourist destinations, but it's precisely this raw and authentic character that lures visitors seeking a genuine Costa Rican experience.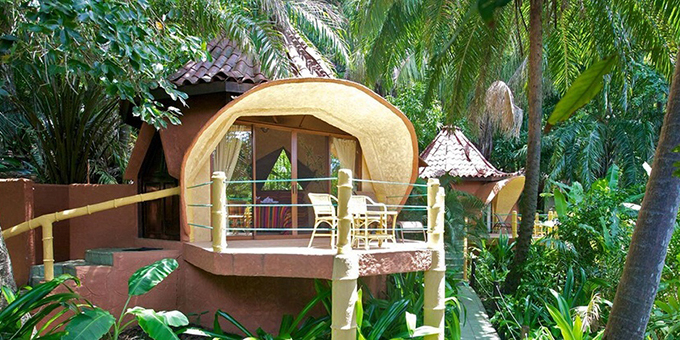 Planning a Vacation to Montezuma
We highly recommend indulging in the captivating charm of Montezuma for an extended stay of at least 4 to 5 nights, although a minimum of 3 nights will provide a delightful taste of this tropical paradise. Tucked away on the Southern Nicoya Peninsula, Montezuma offers a haven of coastal beauty and lush landscapes that's well worth the journey.

This unique destination presents a splendid blend of serene beaches, vibrant rainforests, and a laid-back atmosphere that invites you to unwind and explore at your own pace. Whether you're seeking relaxation or adventure, Montezuma has it all. From lounging on pristine shores to embarking on thrilling canopy ziplines, horseback rides, and ATV excursions, the experiences here are as diverse as the lush Costa Rican terrain.

Montezuma's hillside hotels provide breathtaking ocean or jungle views and a tranquil escape from the world. Among these, Ylang Ylang Resort stands out for its beachfront eco-luxury offerings, while Hotel El Jardin caters to budget-conscious travelers with comfort and style.

Beyond the enchanting landscapes, Montezuma serves as a gateway to exceptional day trips, such as the postcard-perfect Isla Tortuga, renowned for its crystal-clear waters and fantastic snorkeling. So why wait? Dive into the beauty and adventure of Montezuma, where every moment feels like a dream come true.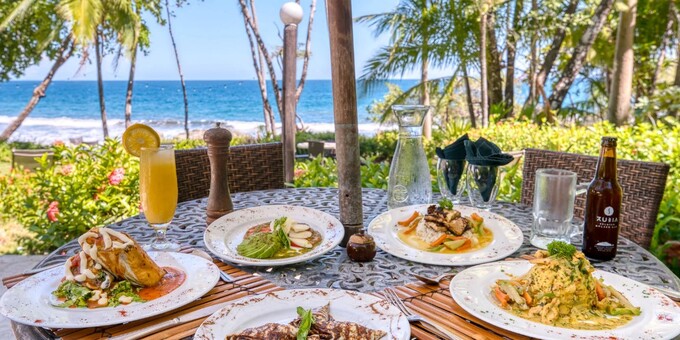 The Best Restaurants in Montezuma
Montezuma, a quaint beachside village on the Nicoya Peninsula, offers a delightful array of dining options that cater to various tastes. Here are some of the best restaurants to savor in this coastal gem:

Ylang Ylang Beachfront Restaurant: This oceanfront dining spot at Ylang Ylang Beach Resort offers a fusion of international and Costa Rican flavors in a romantic setting. Enjoy fresh seafood, tropical fruits, and innovative dishes.

Butterfly Brewing: Craft beer aficionados will appreciate Butterfly Brewing's selection of artisanal brews. Alongside their exceptional beer, they also serve delicious pub-style food, including burgers and tacos.

El Sano Banano Village Cafe: A popular spot for breakfast and lunch, El Sano Banano serves up healthy and hearty fare. Their menu features a variety of smoothies, sandwiches, salads, and local dishes.

Playa de los Artistas: As the name suggests, this restaurant is an artist's haven. It offers a unique dining experience with tables set directly on the beach. The menu emphasizes fresh seafood and inventive dishes.

Soda Tipíca Las Palmeras: For a taste of authentic Costa Rican cuisine, visit Soda Tipíca Las Palmeras. This casual eatery serves up traditional dishes like casados (a typical Costa Rican meal with rice, beans, and a choice of protein) and gallo pinto (a rice and bean dish).

Tierra y Fuego: If you're in the mood for pizza, Tierra y Fuego is the place to go. They specialize in wood-fired pizzas with a variety of toppings and also offer a selection of salads.

These restaurants capture the essence of Montezuma's laid-back atmosphere while offering diverse culinary experiences. Whether you're seeking seafood with a view, craft beer and pub grub, or traditional Costa Rican fare, Montezuma's dining scene has something to satisfy every palate.
Transportation
If you are staying at a hotel near the beach, you will not need a rental car. Then again, cabs are readily available from all hotels, so you will always be able to get around. It is nice to have a rental car in Montezuma if you are staying at one of the hotels on the hill. Visitors should keep in mind that it does require a difficult drive to reach the area and will require a ferry ride from anywhere other than the Nicoya Peninsula and Guanacaste. 4x4 is recommended, while an SUV is a necessity for ground clearance.
Reasons to visit
Stunning beaches
Nice small town with shops, restaurants and bars
Laid-back feel and atmosphere
Authentic Costa Rican feel
Close proximity to Cabo Blanco Reserve
The Montezuma waterfalls are beautiful
Reasons NOT to visit
It is difficult to access
There are not many hotel options. Few of which are mid-range. None of which are luxurious
No all inclusive resorts
It is far from all other destinations
There are not many adventure activities available
How to get there
From San Jose: The quickest way to get from San Jose to Montezuma is to take Autopista del Sol to Puntarenas and get on the ferry to Paquera, which is about an hour north of Montezuma on a paved road and follow the signs along Rt. 160 to Rt. 624.
Weather and packing list
Like all of Costa Rica's Northwest Pacific Region, Montezuma enjoys one of Costa Rica's driest, most glorious climates. With fairly steady temperatures, daytime highs reach up to the low 90s, while nighttime lows drop to the upper 70s. The worst of the wet season is experienced here from September to early November, while December to August generally sees the best weather.
Visitors to Montezuma should not forget to pack beach clothes such as swimsuits, flip flops, beach towels and sarongs for sunbathing. Shorts, t-shirts, rain gear, insect repellent, lots of sunblock and aloe vera gel are also in order. Our packing list article provides a more comprehensive list for your vacation.
Fun Fact: Because Montezuma is located on the tip of the Nicoya Peninsula, many visitors think it belongs to the province of Guanacaste, but this part of the peninsula actually forms part of Puntarenas province.