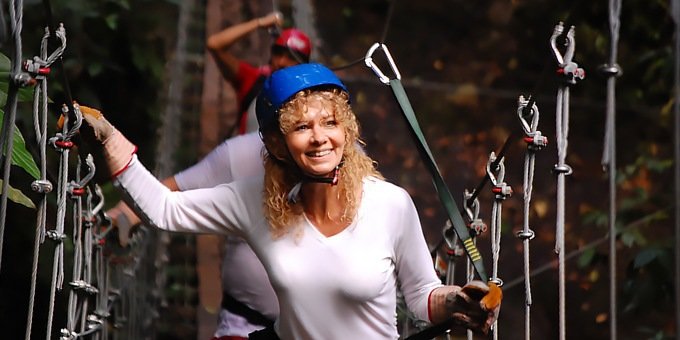 The Caribbean side of Costa Rica attracts visitors seeking pristine beaches, primary rainforests and a different cultural experience. To the north, Tortuguero National Park is one of the wildest places in the country and also a primary nesting zone for Atlantic Green Turtles. Gandoca Manzanillo, located along the Southern Caribbean coast is an amazingly bio-diverse wildlife refuge that shelters everything from manatees to sloths. Its beaches are also a primary nesting site for endangered Leatherback Turtles.

The Pacific side of Costa Rica offers a plethora of attractions such as Corcovado National Park which is one of the most biologically intense places on the planet. Further up the coast, Manuel Antonio is one of the most popular beach and rainforest areas – home to species such as monkeys, sloths, toucans, parrots and more. Beach areas such as Dominical, Jaco, Mal Pais and Tamarindo are surfer hot spots with big waves and plenty of night life.

Both coasts offer fantastic fishing and diving opportunities. The Pacific is well known for great billfishing as well as tuna and roosterfish. The Caribbean is known as a top destination for tarpon and snook. Top dive spots include Cano Island on the Pacific and the reefs off the Caribbean coast.

Between the beaches of the Caribbean and Pacific the terrain is wild and varied. Rainforests naturally stretch from coast to coast. Within these varied habitats are twelve distinct climate and life zones which allow for thousands of species of wildlife to coexist.

There are numerous volcanoes in Costa Rica, several of which are considered active such as Arenal Volcano (though not currently spewing lava) which is the most popular attractions in Costa Rica. Resorts surrounding the colossal volcano offer natural hot spring spas. Tour operators combine to make it the Adventure Capital of Central America and there is a wide range of wildlife in the area as well.

The Talamanca Mountain Range divides the country with towering mountains that tap into the sky creating cloud forest habitats. Monteverde is a great example of cloud forest and has groomed trails allowing for safe wildlife observation. Cerro Chirripo is the tallest peak in Central America and actually frosts at night from time to time. With the varied terrain come great hiking opportunities in Costa Rica such as hikes to the summit of Chirripo or Rincon de la Vieja.

Birdwatchers will delight as well over 800 species of birds have been identified. This is due to the various climate zones which make many ideal habitats for everything from migratory waterfowl to Resplendent Quetzals in the cloud forests. Palo Verde National Park is a great place to observe waterfowl such as Roseate Spoonbills or large parrots such as Scarlett Macaws. San Gerardo de Dota, located in the cloud forest is one of the best places in the world to observe Quetzals, Emerald Toucanettes and Bellbirds.

Fitting all of the Costa Rica attractions into a page is simply impossible, so be sure to check out the rest of our site, where we have done our best to fit most of it in!
Unsure of what to do? Let us make you a free custom trip plan!