Overview | When | Details | Beaches | Hotels | To Do | Transportation | Weather | Packing
Despite being one of Costa Rica's smallest national parks, spanning a mere 1,983 hectares or 4,900 acres, Manuel Antonio's significance is immeasurable. The park's elevation oscillates gracefully from sea level to 160 meters, enshrining a harmonious blend of rainforest, shoreline, and mangrove ecosystems. Nature enthusiasts will discover an intricate network of hiking trails meandering through the heart of the jungle, ultimately leading to one of the most exquisite beaches in the entire country—Playa Manuel Antonio.

This remarkable park has earned a well-deserved reputation as a wildlife enthusiast's paradise. Within its bounds, you can bear witness to a captivating array of creatures, from the resonant howls of howler monkeys to the acrobatic antics of squirrel, spider, and white-faced monkeys. Sloths, both two-toed and three-toed, inhabit the park in abundance, while raccoons, coatis, pacas, anteaters, and the occasional ocelot share this biodiverse realm. The park's rich tapestry extends to reptiles as well, featuring the stealthy presence of crocodiles, the stately iguanas, the majestic boa constrictors, and countless lizard species. Birdwatchers are in for a treat, as Manuel Antonio National Park boasts a staggering 350-plus avian species, including toucans, aracaris, an array of parrots and parakeets, hummingbirds, trogons, and an ever-expanding list of feathered wonders.
Managed by the Costa Rican government, this sanctuary beckons explorers from Wednesday through Monday (with Tuesdays reserved for respite), inviting them to embark on an awe-inspiring journey from 7 AM to 4 PM, with controlled access to preserve its delicate ecosystem. A vigilant ranger station greets visitors at the park's entrance. To partake in this natural symphony, a nominal fee of $18.08 for adults and $5.65 for children between the ages of 2 and 11 years old is required. Although the park does not offer overnight accommodations, a wealth of hotels in the Manuel Antonio area ensure a comfortable and memorable stay as you immerse yourself in the captivating allure of this pristine coastal gem.
More About the Park
Manuel Antonio proudly reigns as Costa Rica's most coveted beach destination, an accolade not solely attributed to its mesmerizing coastline but also to its commitment to preserving its natural beauty. Stringent building regulations have cultivated an eco-friendly haven where hotels and restaurants gracefully harmonize with the lush jungle-clad hillsides. Beyond the allure of its world-renowned national park and pristine beaches, this coastal paradise offers a trove of exhilarating activities.

Within the confines of Manuel Antonio, you'll encounter four primary beaches, each with its own unique charm: Espadilla, Manuel Antonio, Playita, and Teldoros. While these idyllic stretches of sand are perfect for soaking up the sun, they also invite you to delve into the mesmerizing underwater world of Costa Rica's Pacific coast. Venture to the rock reefs surrounding the islands and explore rocky coves teeming with a rich tapestry of aquatic life.

While snorkeling may not be the star attraction in Manuel Antonio, the region abounds with a plethora of remarkable activities to suit various interests. Embark on guided hikes through the pristine Manuel Antonio National Park, where lush rainforests teem with diverse flora and fauna. The park's well-marked trails lead to breathtaking viewpoints and secluded beaches, providing ample opportunities for wildlife spotting.
Overview | When | Details | Beaches | Hotels | To Do | Transportation | Weather | Packing
When is the best time to visit?
The best time to visit Manuel Antonio National Park in Costa Rica largely depends on your preferences and priorities for your trip. Each season offers unique advantages, so here's a breakdown to help you plan your visit:

December to April (Dry Season): This period is the driest and sunniest in Manuel Antonio. You can expect clear skies and warm weather, making it an ideal time for beachgoers and outdoor enthusiasts. However, it's also the most expensive and crowded time to visit, so be prepared for higher prices and larger crowds.

July and August: While these months can see some afternoon rain showers, they are generally pleasant and attract many families due to summer vacations. Mornings are typically sunny, allowing for outdoor activities. Just be prepared for some rain in the afternoons and consider booking accommodations in advance.

May and June (Secret Season): May and June are hidden gems for travelers seeking a more budget-friendly and tranquil experience. Prices tend to be lower, and there are fewer tourists. While there may be some afternoon showers, mornings are usually lovely, providing ample time for outdoor adventures.

Ultimately, the best time to visit depends on your budget, tolerance for crowds, and weather preferences. If you prefer sunny and dry weather and don't mind the higher costs, December through April is ideal. Families might opt for July and August for summer fun, while budget-conscious travelers may find May and June to be delightful and more affordable.
Overview | When | Details | Beaches | Hotels | To Do | Transportation | Weather | Packing
Facts
Region: Central Pacific
Closest town: Manuel Antonio
Size in hectares: 1,983 (4,900 acres)
Year established: 1972
Elevation in meters: 0 – 160 (0 – 525 feet)
Private managed: no
Government managed: yes
Rangers station: yes
Overnight facilities: no
Public restrooms: yes
Entrance fee: $18.08 for adults and $5.65 for children ages 2 - 11 years old. Residents and citizens: ¢1,800
Days: Wednesday – Monday (closed on Tuesdays)
Hours: 07:00 - 16:00
Hiking trails: yes
Boat tours: no
Average temperature range in Fahrenheit: 70 - 90
Average yearly precipitation in millimeters: 3,840 (151 inches)
Habitat: beach, rainforest, mangrove
Limited tickets: yes
Tickets: must be purchased through a guide or through the SINAC website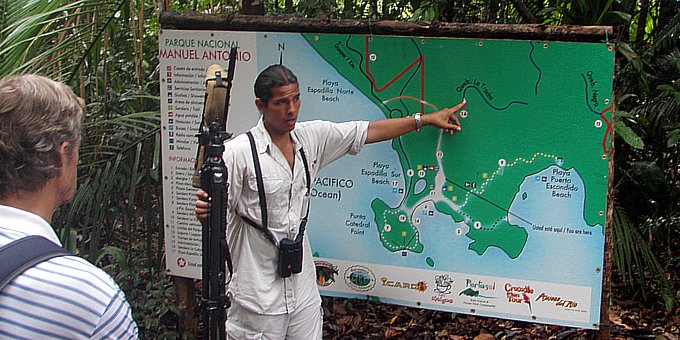 Overview | When | Details | Beaches | Hotels | To Do | Transportation | Weather | Packing
Manuel Antonio National Park Beaches
Manuel Antonio National Park is renowned for its stunning beaches, each offering a unique charm and natural beauty. Here are the beaches inside Manuel Antonio National Park:

Playa Manuel Antonio (Manuel Antonio Beach): This is the largest and most popular beach within the park. It's famous for its soft, white sands and warm turquoise waters. The beach is surrounded by lush rainforest, providing opportunities for wildlife sightings, including monkeys and sloths. Visitors can swim, sunbathe, and enjoy picnics here. Don't leave valuables unattended as the monkeys will steal them!

Playa Espadilla Sur (Espadilla South Beach): Located just south of Playa Manuel Antonio, this beach is more tranquil and less crowded. It's an ideal spot for sunbathing, swimming, and beachcombing. The gentle waves make it suitable for swimming, and it's common to see capuchin monkeys playing in the nearby trees.

Playa Gemelas (Gemelas Beach): Gemelas Beach is a hidden gem within the park. It's smaller and quieter than the other two beaches, making it a peaceful escape for those seeking solitude. The crystal-clear waters and lush surroundings create a serene atmosphere.

Playa Escondido (Hidden Beach): As its name suggests, Playa Escondido is a hidden beach located within the park. It requires a short but adventurous hike to reach, making it less crowded than the main beaches. The journey involves a walk along a rocky coastline and through dense jungle, adding to the sense of discovery. Playa Escondido's seclusion and natural beauty make it a favorite spot for those seeking a more off-the-beaten-path beach experience. This beach can only be accessed at low tide and you must leave before the tide rises or you will be stuck!

These beaches offer the perfect backdrop for enjoying Costa Rica's natural beauty. While swimming is generally safe, it's essential to be cautious of strong currents and heed any safety warnings issued by park officials. The mix of pristine beaches and rich rainforest in Manuel Antonio National Park makes it a must-visit destination for nature and beach lovers alike.

Overview | When | Details | Beaches | Hotels | To Do | Transportation | Weather | Packing
The Best Hotels
Manuel Antonio, a coastal gem in Costa Rica, offers a range of accommodations to suit every traveler's preferences.
For those seeking a touch of luxury, here are some of the best upscale hotels:

Arenas del Mar Resort: This eco-friendly beachfront resort seamlessly blends luxury and sustainability. With its private nature reserve, stunning beach, and elegant accommodations, it's a paradise for eco-conscious travelers.

Los Altos Resort: Perched on a hill, Los Altos offers breathtaking ocean views from its spacious suites and villas. The infinity pool and attentive service make it a top choice for those seeking luxury and tranquility.

Tulemar Resort: Nestled in a private reserve, Tulemar offers an array of upscale accommodations, from luxurious bungalows to lavish villas. Guests enjoy access to its exclusive beach, wildlife sightings, and impeccable service.
For superior-class options, consider these boutique hotels:
La Vela Boutique Hotel: With its modern design and comfortable rooms, La Vela provides a chic and intimate setting just a short walk from the beach or the national park.

Shana by the Beach: Located just a short stroll from the beach, Shana offers stylish rooms, a spa, and a restaurant with a tropical ambiance.

Hotel San Bada: Situated right next to Manuel Antonio National Park, this hotel boasts an ideal location. The comfortable rooms and proximity to wildlife make it perfect for nature enthusiasts. The rooftop pool and ocean views add to the appeal.

Jungle Vista Boutique Hotel: Tucked away in the rainforest, this boutique hotel offers a tranquil escape. The spacious suites and personalized service create a serene atmosphere.

Si Como No: Known for its eco-friendly practices, Si Como No offers comfortable rooms and a host of on-site activities. The butterfly garden and pool with waterslides are family favorites.
If you're looking for affordable options without compromising comfort, consider these:
The Falls Resort: Surrounded by tropical gardens, The Falls Resort offers cozy rooms and a relaxed ambiance.

Hotel Naoz: With its jungle setting and welcoming atmosphere, Hotel Naoz provides great value. The pool and restaurant are perfect for unwinding after a day of exploration.

Costa Verde: This eco-friendly resort offers a range of accommodations, from budget-friendly rooms to treetop penthouses. The views of the ocean and rainforest are stunning.

Manuel Antonio National Park's diverse hotel offerings ensure that every traveler can find their perfect slice of paradise in this enchanting destination.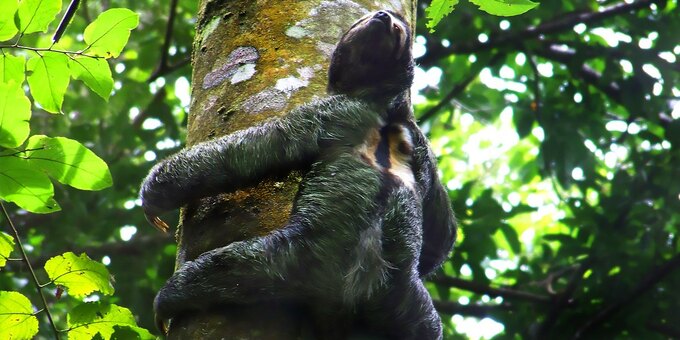 Overview | When | Details | Beaches | Hotels | To Do | Transportation | Weather | Packing
Top 10 Things to Do in Manuel Antonio National Park
Manuel Antonio National Park and its surroundings offer a wealth of activities to explore the natural beauty and adventure of the area. Here are the top 10 things to do in Manuel Antonio:

Guided Hike in Manuel Antonio National Park: Join a knowledgeable guide to explore the park's diverse wildlife and lush rainforests. Keep an eye out for sloths, monkeys, and exotic birds.

Manuel Antonio Beaches: Relax and sunbathe on the park's pristine beaches, Playa Manuel Antonio and Playa Espadilla. The warm Pacific waters are perfect for swimming and enjoying the tropical setting.

Whitewater Rafting in the Río Savegre: Embark on a thrilling whitewater rafting adventure down the Savegre River. Navigate through scenic canyons and experience the rush of Class II, III, and IV rapids.

Canyoning and Waterfall Rappelling: Test your courage by descending down waterfalls and canyons with canyoning and waterfall rappelling tours. It's an adrenaline-pumping experience amid breathtaking natural beauty.

Canopy Zipline at El Santuario: Soar above the treetops on an exhilarating canopy zipline tour. Enjoy panoramic views of the coastline and rainforest while experiencing the thrill of flying.

Sailing Cruise: Set sail on a cruise along the Pacific coast. Snorkel in crystal-clear waters, watch for dolphins and sea turtles, and savor a sunset dinner on board.

Cooking Class: Learn to prepare traditional Costa Rican dishes with a cooking class. Discover the flavors of the region and take home a delicious skill.

Surfing Lessons: Manuel Antonio offers excellent opportunities for learning to surf. Whether you're a beginner or looking to improve your skills, there are surf schools ready to help.

Sportfishing: Cast your line and try your luck with sportfishing tours in the rich waters of the Pacific. Catch marlin, sailfish, and other game fish with experienced local guides.

Nauyaca Waterfalls: Venture to Nauyaca Waterfalls, about an hour drive from Manuel Antonio. Hike through lush rainforests to reach these stunning cascades, where you can swim and enjoy the scenery.

These activities provide a mix of adventure, relaxation, and nature exploration, ensuring an unforgettable experience in Manuel Antonio National Park and its surroundings.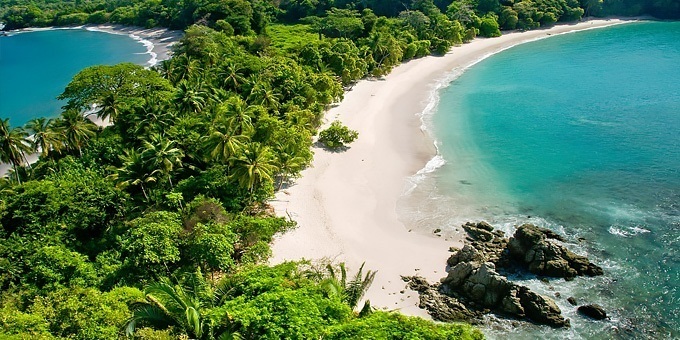 Overview | When | Details | Beaches | Hotels | To Do | Transportation | Weather | Packing
Transportation, How to Get There & Getting Around
Getting around Manuel Antonio can be tricky with limited parking options, so many travelers opt for a mix of transportation methods. Often, they'll use a combination of transfers to reach the area and then rely on buses or taxis for local travel. There is a beach bus that runs between Manuel Antonio National Park and Quepos hourly from 5:45 am until 9:30 pm. Private transfers can be arranged from anywhere in Costa Rica, while shared shuttle transfers are widely available from popular tourist destinations. If you prefer flying, Quepos has its own airport, offering domestic flights from San Jose and other tourist hotspots.
Directions: For those driving from San Jose, take Rt. 27 west until you reach Rt. 34. Continue south along Rt. 34, following the breathtaking coastal route until you reach Quepos. Upon arriving in Quepos, take a right turn and proceed into town. After crossing the bridge, just follow the well-marked signs leading to the national park. This way, you'll smoothly navigate your way to the stunning Manuel Antonio.
Overview | When | Details | Beaches | Hotels | To Do | Transportation | Weather | Packing
Manuel Antonio National Park Weather: What to Expect Throughout the Year
Manuel Antonio National Park, located on the Pacific coast of Costa Rica, has a tropical climate characterized by warm temperatures and distinct rain and dry seasons. Here's a breakdown of the weather you can expect at Manuel Antonio:
Dry Season (December to April):
The dry season in Manuel Antonio typically runs from December to April.

During this time, you can expect plenty of sunshine and minimal rainfall, though it is the rainforest and it can rain at any time.

Daytime temperatures range from the mid-80s to low 90s Fahrenheit (29-35°C).

This is considered the high tourist season, with many visitors flocking to the area to enjoy the pleasant weather.
Rainy Season (May to November):
The rainy season begins in May and continues through November.

Rainfall gradually increases, with the heaviest rains falling between September and October.

While rain showers can be intense, they are often brief and followed by sunny periods.

Most rain during this season occurs in the afternoon and overnight

It's best to plan activities in the morning, which is often dry, even in the rainy season.

Daytime temperatures remain warm, usually in the mid-80s Fahrenheit (29-32°C).

This is the low tourist season, so you can enjoy quieter beaches and accommodations.

Humidity: Manuel Antonio experiences high humidity levels throughout the year, especially during the wet season. Be prepared for muggy conditions, and make sure to stay hydrated.
Secret Season (May & June)
While this is the rainy season, it's a gradual start, and most rain at this time occurs in the late afternoon or overnight.

There are not as many tourists at this time of the year.

This is one of the best seasons for discount prices.

This is a time when everything is lush, green, and colorful, but most days are quite nice, especially in the morning and early afternoon.

Hurricane Season: Costa Rica is generally not in the direct path of hurricanes. However, tropical storms and heavy rainfall can occur, particularly during the peak of the wet season.

Wildlife Viewing: The wet season can be an excellent time for wildlife enthusiasts, as the lush vegetation provides ample food and shelter for animals. You're likely to spot wildlife like monkeys, sloths, and colorful birds during this time.

Sun Protection: Regardless of the season, it's essential to use sun protection like sunscreen, sunglasses, and hats, as the sun can be intense in Manuel Antonio.

Trail Conditions: The park's trails can get muddy during the wet season, so wear appropriate footwear if you plan to hike. Also, be cautious of slippery rocks and paths.

Beach Activities: Both seasons offer opportunities for swimming, snorkeling, and relaxing on the beach. Water conditions are generally calm during the dry season, making it ideal for water activities.

In summary, Manuel Antonio National Park offers enjoyable weather most of the year, with the dry season being the most popular for tourists. However, the wet season has its advantages, including lush landscapes, lower prices, and fewer crowds, making it an excellent choice for nature lovers and those seeking a quieter experience.
Overview | When | Details | Beaches | Hotels | To Do | Transportation | Weather | Packing
How to Pack
Packing for a trip to Manuel Antonio in Costa Rica requires a mix of beachwear, outdoor adventure gear, and comfortable clothing for exploring. Here's a comprehensive packing list to help you prepare:

1. Light and Breathable Clothing:
T-shirts, tank tops, and lightweight tops
Shorts and swimsuits
Casual dresses or beach cover-ups
Comfortable underwear and socks
Light, long-sleeved shirt and pants for sun protection
2. Footwear:
Flip-flops or sandals for the beach
Comfortable walking or hiking shoes for outdoor activities
Water shoes if you plan to explore rocky shorelines or rivers
3. Outdoor Gear:
Sun hat or cap for sun protection
Sunglasses with UV protection
Reef-safe sunscreen and lip balm
Insect repellent
Lightweight and quick-dry towel
Daypack or beach bag
4. Swimsuit and Beach Gear:
Swimsuits (bring more than one)
Beach towels or blankets
Beach bag to carry essentials
5. Rain Gear:
Lightweight, packable rain jacket or poncho
Umbrella for unexpected rain showers
6. Electronics and Accessories:
Smartphone and charger
Camera or GoPro with waterproof casing
Power bank for recharging devices
Adapters and converters for electrical outlets (if needed)
7. Medications and Toiletries:
Prescription medications and copies of prescriptions
Basic first-aid kit
Personal toiletries, including biodegradable soap and shampoo
Hand sanitizer
Feminine hygiene products (if needed)
8. Travel Documents:
Passport and photocopies
Visa (if required)
Travel insurance documents
Flight tickets or e-tickets
Accommodation reservations
Driver's license (if you plan to rent a car)
9. Money and Security:
Credit/debit cards and some cash (U.S. dollars are widely accepted)
Money belt or neck pouch for keeping valuables secure
Locks for luggage and a cable lock for securing bags in shared accommodations
10. Miscellaneous Items:
Reusable water bottle (stay hydrated and reduce plastic waste)
English-Spanish phrasebook or translation app
Guidebooks and maps of Manuel Antonio
Entertainment (books, e-reader, or travel games)
Ziplock bags (useful for storing snacks and protecting electronics)
Travel pillow and eye mask for comfortable rest on long journeys
Optional Items:
Binoculars for birdwatching in Manuel Antonio National Park
Yoga mat (if you plan to practice on the beach)
Travel-size laundry detergent for washing clothes
Travel-size sewing kit and basic repair tools
Remember that Manuel Antonio's climate is tropical, so lightweight and breathable clothing is essential. Pack wisely, and you'll be prepared for both beach relaxation and adventurous exploration in this stunning part of Costa Rica. Want more ideas for the rest of your trip? Check out our comprehensive packing list!
Fun Fact: Though considered the rain season, May through August are a great time to visit Manuel Antonio as the rains are generally limited to brief late afternoon showers, but prices are much lower than the rest of the year.