Welcome to the epitome of luxury in the heart of Central America. Our meticulously crafted Luxury Costa Rica Vacation Packages invite you to experience the beauty, adventure, and opulence that this tropical haven has to offer.
Luxury Travel: A Lifestyle, Tailored for You
Luxury travel transcends the ordinary; it's a way of life, a philosophy, and an embodiment of personal style and preferences. At our doorstep, we understand that true luxury is not just about opulent accommodations or extravagant experiences. It's about curating a journey that aligns seamlessly with your unique travel personality and aspirations.
Your Travel Personality, Your Customized Escape
Every traveler is unique, driven by distinct desires and interests. Our approach to luxury travel is founded on the belief that your vacation should be a reflection of your personality. Whether you're an adventure seeker, a culture enthusiast, a nature lover, or simply seeking tranquility, we tailor your Luxury Costa Rica Vacation to match your specific travel persona.
For the Adventurer: Embark on thrilling excursions like canopy ziplining, white-water rafting, and jungle hikes to ignite your adrenaline.
For the Culture Enthusiast: Dive into the heart of Costa Rica's culture with immersive visits to local communities, artisan workshops, and historical sites.
For the Nature Lover: Immerse yourself in the country's diverse ecosystems with wildlife safaris, birdwatching, and guided nature walks.
For the Seeker of Tranquility: Retreat to serene, luxury accommodations by the beach or nestled in the rainforest, where spa treatments, yoga sessions, and serene beach strolls await.
Concierge Service: Your 24/7 Partner in Luxury
We believe that exceptional service knows no bounds. That's why our concierge team is available 24/7, ready to anticipate your needs, address your queries, and ensure every aspect of your journey runs seamlessly. Whether it's a last-minute reservation at an exclusive restaurant, arranging private transportation, or accommodating special requests, we're here to make your luxury experience truly effortless.
With our Luxury Costa Rica Vacations, we invite you to embrace the luxury travel lifestyle—a life of curated experiences, personalized attention, and the freedom to explore the world exactly as you desire. Your journey is not just a vacation; it's a reflection of your individuality, and we are here to make it unforgettable.
Discover the world of luxury, tailored to your style, and let us create a travel experience that resonates with your unique travel persona. Your adventure awaits, and we're here to make it exceptional.
Contact Us Anytime, Anywhere, for Your Customized Luxury Costa Rica Vacation. Your Journey Begins Here.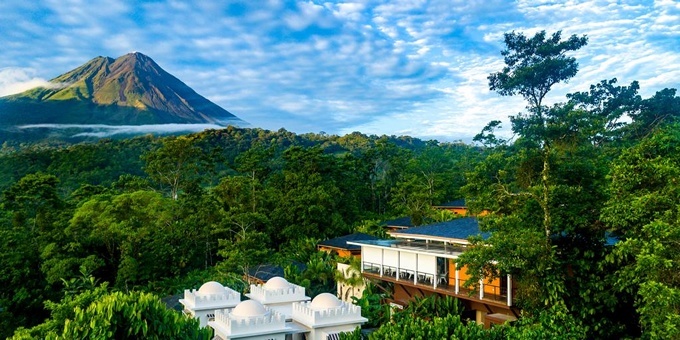 Luxury Hotels in Costa Rica: Where Opulence Meets Nature's Beauty
Costa Rica is a land of stunning natural beauty, and these luxury hotels elevate your experience by seamlessly blending opulence with the country's breathtaking landscapes.
Arenal Volcano Region:
Nayara Gardens, Nayara Springs (adults-only), and Nayara Tented Camp: These sister properties offer a range of luxurious accommodations, from romantic villas with private plunge pools (Nayara Springs) to immersive tented glamping experiences (Nayara Tented Camp). All are set against the backdrop of Arenal Volcano, offering incredible views and access to the Nayara Gardens' world-class spa and gourmet dining.

Tabacon Thermal Resort and Spa: Nestled in the rainforest, Tabacon offers a unique experience with its natural hot springs and luxurious spa. Relax in the thermal pools surrounded by lush greenery, and indulge in wellness treatments inspired by Costa Rica's rainforest.

The Springs Resort: Perched on a mountainside, this resort boasts breathtaking vistas of Arenal Volcano. It features spacious suites, numerous thermal pools, and adventure activities like ziplining.

Amor Arenal Hotel: A hidden gem, this boutique hotel offers adults-only luxury with secluded villas, private terraces, and stunning volcano views.
Poas Volcano Region (Cloud Forest):
Peace Lodge: Tucked away in the heart of the cloud forest, this lodge is an enchanting oasis. Stay in individually themed rooms with waterfall showers, visit the on-site animal sanctuary, and explore lush gardens.

El Silencio Lodge and Spa: Located in the Los Bajos del Toro region, this eco-lodge offers secluded suites, a full-service spa, and guided forest adventures, allowing you to immerse yourself in the tranquility of the cloud forest.
Manuel Antonio:
Los Altos Resort: With spacious ocean-view condos and villas, Los Altos provides a luxurious home away from home. Enjoy the private beach club, gourmet dining, and personalized concierge services.

Arenas Del Mar Beach and Nature Resort: This eco-luxury resort offers direct access to the beach and rainforest, along with luxurious rooms and exceptional sustainability efforts.

The Tulemar Resort: Nestled in a private wildlife reserve, Tulemar offers a variety of accommodations, including secluded villas with plunge pools and access to its pristine beach.
South Pacific Coast and the Osa Peninsula
Oxygen Jungle Villas offers secluded sophistication, where private villas with plunge pools blend seamlessly with the lush surroundings. Copa de Arbol Beach and Rainforest Resort beckon with oceanfront opulence, where pristine beaches meet the dense rainforest. Lapa Rios Eco Lodge enchants with sustainable elegance, allowing you to immerse yourself in the heart of nature. Kura Villas offer infinity pool panoramas over the Pacific, while El Remanso Rainforest Wildlife Lodge invites you to explore pristine wilderness and unwind in harmony with the natural world. Each of these South Pacific gems promises an exquisite escape where luxury and nature coalesce in perfect harmony.
Other Regions:
Villa Caletas (near Jaco): Perched on a hilltop, Villa Caletas combines panoramic ocean views with luxurious amenities, making it an ideal romantic getaway.

Southern Nicoya Peninsula: Flor Blanca Luxury Beach Resort and Hotel Nantipa provide beachfront elegance and serenity on the Nicoya Peninsula's pristine shores.

All-Inclusive Resorts: Dreams Las Mareas Resort and Westin Playa Conchal Resort offer comprehensive all-inclusive experiences, combining luxury amenities with stunning coastal settings.

Guanacaste: W Costa Rica - Reserva Conchal and Hotel Capitan Suizo offer modern luxury in the Guanacaste region, known for its beautiful beaches.

Monteverde: Senda Monteverde Hotel and Monteverde Lodge and Gardens offer eco-luxury in this cloud forest paradise. Origins Lodge in the Upala area offers a serene escape.

San Jose and Alajuela: Hotel Grano de Oro in San Jose and Xandari Resort in Alajuela provide luxurious respites in the city and near the airport.

Whichever part of Costa Rica you choose to explore, these luxury hotels ensure that your experience of this stunning country is nothing short of extraordinary.